Here at Chime, we're all about bringing you financial peace of mind. Whether it's getting your paycheck earlier, getting support when you overdraft, or working on your credit score, we always have your back. And the first step to unlocking these awesome features is by setting up direct deposit. 
If you haven't set it up yet, you're in the right place! We've outlined two easy ways to start getting your paycheck into your Chime account. 😎 
How to set up direct deposit
In order to set up direct deposit, you'll need to have your Routing Number and an Account Number handy. You can find this info in your Chime app, under Settings. Tap that gear icon on the top left of your screen and you'll see it under Account Information.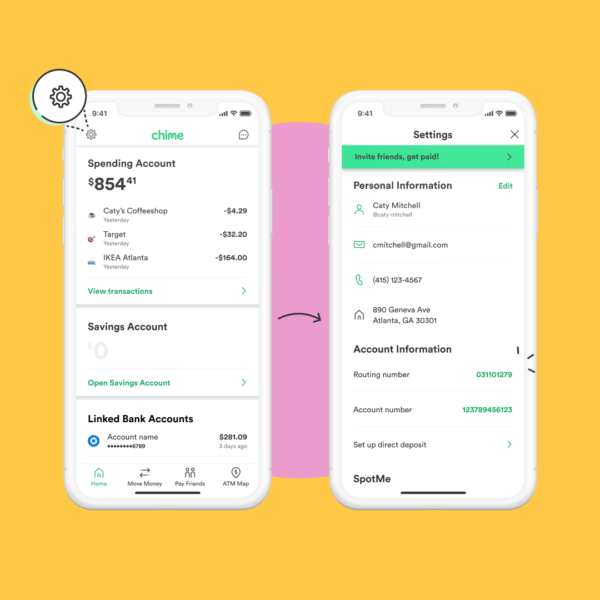 Manual via direct deposit form 
Go to Settings > Account Information > Set Up Direct Deposit > Get direct deposit form
If you click "Get direct deposit form," we'll instantly email you a PDF version of the form. 

Check your email, and open the PDF form. 

In the "Amount" section, check one of the following boxes: Deposit my entire paycheck, Deposit $__ dollars of my paycheck, Deposit __% of my paycheck.

Choose the amount of your paycheck you want to be deposited and sign at the bottom.

In the "Authorization" section, write in your employer or payer's name.

Sign and send it to your Human Resources department, payroll provider, or manager!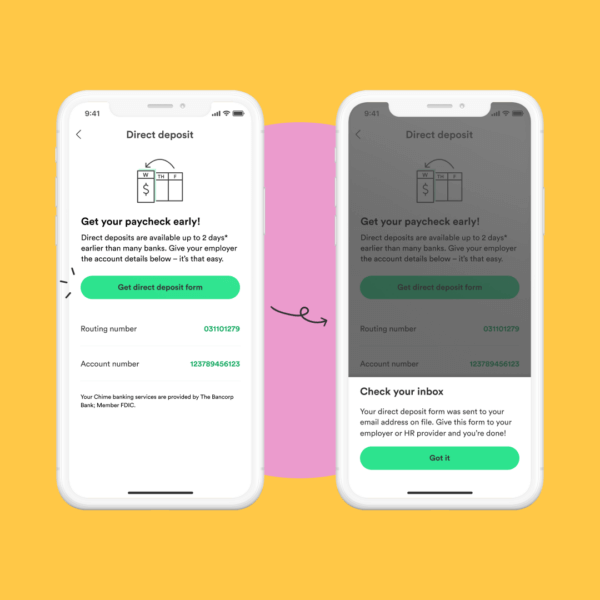 Automatic via employer portal
Log directly into your payroll provider portal (

like ADP, for example

) to update your payment method. 

Enter your account information into the portal. 

Choose the amount of your paycheck you'd like to deposit and save your changes.

Confirm with your Human Resources department, payroll provider, or manager that everything was set up correctly.
☝️ Note: You can follow the same steps if you're depositing unemployment benefits. Just make sure you're using your state's government portal instead of your payroll provider.
🚩  Direct deposit capability is subject to payers' support of this feature.
The benefits of direct deposit
Once your direct deposit is all set up and approved by your employer, you can expect to receive your first Chime deposit within your next 2 payment cycles. 
On top of that, you'll unlock all kinds of new features as a Chime member! Here are a few:
Get paid early¹
Get your paycheck up to two days earlier with direct deposit. This is a feature we offer by making your money available as soon your employer deposits it – which is often up to two days before most traditional banks make the funds available to you.
SpotMe
Our SpotMe feature lets you overdraft up to $100 on debit card purchases with no fees². All Chime members with $500 or more in monthly qualifying direct deposits are eligible to enroll.
Credit Builder
Eligible Chime members can get access to our first-ever secured credit card, made to help you build credit over time by offering automatic payments and reporting your progress to the major bureaus every month⁴. There's no credit check to apply, plus it has no fees, no interest, and no minimum security deposit³.
In a nutshell, direct deposit is easy and free to set up. And by doing so, you're able to get the most out of Chime—by getting paid earlier¹, overdrafting without the fees², and working on your credit!
---
¹ Early access to direct deposit funds depends on timing of payer's submission of deposits. We generally post such deposits on the day they are received which may be up to 2 days earlier than the payer's scheduled payment date.
² SpotMe won't cover non-debit card purchases, including ATM withdrawals, ACH Transfers, Pay Friends transfers, or Chime Checkbook transactions. Chime SpotMe is an optional, no fee service that requires $500 in qualifying direct deposits to the Chime Spending Account each month. All qualifying members will be allowed to overdraw their account up to $20 on debit card purchases initially, but may be later eligible for a higher limit of up to $100 or more based on member's Chime Account history, direct deposit frequency and amount, spending activity and other risk-based factors. Your limit will be displayed to you within the Chime mobile app. You will receive notice of any changes to your limit. Your limit may change at any time, at Chime's discretion. SpotMe won't cover non-debit card purchases, including ATM withdrawals, ACH transfers, Pay Friends transfers, or Chime Checkbook transactions. See terms and conditions
³ Money added to Credit Builder will be held in a secured account as collateral for your Credit Builder card, which means you can spend up to this amount on your card. This is money you can use to pay off your charges at the end of every month.
⁴On-time payment history can have a positive impact on your credit score. Late payment may negatively impact your credit score. Chime will report your activities to Transunion®, Experian®, and Equifax®. Impact on your credit may vary, as credit scores are independently determined by credit bureaus based on a number of factors including the financial decisions you make with other financial services organizations.