When it comes to personal finance advice, there's so much information out there. It can be draining to sort through personal finance YouTube videos, books, and blog posts. You may be wondering, what personal finance information is reliable and trustworthy? And, where do you go for some easy-to-understand personal finance tips?
In comes Reddit.
Reddit's user-generated content is free and can be a good place to look for information if you want to improve your financial situation. It's easy to get a quick tip on retirement plans like Roth IRAs, grab some general free financial advice, and even read about other people's success in achieving financial independence.
Reddit's Best Advice for Financial Independence
Reddit's r/PersonalFinance community has 15 million members and is one of the most popular subreddits for content related to all things finances. The community was first created in 2009 and since then has published thousands of posts, threads, and discussions on an array of personal finance topics. 
In this subreddit you will find anything and everything related to spending, earning, saving, and investing money. Everyday people and financial experts are consistently online helping each other make real-life financial decisions and providing suggestions to the hard questions regarding a sometimes taboo topic — money. According to Business Insider, 2 in 3 Reddit users have made real-life financial decisions based on advice they received from fellow Redditors.
Although it's always a good idea to get a second opinion and not take everything you read to heart, it's a safe space to get feedback, ask about other people's experiences and strategies, learn financial basics, and celebrate each others' wins.
Since Reddit is essentially a public forum, there's some jargon and vocabulary that has been adopted over the years in these communities that you might want to brush up on before diving in. Let's take a look at a few examples:
Subreddits:

Reddit consists of hundreds of subcommunities, known as subreddits. Each subreddit has a specific topic, where members post comments, pose questions, and have open discussions with each other in a public forum style.

Threads:

On

social media

platforms like Facebook, Twitter, and Reddit, a thread is a series of replies to a single post.

To start a thread on Reddit, also called a discussion, you must locate the subreddit you want to create the thread in before posting.

Upvote/Downvote:

Users reading a particular thread can upvote or downvote a comment. The "score" you see in between the up and down arrows is simply the number of upvotes minus the number of downvotes. As you may suspect, an upvote is similar to "liking" the thread, and a downvote is a "dislike." 

TL;DR:

This stands for "Too Long; Didn't Read." With really long posts, some users may provide a one- or two-sentence summary and start it with TL;DR for the readers who found the original post too long to read and are just looking for a synopsis.
20 Personal Finance Tips We Love
We've selected some of the best financial advice from Reddit's subreddit of r/personalfinance. We even combed through 100s of posts and comments to find some gems to help you take action with your money. Ready to get started? Take a look at these 20 financial tips from selected Redditors.
1. Save or pay off debt based on your situation? — by seatcord

Should you save or pay off debt? It's an age-old question, and the answer can vary. This Reddit user shares the nuance of the situation. If you're in a secure place financially an emergency fund of up to 3 months can be a good start. This way you can focus on repaying debt, while having money set aside in case of an emergency. If your financial situation is less stable, saving a larger emergency fund is a better option before going beast mode on your debt. So, build your emergency fund based on your situation and then work toward getting out of debt.
2. Save and invest automatically — by flat_top

We love this post because we also believe in paying yourself first. Most people spend first and then feel like they have nothing leftover to save. Here we are reminded that we should prioritize saving and investing first, and then see how much we have to spend on other luxury items. Automatically saving can help you do this. Making your savings automatic with Chime allows you to save 10% every time you get paid. You can also round up your purchases so you're saving every time you spend.
3. Learn how to save first and avoid credit card debt — by korepeterson

Have you ever checked your account and teared up a little bit? Have you ever wondered just how much you charged on your credit card this month? Keeping yourself in the dark about spending can lead to large amounts of debt. That's why creating savings goals and a budget is a perfect  way to keep your spending in check and avoid credit card debt. To start with your expenses, create a budget, track your expenses, and check your bank and credit card balances every week.
4. Not investing can cost you money due to inflation — by  GivemetheDetails

Let's face it, investing is scary and can be confusing as a beginner. There's risk involved and so many factors outside of our control. But, keeping all your money in cash and not investing any of it is not the wisest choice. So, start by figuring out your risk tolerance and invest some of your money, while also keeping some of your money available in cash savings.
5. Start a side hustle for extra cash — by oldschoolawesome

Looking to earn extra cash? Adding on a second job can be stressful, but starting a side hustle allows you to work for yourself, create your own hours, and work at a pace you are comfortable with. An easy place to start is by selling items you own but don't use anymore. This is a great way to make extra money while decluttering your space. It will take time and effort to make some money, but selling even a couple of items every month can add up pretty quickly and pay a couple of your bills. 
6. Advice on getting out of debt — by PacificNorthLeft

Ready to get out of debt? It's time to ditch those extra expenses (for now) and create a budget. Pick a debt repayment method, like the debt avalanche method, where you focus on eliminating your high interest debt first. While paying off debt, you can still save for retirement, even if it's a small amount. It all starts with saying goodbye to some unneeded expenses and having a plan.
7. Keeping track of your credit and debt — by Hmmletmec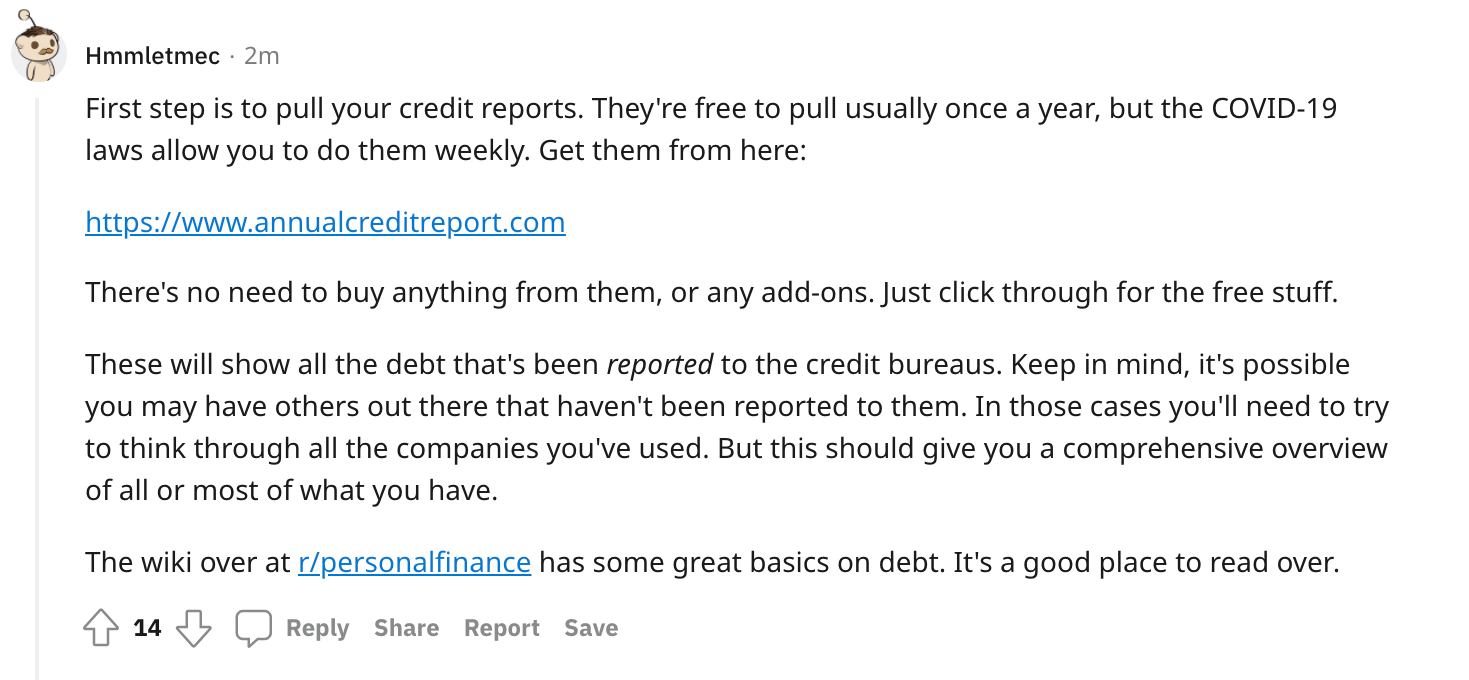 If you're unaware of how much debt you owe or what your credit looks like, pulling your credit report is the place to start. Your credit report will show you all of your debt, open accounts, and credit history along with current utilization. The first step is understanding your credit report to evaluate your debts and accounts and come up with a plan to better manage your finances moving forward. You can retrieve your credit report for free once a year using Annualcreditreport.com.
8. A guide to figuring out a lease — by tomatuvm

A lot of people prefer to lease their vehicle opposed to buying a new or used car. However, to ensure you are getting the best possible deal when leasing a car, you first must learn how to calculate a lease on your own to fully understand the process. This post gives an in-depth overview of how to calculate a loan for a lease and encourages you to know your options before going to the dealership. 
9. Should you pay your student loans off early? — by zerogravitas365

There's so much student loan advice out there. You may be wondering if it's worth it to try and pay your loans off as soon as possible. Here we have some simple advice: Unless you're rolling in dough, stick to your payment plan, and use your extra cash for a high-yield savings account to watch your money grow. Every situation is different so check your interest rates and look at the numbers to ultimately make the best decision for your finances.
10. Start investing in a 401(k) — by KermitMadMan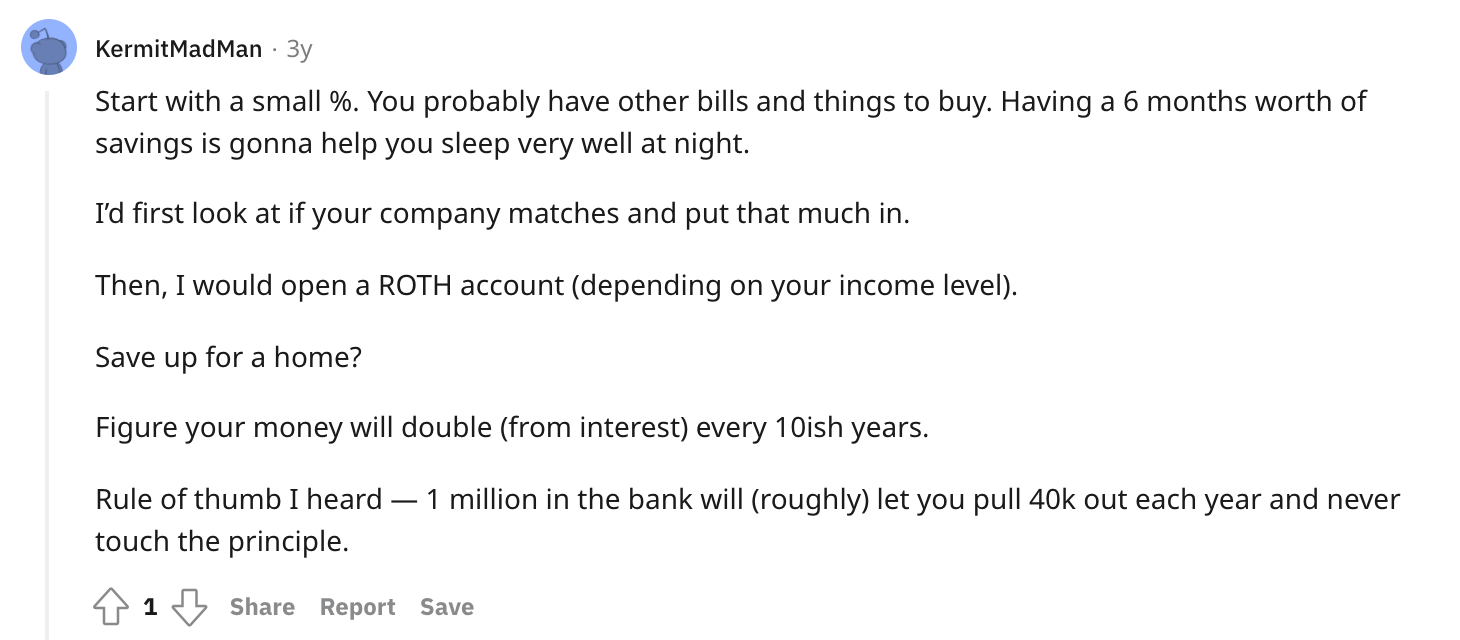 Saving for retirement as early as you can is the smart thing to do, and one easy way to do that is through your 401(k). But, how do you get started? First, make sure your emergency savings is covered. Then, if your company has a 401(k) match, contribute enough to get the match and take advantage of that technically free money. The key is to start somewhere and keep building.
11. Best financial tips to manage money and move out — by mormengil

When you're just getting started with adulting, managing your money can seem hard. How do you get started? How can you manage your money to move out of your parents house? This post gives a step-by-step guide on where to put extra savings and how you can manage your money better to prepare to move out.
12. Fixed or variable interest rates? — by DaTower75

If you're about to take out a loan, you probably will choose from a variable or fixed rate. Which one is better? Although variable rates may be lower, interest rates are likely to go up, so locking in a fixed rate can be a good option and save you money in the long run.
13. Create a "fun" savings account — by Jrlutz31

Here's some advice we can get behind. Create a "fun money" savings account! No more guilt about having fun since it's in the budget. Start by saving automatically and setting some money aside specifically for F-U-N. Having fun with your money can help you enjoy life and may even help you stay on top of your other financial goals because you don't feel deprived. 
14. Set your children up for financial independence — by monark824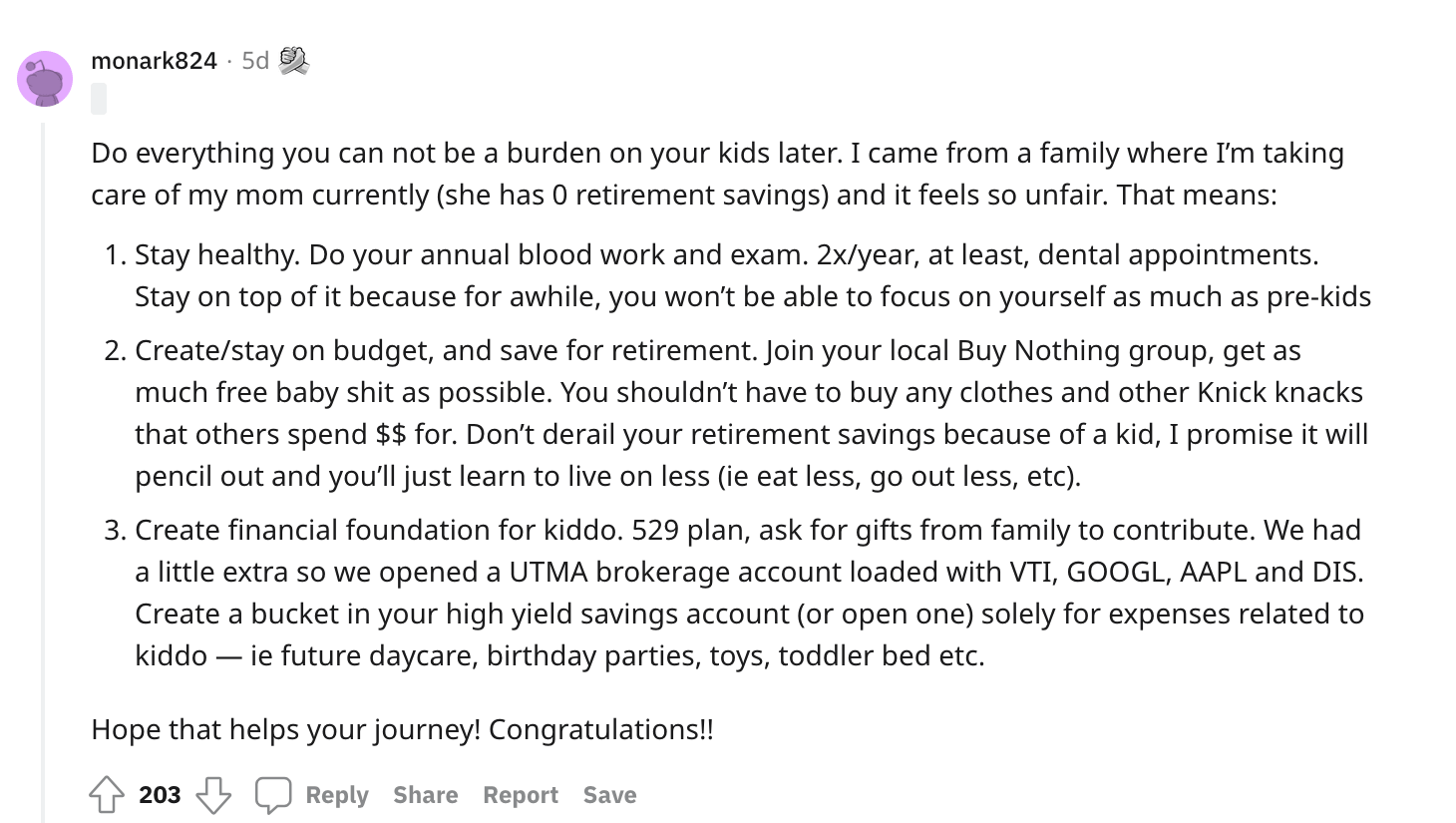 If you are a parent or are planning to have children, you probably have thought about how to set them up for financial success. It's safe to say that money habits and financial literacy can stem from your parents lifestyle and what you learn from them growing up. However, as a parent, you can only do so much. Above are some great tips for steps you can take to alleviate financial burdens from your children in the future.
15. Know where your money goes and how to budget by tracking — by xaradevir 

Many of us have thought, "Where the heck did my money go?" It happens. This post reminds us to track, track, track. Track everything. Start by going through all your expenses over the past month. Write down "need" or "want" and evaluate where you can cut back. You can't improve your financial situation unless you really know what's going on with your money.
16. Where to keep your emergency fund — by saivode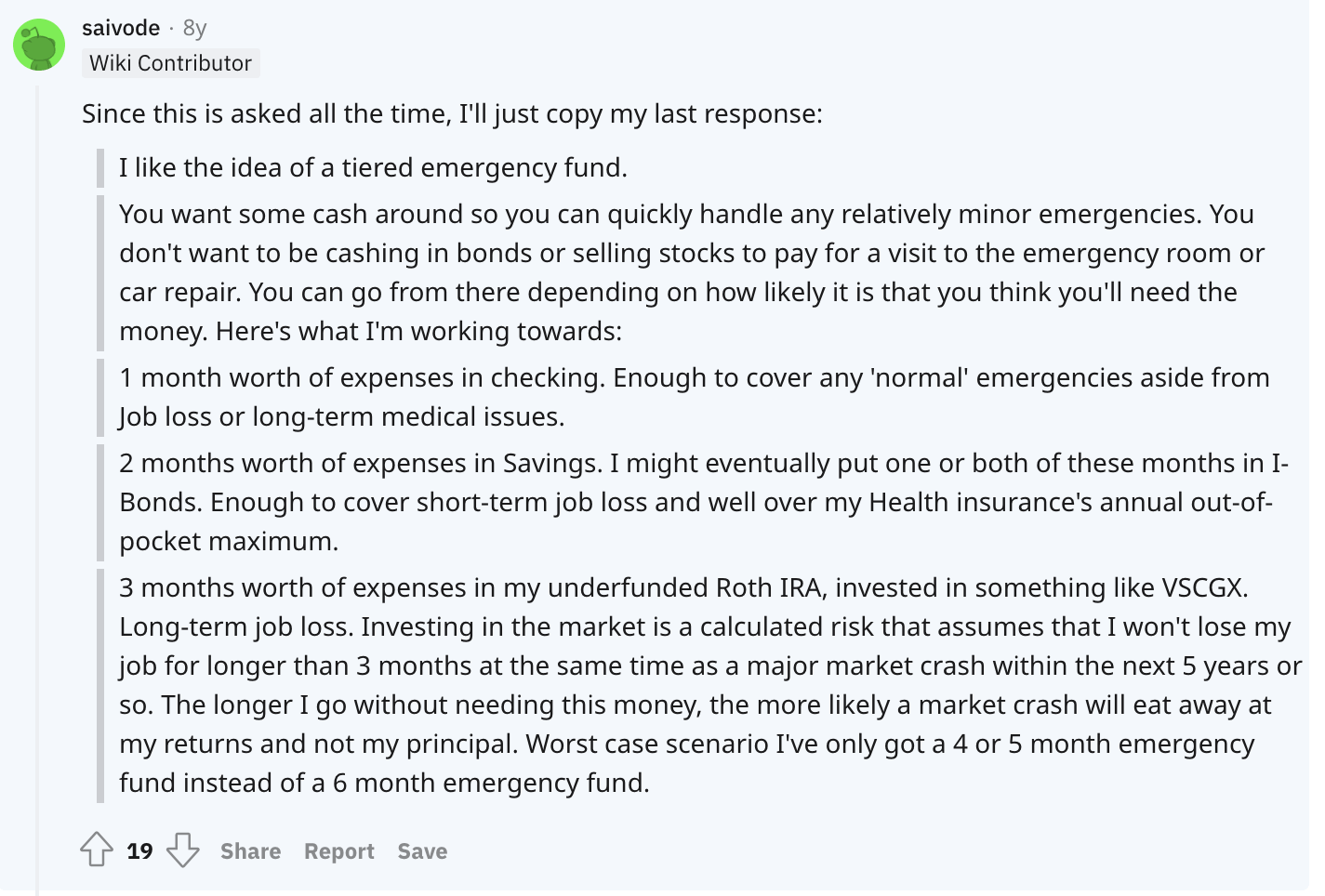 When it comes to your emergency fund, you want your money to be stored in a safe place. It's also important that the money is readily available if and when you need it. Since your emergency funds will most likely be sitting in an account until you do need it, look for a high-interest savings account to park your emergency fund money and grow your money while it sits. This post also gives some good ideas on where to keep your hard earned cash!
17. Building credit with a credit card  — by DeluxeXL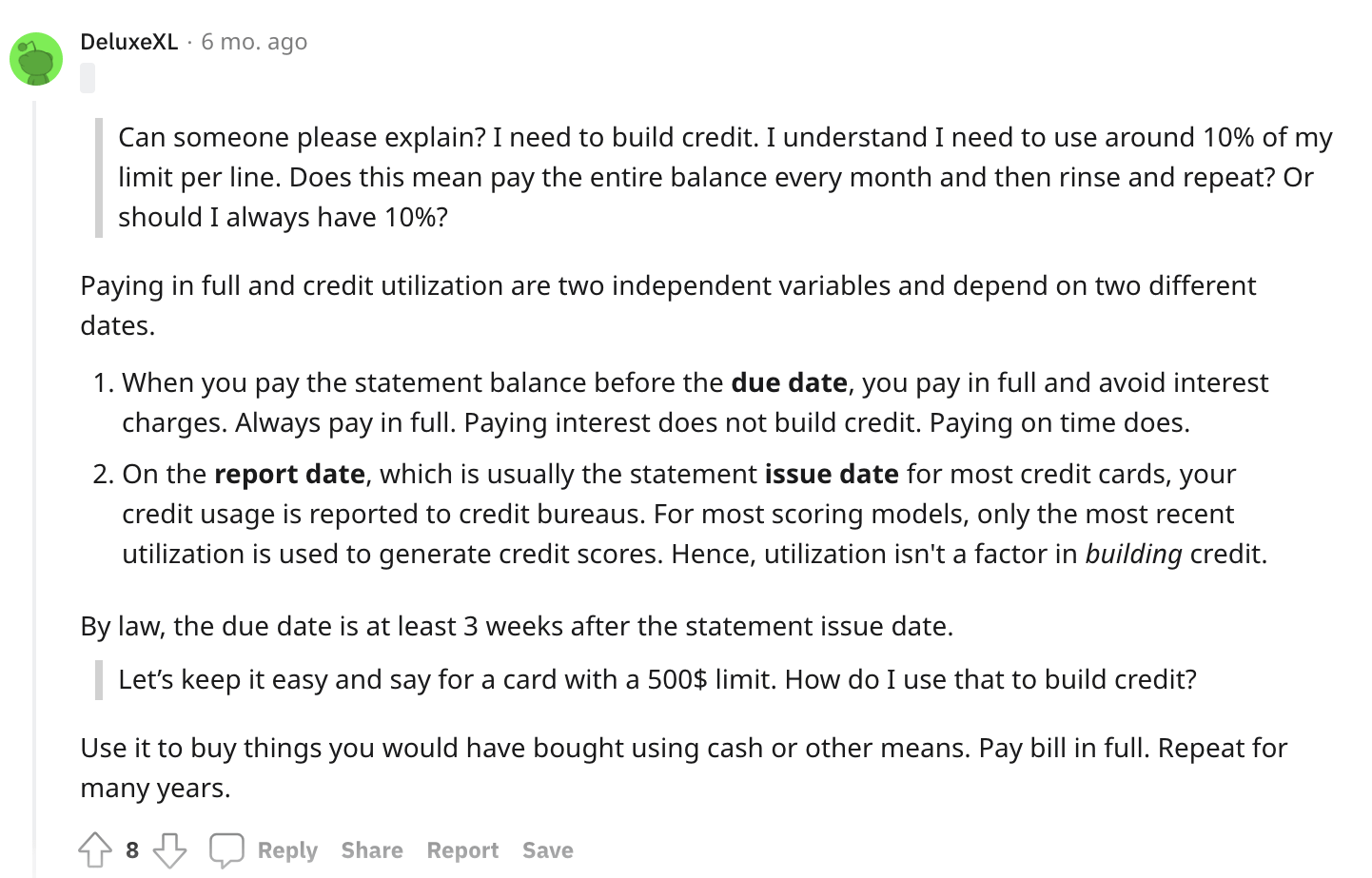 Credit cards and building credit can be confusing and can get out of hand pretty quickly if not managed responsibly. Yet, it's fairly simple. Get a card, make purchases, and pay the balance in full each month. Over time, your credit score will improve. It all starts with using credit responsibly. Aim to keep your balances low and only borrow what you need.
18. Don't take on debt just to build credit — by BarleyBar

To build or establish credit, you definitely need some type of credit to work with, but you should never take on debt and pay high interest just to build your credit. For example, you don't need to take out a car loan just to improve your credit. Instead, you can start with a secured credit card or only use your credit card for groceries or gas and pay it in full every month.
19. Max out retirement by the end of the year — by acosmichippo

By the end of the year, there are ways to maximize your money. It's the best time to max out your 401(k) contributions and HSA, if possible. This advice is simple and to the point; however, don't stress yourself out if this isn't a possibility for you at this point in time. Start with setting and achieving small goals and work your way up to maximizing these accounts each year.
20. Tips on how to get a raise — by buyabighouse

As noted in another one of these Reddit tips, earning more is an important part of the financial equation. This can be done by asking for a raise. But, how do you do that? Start by doing research on Glassdoor or Payscale to see what the market rate is for your position in your area. Keep tabs on your accomplishments and at the right time, talk to your supervisor about a raise. It can be outside of your comfort zone, but growth always is!
Other Subreddit Communities to Browse
Subreddits are individual communities found on Reddit that are dedicated to specific topics or types of content. Subreddits can be very broad, or they can be highly targeted. 
Subreddits are noted by an "r/" followed by the topic's name. For example, r/Funny is a subreddit made for jokes and funny stories, while r/Dating is a subreddit made for stories and tips about dating. 
When visiting a subreddit, there are a couple of things that you can do to participate:
Browse different threads within the subreddit

Start a new thread to pose a question or start a discussion

Comment on threads to engage with other users
All of the content within these subreddits are generated by everyday people like you and me. The top content is then highlighted by the community by upvoting or downvoting. This system rewards high-quality and engaging threads as well as gets rid of threads that the community sees as unpopular or lower quality. Some of the other most popular personal finance subreddits that you should know about include:
Community Size – 947K Members
This subreddit is a safe space that focuses on financial advice and guidance for those who are struggling financially. Between the supportive threads and resources provided, r/PoveryFinance has a lot of information for those who are in less than ideal financial situations.
Community Size – 198K Members
There are 2 types of income one can earn: active and passive. Most of us earn an active income from a day job. However, passive income is money you earn from assets you own that don't require daily work. Not only does passive income have the ability to grow, but it can also take years off your journey in becoming financially independent. If you are interested in learning more about how people are creating these passive income streams, this would be the subreddit to check out.
Community Size – 18.5K Members
If you are considered low income or make $100,000 a year, the key to personal finance is knowing how to budget. Fortunately, r/Budget discusses the basics of budgeting strategies and ideas on how to better manage your money which, as a result, can help you reach your financial goals. 
Final Thoughts
As you can see, Reddit personal finance threads have a wealth of information that can really help you to fast-track some of your financial goals. Unlike other social media sites and public forums, Reddit uses the power of community to help solve some of the everyday problems that real people have.
Are you ready to improve your finances? You can start by checking out these 20 Reddit personal finance tips on everything from paying off your student loans, building your credit score, and asking for a raise. Have a financial tip of your own you want to share? Take it to Reddit!