One day, out of the blue, on Instagram I noticed an account that looked like Chime had DM'd me. I follow Chime on social media and contribute to their blog — so at first, it made sense. But as I read on, the message congratulated me for winning a sweepstakes I never entered, and asking for personal info, so I knew it seemed off. Sure enough, I took a second look at the username and noticed it had extra numbers at the end. It was a scam. 
While I was lucky to figure it out fast, the reality is there are many scammers out there posing as companies or impersonating other people. So how can you tell the real from the fake? Here's a handy guide for how to spot social media scams ASAP. 
Check the username carefully 🔎
Many scammers make usernames that are extremely similar to brands or other people, but with subtle changes that aren't always noticeable at first glance—like an underscore or extra letter. Put simply, if the username has punctuation, numbers, or extra words, it's likely a scammer. 
Look for the checkmark 👀
Another way to know if an account is legit? See if it's verified. At Chime, and many other companies, there's a blue checkmark on social media sites like Instagram and Twitter that serve as a mark of account verification. Getting verified on a social network means a team at that specific platform has confirmed an account as the authentic presence of the public figure, celebrity, or global brand it represents. Since this process is done by a third party, it's considered even more certain.
Think of it this way: If it doesn't have a checkmark, it doesn't check out.
👋 Pop quiz! Can you spot the fake?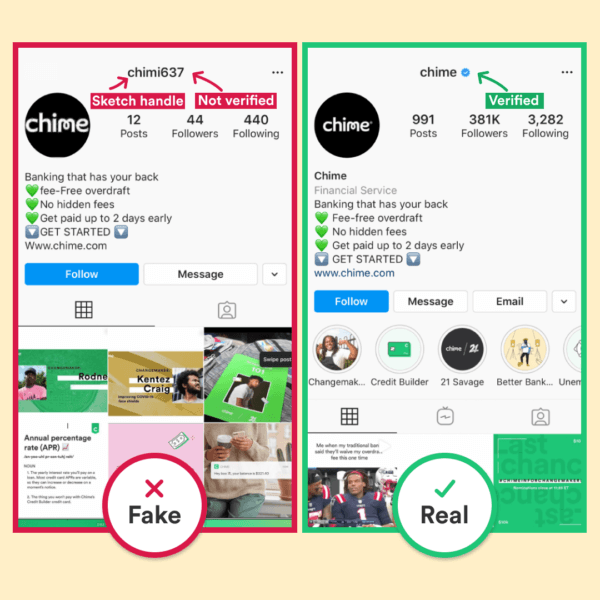 Analyze the message 🤔
In today's world, it's easy to be in contact with anyone on social media. But when someone you don't know is reaching out to you, make sure to analyze the message before responding. Here are a few questions to ask yourself, and possibly spot a scam. 
Are they asking for personal information?

Are they asking for financial account information?

Are they requesting passwords?

Are they telling you that you won a giveaway or sweepstakes that you don't remember entering?

Are they asking you to click on a link?
If any of these are a "yes", then it's likely a social media scam. Typically, companies will not try to do business in your DMs. For example, Chime only reaches out to members via DM if they've won a promotion. So next time you get a message from a person or a brand, considering revisiting this shortlist of questions to help you determine if you're dealing with a scammer.
Review their content 🤨
Content is arguably harder to fake than a username. When I looked into the account that DM'd me, there were only a few posts, with little-to-no engagement (likes and comments). That was an immediate red flag. Here are a few other things to look for in their account:
How much content have they posted?

What type of content do they post?

Do the images appear somewhat blurry or modified? (Scammers may try to replicate the logo)

Do they list an email or any contact information?

If they have an email, what is the domain at the end? For example, Chime's emails will always end in @chime.com. This can be an easy one to miss but also an effective way to spot a scammer

Did they recently create an account? For example, on Twitter it shows when the account was created.

How many followers do they have? While this can't always be a sure metric, if an account has very few followers or followers that seem like bots, the account could be a scammer.
Look at accessibility and history 🕵️‍♀️🕵️‍♂️
When it comes to online presence, there are some more telltale signs. 
For example, if it's a private account, you should be suspicious as a business would have a public-facing social media presence.
You also want to look at their social media history. When did they start and how many times have they posted? When I looked at the fake account that messaged me, the account was recently created and there were only two postings. Serious red flags. You can also look to see if there are mutual followers. If not, it might not be legit. Another trick? On Twitter, check out the "tweets and replies" tab. You might be able to uncover similar messages sent to other accounts, and quickly spot a fake.
What to watch for on social media 🚩
Whether a company or another person contacts you — and you don't know them — it's important to be cautious. Scammers rely on your trust and vulnerability, so keep your guard up any time you get a new message. If it feels suspicious, it probably is. 
Getting scammed can affect your sensitive financial information and personal information. For example, your Social Security number could be compromised. Scammers could use your information for identity theft or fraud. Or they could open a credit card in your name and snag your hard-earned cash. 
You'd have to lock your financial accounts, freeze your cards, and get new ones, plus there could be ramifications on your credit. Plus, updating all of your accounts and passwords is a pain; All reasons why it's important to be discerning and guard your privacy at all costs.