Store credit cards are a type of credit card branded for a specific retailer or store. In most cases, store credit cards offer benefits or incentives when used for purchases with the brand featured on the card. Sometimes, the card only works at that particular store, while others may work anywhere that accepts credit cards.
Store cards generally appear on your credit report and influence your credit score. Interest rates for using the card may be high, so use store cards responsibly to build or maintain a positive credit history.
Here's a closer look at stores with credit cards, how store credit cards work, and some excellent store credit cards.
Chime® Credit Builder Secured Visa® Credit Card
A New Way to Build Credit
No Credit Check to Apply1
No Annual Fees
Learn More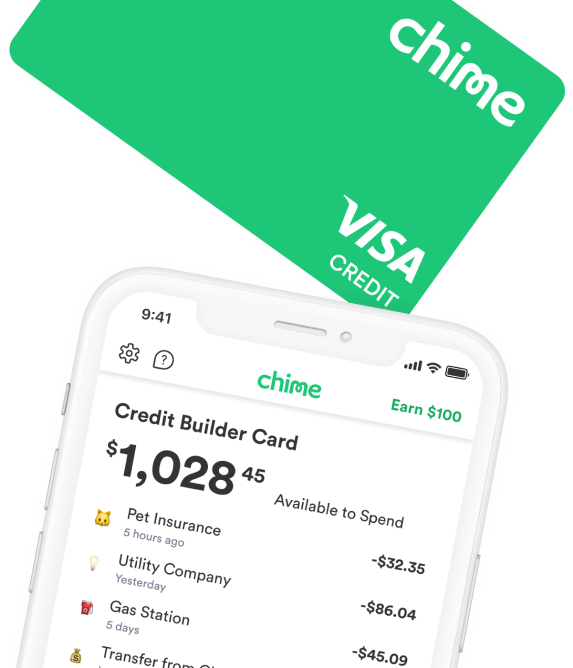 Amazon Prime Visa
If you're an Amazon Prime member and regularly shop at Amazon or Whole Foods, you may want to consider the Amazon Prime Visa.
Prime Members can get 5% back on purchases from Amazon, Amazon Fresh, Whole Foods, and Chase Travel, 2% back at restaurants, gas stations, local transit, and rideshare services, and 1% everywhere else. And occasionally, you can get 10% back on select times on Amazon.
The card has no annual fee for Prime Members. If you don't have Prime, the 5% categories only pay 3%. The card has valuable benefits, including rental car insurance, baggage delay insurance, extended warranty protection, lost luggage reimbursement, roadside dispatch, travel accident insurance, and purchase protection. These benefits, plus cash-back rewards, make this one of the best store credit cards.
New Prime customers can earn up to $275 in bonus cash back, broken down into a $150 Amazon Gift Card and a bonus of 5% cash back on up to $2,500 in purchases over the first three months. This one stands out among store cards as a fantastic option for Prime Members if you pay your bill in full monthly to avoid interest charges.1
Who is this card for? This card is a smart option for Amazon Prime members and others who frequently shop at Amazon.com and other Amazon-owned brands.
Pros
Cons
Earn 3%-5% back on most Amazon purchases
Best rewards require Amazon Prime membership
Excellent travel and purchase benefits
High interest rates depending on your credit history
No annual fee
Costco Anywhere Visa Card by Citi
Costco members who loyally shop at the store may want the Costco Anywhere Visa from Citi. The card requires a Costco membership but has no other annual fee. Cardholders earn 4% back on gas and EV charging up to $7,000 per year in combined purchases, 3% back for restaurant and travel purchases, 2% for purchases at Costco and Costco.com, and 1% everywhere else.
Rewards are paid as an annual reward certificate, which you can redeem for purchases or cash back at Costco stores. It doesn't have many added benefits but includes damage and theft purchase protection for up to 120 days for new purchases (90 days in New York). This card could be a top-notch deal if you want to earn excellent cash back rates on gas, restaurants, and travel and have a Costco membership.2
Who is this card for? The Costco Visa is only for Costco members, and the best benefits go to those who spend a considerable amount on gas, restaurants, and travel.
| | |
| --- | --- |
| Pros | Cons |
| Earn up to 4% back on common purchase categories | Requires a Costco membership |
| Doubles as your Costco membership card | The top cash back category is limited to $7,000 in annual purchases |
| No annual fee | Rewards paid as a Costco reward certificate |
Kohl's Card
The Kohl's Card only works at Kohl's, so it's only useful if you shop at Kohl's at least a few times per year in most cases. It offers a unique combination of features. New users can get a 35% discount on a single Kohl's purchase. When you're a Kohl's Rewards member, which is a free membership, you'll earn 7.5% back on purchases. Rewards are paid as Kohl's Cash, which you can use to shop at Kohl's.
Cardholders receive regular coupons and discounts, and users who spend at least $600 per year get Most Valued Customer status with free shipping opportunities. Users also get an annual cardholder anniversary coupon. If you don't shop at Kohl's, this card is a pass. But the rewards and savings add up if you regularly find yourself in Kohl's stores.3
Who is this card for? Shoppers who regularly visit Kohl's and Kohls.com and want frequent discounts and rewards redeemable for purchases.
Pros
Cons
Earn 7.5% back on purchases
Can only use the card at Kohl's
Earn a big discount at signup and frequent coupons
Rewards only redeemable for Kohl's purchases
Anniversary coupon and free shipping opportunities
Capital One Walmart Rewards Card
Attention Walmart shoppers, you can earn 5% back on all Walmart.com purchases, including delivery and pickup, when using the Capital One Walmart Rewards Card for the first 12 months when you check out with Walmart Pay. That's a potentially huge offer, depending on how much you shop at Walmart. Outside of that 12-month offer, the card features 2% cash back for Walmart, gas, restaurant, and travel purchases. You'll earn 1% everywhere else.
Cash back is redeemable for a statement credit, Walmart.com purchase, gift cards, and travel. There are few other benefits, but earning 5% back at Walmart for a year is tough to beat, particularly when you go there for groceries and other frequent household purchases. It has no annual fee.4
Who is this card for? Regular Walmart customers who want 5% back on Walmart.com and Walmart Pay purchases for the first year and 2% on other Walmart, gas, restaurant, and travel purchases.
| | |
| --- | --- |
| Pros | Cons |
| Earn 5% back on eligible purchases the first year | The best rewards rate expires after one year |
| Earn 2% back on popular spending categories | Must use Walmart Pay to get 5% back in stores |
| The top rewards rate includes grocery delivery and other Walmart+ purchases | Mediocre long-term rewards rate |
Lowe's Advantage Card
If you regularly shop at Lowe's or have a big home improvement project coming up, the Lowe's Advantage Card can be a natural fit. It's only usable at Lowe's and offers users a 5% discount–not cash back–on Lowe's purchases. New users get 20% off a single purchase up to $100 back.
You can choose to skip the discount and use the card for six months interest-free on purchases of $299 or more or 84 months at a reduced interest rate for purchases of $2,000 or more. Other discounts and limited-time offers may be available as well.5
Who is this card for? The Lowe's credit card is beneficial for home improvement fans who regularly shop at Lowe's or anyone doing a big home improvement project.
Pros
Cons
Earn 20% off up to $100 as a new cardholder
Card only works at Lowe's
Get an instant 5% off on regular purchases
High interest rate when you carry a balance
Option to get discounted interest rates instead of rewards on large purchases
Target RedCard
The Target RedCard is a reloadable prepaid, debit, or credit card. We're focusing on the Mastercard credit card, which you can use anywhere Mastercard is accepted.
The prepaid RedCard and debit versions offer similar rewards but don't require any specific credit history and don't show up on your credit report. The Reloadable RedCard can be reloaded with funds you can use later on at Target, much like a gift card. The debit card version is connected to a bank account, and funds are drawn from the linked account after every purchase.
The credit card includes 5% back at Target and Target.com with no limits, free two-day shipping at Target.com, an additional 30 days for returns for Target purchases, 2% back on dining and gas, and 1% everywhere else.
While not technically credit cards, the prepaid and debit versions are among the easiest store credit cards to get.
Card users also receive access to exclusive items, discounts, and 5% back at Starbucks inside Target stores. With no annual fee, Target fans may enjoy huge value depending on their Target shopping habits.6
Who is this card for? Target shoppers looking to earn 5% back with no limits at Target, Target.com, and in-store Starbucks.
Pros
Cons
Earn 5% back at Target and Target.com
Multiple card versions can be confusing
Get 2% back on dining and gas station purchases
The non-Target rewards rate leaves something to be desired
Users get free two-day shipping at Target.com
REI Co-Op Mastercard
The REI Co-Op Mastercard has worthwhile perks and benefits when spending with REI. If you're an REI member already, it could be a valuable addition to your wallet. It features 5% back at REI for full-price and discount-price items, REI gift cards, services, fees, and REI adventure travel. You'll earn 1.5% back everywhere else. Rewards are paid as a certificate you can use for REI and REI.com purchases.
If you use the card to pay for an REI Co-Op experience, you'll get the first $50 back per year as a statement credit. Considering there's no annual fee, anyone who shops at REI at least a couple of times yearly will likely come out ahead.7
Who is this card for? REI members and regular shoppers at REI stores and online.
| | |
| --- | --- |
| Pros | Cons |
| Earn 5% back on REI purchases, including gift cards and adventure travel | Rewards only redeemable for REI purchases |
| $50 annual statement credit for REI experiences | Rewards are paid as an annual certificate |
| Earn rewards on all non-REI purchases | Not the best rate for non-REI purchases |
Do store credit cards help build your credit?
Most store credit cards appear on your credit report and can help you build credit. There's a chance a store card won't be reported, but odds are they will, particularly if they have a Visa, Mastercard, or American Express logo and work like a regular credit card.8
As with other credit cards, you may see a small dip in your score when you apply for a new credit inquiry. New accounts also lower your average credit age, temporarily decreasing your score. For the best store credit cards, a temporary hit to your credit may be worthwhile.
In the long run, store cards can help or hurt your credit. The two most significant factors in your credit score are your payment history and credit balances. Keeping the balance low and always paying on time should ultimately help your credit score. But if you maintain high balances and make late payments or miss payments, you'll likely see a negative impact on your credit score.9
Should you get a store credit card?
As with any other credit-related decision, no answer is perfect for everyone. If you're the kind of person who pays off their balances in full every month and isn't tempted to spend more because you're getting rewards, store cards where you frequently shop could be a reasonable decision.
But even with the best store credit cards, a poorly managed account can do more harm than good. If you might miss payment due dates or pay interest from carrying a balance, you may be better off skipping the store cards.
Learn more about how long it takes to build credit.
FAQs
What is the best credit card for someone who shops a lot?
If you shop a lot at a single retailer, that store's credit card may offer you the best benefits and rewards for your unique situation. A general cash back or travel rewards credit card may be best if you shop at different stores or don't want to focus your spending on a specific retailer.
What store card can I get with a 620 credit score?
Every credit card issuer has its own criteria for approving credit card applications. In general, a higher score improves your odds of approval. Most credit card companies look at more than just your credit score, including other items on your credit report and your income, when deciding whether to approve a new account and determining interest rates and limits for new accounts. Sometimes it's tough to get approved when hunting for the best store credit cards for bad credit.
Is there a downside to store credit cards?
The biggest potential downside of store credit cards is the cost or impact on your credit, depending on how you use the card. If a store card will tempt you to spend more than you would have otherwise, it's probably not helpful for your finances. And if you're likely to carry a balance and pay interest or miss payment due dates, the cost and harm to your credit likely outweigh the benefits.