We have good news: Checking your own credit doesn't count against you. 
But you may see an impact if someone else — like a lender or landlord — checks your report. Here's more on how credit checks work, how they can affect your scores, and how you can stay on top of it all.
Chime® Credit Builder Secured Visa® Credit Card
A New Way to Build Credit
No Credit Check to Apply1
No Annual Fees
Learn More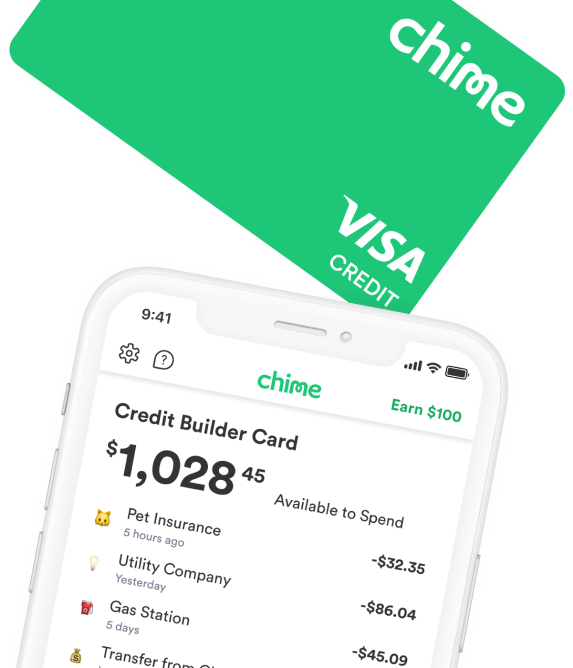 What is a credit inquiry?
Credit scores are based on information that comes from your credit reports. That includes things like account balances and payment history, as well as new credit inquiries.
An inquiry simply means someone requested a copy of your credit report. That could be you or anyone who's authorized to view your credit file — like a lender, landlord, debt collector, etc.
Soft vs. hard checks: What's the difference?
There are 2 types of inquiries: soft and hard. Soft inquiries don't affect your credit score, but hard inquiries can.
Here's a look at when soft vs. hard credit inquiries (also known as a soft pull and hard pull) may be used:
Soft Inquiries
Hard Inquiries

Soft inquiries are not used for credit applications. These inquiries don't require your permission, and they aren't reported to the credit bureaus. As a result, they don't affect your credit scores. 

Hard inquiries are associated with applications for credit. You must authorize a lender or another entity to conduct a hard inquiry. A hard credit pull is reported to the credit bureaus (i.e., Equifax, Experian, and TransUnion), and it can show up on your credit reports. 

Examples:

Prescreened credit offers

Credit prequalification or preapproval

Employment verification/background checks

Insurance quotes

Examples:

Mortgage applications

Credit card applications

Private student loan applications

Auto loan applications

Personal loan applications

Utility and cellphone service applications

Rental and leasing agreement applications

Credit Score Impacts:

If you're wondering, does checking my credit score lower it? The answer is no, and here's why. Checking your own credit score is considered a soft pull. Since it isn't reported to the credit bureaus, it can't hurt your credit score. 

Credit Score Impacts:

Hard inquiries, on the other hand, can reduce your score by a few points each. Inquiries can remain on your credit reports for up to 2 years. If you're rate shopping for a car loan, mortgage, or other loan, inquiries that occur within the same 30-day window are treated as a single inquiry for credit scoring. 
Why is checking my credit score so important?
First, checking your credit reports can help you gain insight into factors that may be affecting your scores. 
These scores are based on 5 factors:
Payment history: 35% of your score

Credit utilization: 30% of your score

Credit age: 15% of your score

Credit mix: 10% of your score

Credit inquiries: 10% of your score
If your credit score isn't where you'd like it to be, you can use your credit report as a guide for ways to improve it. For example, if negative payments are dragging your credit scores down, then automating monthly bill payments from your online banking account or service might be a simple fix that could help add points back to your score over time. 
Checking your credit scores is also important if you plan to borrow money. Lenders use credit scores and other financial information as a guide to determine whether to approve you for credit. Your credit scores can also influence the interest rates you pay to borrow. 
Before applying for a credit card or loan, it's helpful to know where you stand. Lenders may issue credit approvals based on where you land in a particular score range. With FICO® Scores, for example, "good" credit is generally a score between 670 and 739. BTW, FICO Scores are used in approximately 90% of lending decisions.
If you know a lender is looking for good or excellent credit, checking your credit scores can give you an idea of how likely you are to qualify for a loan. And if your scores are below the range that a lender expects, you can take steps to work on improving your credit beforehand. 
How to check my credit score
Now that you know checking your credit scores and credit reports won't count against you, let's talk about how to take a look at your scores. The good news is, you have multiple ways to check your credit score online. 
Option #1: Purchase your credit scores from FICO or the credit bureaus
The first possibility for checking your credit scores is to buy them directly from FICO or one of the credit bureaus. 
Usually, you get more than just a credit score with this option. For example, you might also get a copy of your credit report or access to ongoing credit monitoring. Remember, however, that you can get your credit score from each of the 3 credit bureaus for free once per year through AnnualCreditReport.com. 
If you're interested in buying your credit scores, here's where you can get them:
If you need more than just a credit score and report, you might consider the next option on the list.
Option #2: Check your credit scores with credit monitoring
Credit monitoring services can offer ongoing credit score tracking and monitoring. Specifically, these services track changes to your credit report that might affect your credit scores. That can include things like:
New hard inquiries

Paid tradelines

New accounts opened

Late or missed payments

Collection actions
That's helpful, especially if you're worried about identity theft or fraud. A credit monitoring service could alert you right away if a new credit account is opened in your name that you didn't authorize. 
But there's a catch. Credit monitoring services don't always furnish FICO Scores. They may offer VantageScores instead. 
VantageScores are an alternative scoring model that are used by a growing number of lenders. But they aren't as widely accepted as FICO Scores. So if you're interested in getting your FICO Score, a credit monitoring service may not be much help. 
Option #3: Check your credit scores for free
If you're on a budget, there's good news. It's possible that you could check your credit scores for free if you have a credit card. 
A number of top credit card issuers offer free FICO Scores monthly to cardmembers. Discover also offers free FICO Scores even if you don't have a Discover credit card. 
If you're wondering how to find your free credit score, you can check your monthly statement or log in to your online account. They should be listed on either one if your card issuer offers free FICO Scores. 
And here's one more way to get free credit scores: sign up for a free account with Experian. 
Experian offers a free credit report and FICO Score, no credit card required. Although, you may be asked if you want to upgrade your membership for a fee each time you log in.
FAQs
How long do hard inquiries stay on your credit report?
How many points does a hard inquiry affect credit score?
According to FICO  Scores, a hard inquiry will reduce your credit score by 5 points or less. If you have a strong credit history and no other credit issues, you may find that your scores drop even less than that. The drop is temporary, and your scores should rebound in a few months. Keep in mind that inquiries can have a greater impact if you have few accounts or a short credit history.
Why does checking your credit score lower it?
The reason hard inquiries lower your credit score is that a hard credit inquiry can signify to lenders that you're a risky borrower. Hard inquiries might result in lenders asking the following questions: Why did you apply for new credit? Are you going to max out the new credit line? Is the new credit a sign of instability? These are all potential red flags for a lender. So, until you can demonstrate that you are a trustworthy borrower, your score declines. 
How many hard inquiries is too many?
If you begin applying for many credit cards or different types of credit within a short time, the credit scoring models may see your activity as a high credit risk. This would result in a larger drop in your score than a single inquiry.
The impact that multiple inquiries will have on your credit will ultimately come down to what the lender feels are too many inquiries. Each lender typically has a limit of how many hard inquiries are acceptable before they turn you down for credit. For many lenders, 6 inquiries are too many to be approved for a loan or bank card.
Do soft inquiries affect credit score?
A soft inquiry doesn't affect your credit score. Some examples of a soft inquiry include checking your own credit or a lender wanting to preapprove you for a loan or credit card. These types of credit inquiries have no visible impact on your score because they don't present any risks to lenders. 
Bottom line: Get to know your credit score
Understanding your credit scores, how they're calculated, and how to check them can help improve your financial health. And knowing your credit score can be invaluable when you need to borrow money. As you work on building good credit, focus on simple habits like paying bills on time, keeping debt balances low, and growing your emergency savings account —  so you don't have to rely on credit cards for unexpected expenses.