For beginners, knowing how to get a credit card, where to get a credit card, or even when you can get a credit card might be confusing. Learning how to sign up for a credit card is crucial because, when properly used, it can significantly boost your credit score.
You'll need a strong credit score to get the best interest rates on home and car loans – and at least a decent score to get approved. Getting approved for a credit card is much easier. In that sense, credit cards serve as a stepping stone for more substantial loans down the road.
Chime® Credit Builder Secured Visa® Credit Card
A New Way to Build Credit
No Credit Check to Apply1
No Annual Fees
Learn More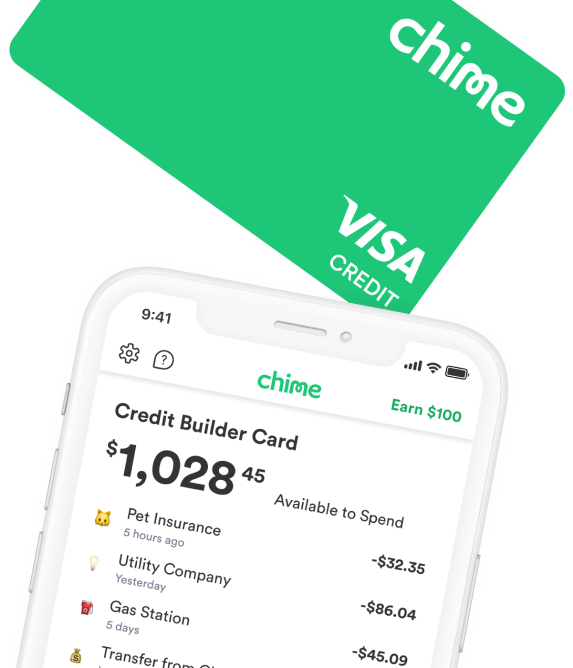 How to get a credit card for the first time
Credit cards have multiple benefits: They're a safe way to spend money, they're useful in emergencies, they can boost your credit score, and they may even pay out rewards when you use them. But for newcomers, figuring out how to open a credit card can be challenging.
To make it a little more manageable, we've broken down the credit card application process into five easy steps:
1. Check your credit score
Your credit score is a creditor's first line of defense in determining your creditworthiness. A lot of weight will be put on your credit score when you apply for a credit card. Knowing which credit score range you fall in will help you identify the right cards to apply for. For example, if a credit card company advertises cards for people with excellent credit (800+ credit score) and you fall in the fair credit range, then you'll probably want to steer clear of that specific card. 
Credit scores are based on your payment history, credit utilization, credit age, credit mix, and how often you apply for new credit. You can check your credit score through a credit card issuer or by ordering it from one of the three main credit bureaus: TransUnion, Equifax, or Experian.
2. Choose a card that meets your needs
To narrow down your list of options, start thinking about what you need from a credit card. For instance, if you have no previous credit history or score, you'll want to look for a credit card that doesn't require those, such as a secured credit card. Secured credit cards are a common tool for beginners to build credit and only require a cash deposit to open.
You can also consider a retail credit card if you're new to credit. Store credit cards are generally easier to get approved for, but be careful: They often incentivize you to shop at a retailer more than you might otherwise.
If you've already got a solid credit score from previous credit cards or other types of loans, you may be able to apply for a rewards card. Rewards credit cards offer incentives to consumers with stronger credit scores, such as cashback or travel rewards. There are several types of credit cards out there, so do your homework to figure out which ones best cater to your needs.
And remember: It's okay to have multiple credit cards, as long as you can keep up with the payments.
3. Get preapproved
Some credit card issuers allow you to see if you're "preapproved" or "prequalified" for their credit cards. To do this, you'll need to fill out a form and submit your personal information via the card issuer's website. Once you've submitted the form, the card issuer will initiate a soft inquiry on your credit report. A soft inquiry will not affect your credit score.
If you receive a preapproval notice, you've met all the lender's criteria thus far. A preapproval indicates you are likely to get approved, but approval is not guaranteed. You'll still need to apply for the card to be fully approved.
4. Decide how to apply
Now that you're ready to apply for your credit card, you'll need to choose how you want to do it. Depending on the card issuer, you may have a few options:
Applying online will probably be the quickest and most convenient method — you may even get approved instantly.
If you prefer a face-to-face experience, you can also apply in person. Applying in person will allow you to receive a quick response on approval, and you can ask questions in real time.
You may also apply over the phone, but keep in mind that you might be put on hold for a while.
The last and least convenient option is applying through the mail. If you opt for this method, consider that it could take weeks to receive a response.
What do you need to apply for a credit card?
To help the credit card application process go as quickly and smoothly as possible, come prepared with the information you'll need to apply. Application requirements can vary from issuer to issuer, but in general, this is the info you should know beforehand and have proof of:
Full legal name

Social Security number or individual taxpayer identification number (ITIN) 

Address (you must have a valid U.S. address)

Date of birth

Annual income

Housing costs
In addition, a card issuer might ask for subsidiary information, such as how long you've been at your current address and if you own or rent your home. They could also ask about your current employer, your main source of income, and any assets you may have. 
How to get approved for a credit card
Wondering how to get a credit card for the first time without getting denied? You can increase your chance of approval by: 
Improving your credit score: A stronger credit score will increase your odds of getting approved for a credit card. How can you build your credit before opening a credit card? Consider becoming an authorized user on someone else's account and making on-time payments on recurring expenses like rent and utilities. 
Taking care of any outstanding debt:

If you have any past due or

delinquent accounts

, pay them off as soon as you can. Ideally, your debts will be paid off before you apply for a credit card.

Establishing a good relationship with a bank:

It'll probably be easier to get approved for a credit card if you apply at a bank that you already have a

checking or savings account

with. This is especially true if you've demonstrated responsible account management, by avoiding overdrafts and keeping up with payments.
How to apply for a credit card with no credit or bad credit
Having no credit or bad credit is not necessarily a deal breaker when it comes to getting approved for a credit card. There are many ways to still get approved, either by changing your habits, applying for the right credit card, or finding alternative ways to build your credit. If you have bad credit or no credit at all, you can:
Ask someone to apply for a card with you as a co-borrower 

Have someone add you to one of their cards as an authorized user 

Apply for a secured credit card

Open a student credit card

Take out a credit-builder loan

Look for errors on your credit report

Pay down the balance on your debt

Request a credit limit increase on an existing account
FAQs
How long does it take to get a credit card?
Depending on how you apply, getting approved for a credit card can take a matter of minutes; some credit issuers even offer instant approval. To receive your credit card in the mail, expect to wait for about 7 to 10 business days after approval. 
Does applying for a credit card hurt your credit?
To check your creditworthiness when you apply for a credit card, some card issuers will run a hard inquiry on your credit report. A hard inquiry can lower your score by a few points and may stay on your report for as long as two years, but the impact is usually short-term and minimal. However, applying for multiple credit cards within just a few months results in multiple hard inquiries, which can be a red flag for lenders.
How often should you apply for a credit card?
How often you should apply for a credit card depends on your financial situation, as there's no hard and fast rule for this. However, experts typically recommend you wait at least six months between credit card applications. Each time you apply for a new line of credit, a hard inquiry may be triggered, which can lower your credit score. Some credit card issuers might have their own limits on how often you can apply for new credit. 
When can you get a credit card?
What does "preapproved" mean for a credit card?
"Preapproved" or "prequalified" for a credit card simply means that the applicant has met all of the lender's criteria for opening a credit card. Getting preapproved doesn't guarantee approval for the card in question, though. Instead, the applicant would still need to apply to determine approval. 
Can I cancel a credit card I just applied for?
It's usually possible to cancel a credit card application if you act fast. Contact the credit card issuer right away before they run an inquiry on your credit report and decide whether or not to approve your application.
Understanding credit card terminology
The credit card application process can include an overwhelming amount of unfamiliar terms for newcomers. Here are some common credit card terms you should know when applying:
Annual fee:

A yearly fee charged by the card issuer. Some cards don't carry annual fees, or they'll waive them for the first year. The ones with annual fees usually offer great rewards, like travel perks.

Annual percentage rate (APR): The interest that will be applied to your credit account during a billing cycle. You'll generally pay this interest if you carry a balance or pay a bill late. In general, the lower a credit card's APR, the better it is for your wallet.
Transaction fee:

The amount charged in addition to the APRs associated with your account for each type of transaction that you make. For example, a lender may charge a foreign transaction fee when you use your card in another country.

Balance transfer:

When you move debt from one account to another account. Some credit card issuers will charge you a fee to transfer a balance onto your card. 

Late fee:

A fee you must pay if you make a late payment.

Cash advance:

A loan you take out against your credit card limit. Many credit card issuers charge a cash advance fee per transaction. 

Minimum interest charge:

The minimum amount you'll be charged each month if you carry a balance on your card from one billing period to the next. 
Aim for a card with low or no annual fees and a low interest rate. If you plan to pay your bill in full every month, focus on comparing the cards' rewards and fees.
Build your credit with Chime
Applying for a credit card is a smart first step toward building your credit history. Remember to review your credit score before applying; knowing your score makes it easy to research the best credit cards available to you. You can even get preapproved before officially applying, if you're unsure. 
The Chime Credit Builder Visa® Credit Card is a great way for first-timers to get a credit card when you don't have the credit history other issuers may want. Credit Builder is a secured credit card – there's no annual fee or interest, no minimum security deposit required,³ and no credit check to apply.