Knowing what makes up your credit score and how to build credit may not be something you learned in school. But it can affect some pretty big things in life – like your ability to borrow money, rent an apartment, or even buy a home. We know that's a lot to take in, so we put together this handy guide to break down the credit score basics: what it is, how it's calculated, and how to build it up.
What is a credit score and how is it calculated?
The simple answer: A credit score is a measure of how responsible you are when borrowing money and paying bills.
The most often-used credit scores are the ones issued by FICO. The FICO credit scoring model operates on a range, with 300 being the lowest score possible and 850 being the highest. In case you're curious, the average FICO score in the U.S. is 704.
Credit scores are calculated using personal information in your credit report, like your name, current and past addresses, social security number, employment history, credit accounts, payment history and balance information, and applications for new credit. With this personal information, FICO scores focus on five specific things to calculate your credit score:
35% of your score is based on payment history
30% is based on your amounts owed
15% is based on the length of your credit history
10% is based on inquiries for new credit
10% is based on the types of credit you're using (i.e. loans and credit cards)
At the end of every month, your credit scores are recalculated and reported to credit bureaus to reflect any changes.. The three biggest credit reporting bureaus are Equifax, Experian, and TransUnion.
5 ways to build good credit from scratch
Understanding the key ingredients in your credit score is really the secret to building it. Here are five things you can do right now to establish and/or improve your credit score.
1. Open a bank account
Bank account activity doesn't show up on your credit report and it doesn't factor into your credit score. But an online opening an online bank account can work in your favor when building credit.
Why? Because if you have a bank account to deposit your paychecks in and pay bills from automatically, that can reduce your odds of missing a bill due date. (Remember, payment history counts for the largest part of your FICO score so paying on time is important.)
Aside from a checking account, you can also open a savings account to start building an emergency cushion. Having some cash tucked away in a rainy day fund means you can pay unexpected bills without having to put it on a credit card or take out a loan. Keeping debt balances low can also help with improving your credit score.
2. Secured credit cards
Credit cards can be convenient for making purchases but they can also be a highly useful credit building tool. As you make purchases with your card and pay them off on time, that can help establish a positive payment history.
If you've never had a credit card before, you may want to start with a secured card. Unlike other credit cards, a secured credit card usually requires you to make a cash deposit upfront. Your deposit doubles as your credit limit.
But what if you don't have a lot of cash for a deposit? The good news is there are some secured credit cards that don't require a minimum security deposit.
The Chime Credit Builder Visa Secured Credit Card, for example, requires no credit check to apply and no minimum security deposit. This card has no fees and a 0% annual percentage rate.
Note: When comparing secured cards, remember to check the fees and the APR. The lower these are, the better, especially if you think you'll carry a balance on your card.
3. Credit builder and savings secured loans
Credit builder and savings secured loans offer a slightly different take on building credit.
When you get one of these loans, you're borrowing against money you already have in a savings account or CD account. The bank or credit union lends you money using your savings as collateral and you repay it with interest. In the meantime, the loan proceeds are parked in an interest-bearing account. Once you've repaid the loan, the loan proceeds and interest that accumulated are handed over to you.
Essentially, you're repaying a loan to build credit, but you don't get the proceeds of the loan until it's paid in full. That's a reversal from how loans usually work, where you get the money upfront.
But this may not matter if you're more concerned with how to build credit. The key with credit builder loans is making sure your account activity, including payments, are reported to the credit bureaus so you get credit (pun intended) for your efforts to pay on time.
4. Become an authorized user
Instead of getting a credit card in your name, you can ask a friend or family member to add you to one of their cards as an authorized user.
According to Equifax, being an authorized user allows you to make purchases with the card and have the account's activity show up on your credit report. Yet, you're not the one liable for the card's balance.
If the primary card holder practices good credit habits, those habits would be reflected in your credit report and score as well. If you're not quite ready for a secured credit card or credit builder loan, becoming an authorized user could be a relatively quick way to start building credit. The only catch is that, if  the primary card holder falls behind on payments or maxes the card out, being an authorized user on their account can hurt your credit.
5. Ask someone to co-sign a loan with you
Co-signing on a personal, student, or auto loan is another way to build credit. Unlike being an authorized user, however, you share responsibility for the debt with your co-signer.
So if you take out a $5,000 personal loan with a co-signer, you're both on the hook for the debt. But asking someone to co-sign can help you qualify for a loan that you may not be able to obtain on your own. Once you're approved, you can work on repaying the loan and building credit history.
But there is some risk involved. If you default on the loan, both your credit history and that of your co-signer can be damaged.
How long does it take to build credit?
Building good credit doesn't happen overnight. So, just how soon can you expect to see results?
Typically, it can take about 12 months to grow a fair credit score, which is in the 580 to 669 range for FICO scores. Working toward a perfect 850 score, on the other hand, can take several years.
Bottom line: You'll need to be patient and give your good credit habits time to pay off.
Chime® Credit Builder Secured Visa® Credit Card
A New Way to Build Credit
No Credit Check to Apply1
No Annual Fees
Learn More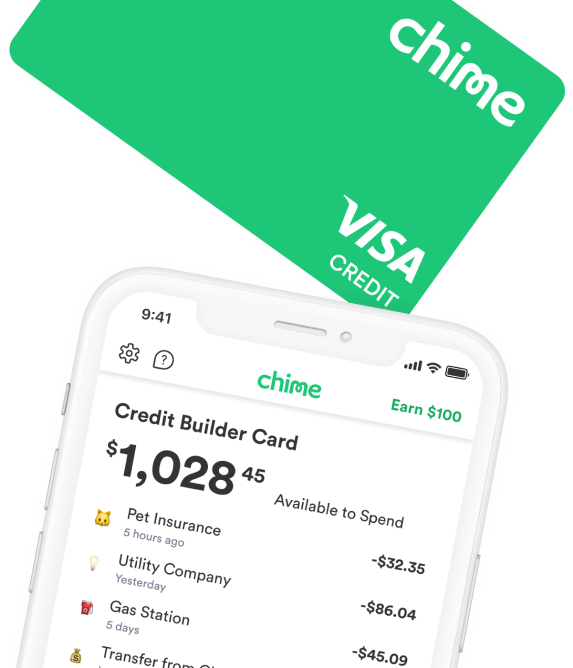 Check in with your credit regularly
If you're hard at work on building credit, don't forget to track your progress. Remember, you can get your credit report three times a year for free through AnnualCreditReport.com. Free credit monitoring services help you track your score month to month.
In the meantime, you can set up alerts for your bills and schedule automatic payments through your mobile banking app so you never miss a due date. When you make payments on time and keep your balances low, your credit will eventually improve!