Let's be real: Most people are not very good at keeping their New Year's resolutions. In fact, a study published on ResearchGate showed that less than 10% of people ever fulfill their New Year's resolutions!
We don't want you to start 2020 with goals that sound good, but are unrealistic. We want to help you find a healthy rhythm of financial habits, so that you can reach your savings goals slowly, over the course of the year.
Why should I start saving?
 The majority of Americans have a hard time saving money. (Not spending! 🤑) In fact, a Federal Reserve survey found that 40% of Americans have less than $400 saved up in the bank. We can't predict the future, but a Savings Account can help you be prepared for it! 
Reach your goals faster
Whether you're dreaming of a new car or a vacation, our Automatic Savings features can help you [save more/put more money away] every day, without even thinking about it. 
Stay ahead of the unexpected
We all run into those expenses out of left field—like a flat tire, or a cracked phone screen. When life catches you off guard, an emergency fund can help you be 10 steps ahead.
What's a Savings Streak?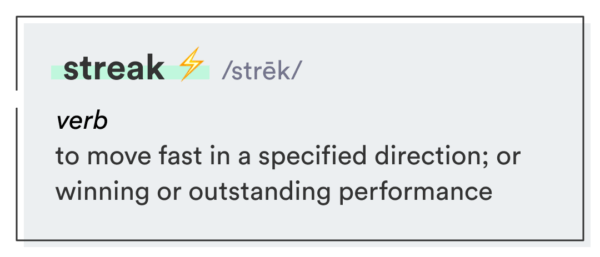 You know when your favorite sports team is on fire and keep winning, game after game?
Instead of scoring points, a Savings Streak is when you save money for several days (or weeks!) in a row. It's not about how much you save, it's about building a new money habit that works with your lifestyle. And sticking to it every single day.
How it works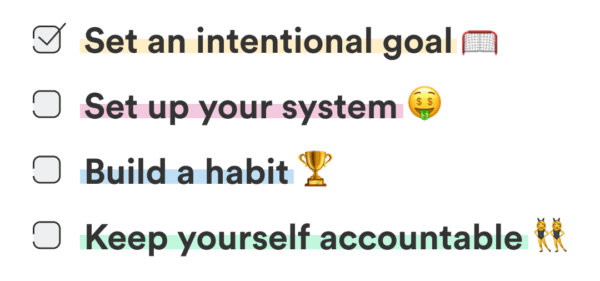 We're here to help you find your rhythm, and gradually reach your goals in 2020. Follow these 4 simple steps to hit your Savings Streak:
Step 1: Set your intention
The intentions you put in will guide your rhythm all year, so take your time with this.
Step 2: Design your system
Customize the perfect combination of features that work for your lifestyle. 
Step 3: Find your rhythm
After it's all set up, give yourself time to build good habits and get in the groove. 
Step 4: Hold yourself accountable
Share your Savings Streak with a friend who will help keep you on track.  
What to expect
We're here to help you every step of the way. Each week in January, we'll share updates to help you make the most of your Savings Streak. 
Week 1 (January 1-7)
Share your intention with the world in our social media sweepstakes. 
Week 2 (January 8-15)
Learn how to take advantage of our Automatic Savings features.
Week 3 (January 16-23)
Join our Savings Challenge to nail that new rhythm once and for all.
Week 4 (January 24-31)
Refer your friends and keep track of your progress together for the rest of the year.
---
This page is for informational purposes only. Chime does not provide financial, legal, or accounting advice. This material has been prepared for informational purposes only, and is not intended to provide, and should not be relied on for financial, legal or accounting advice. You should consult your own financial, legal and accounting advisors before engaging in any transaction.