You've moved into a new home and love your space. There's just one problem. It's so uninspiring.
It feels more like four walls put together and a place to rest your head. But you want to come home to a place that feels refreshing and inspiring. 
On the other hand, decorating can be costly. What can you do?
Luckily for you, we've compiled 15 tips for decorating on a budget. Take a look. 
1. Before You Begin, Create a Budget
First things first, you must create a budget – even if you're decorating on the cheap with DIY and second-hand stuff. 
You certainly don't want to go into debt decorating your house, right? So, look at how much you can reasonably afford to spend and set a budget for furniture, decorations, etc. Also, you might want to add home decor to your monthly budget for a quarter and spread out the spending over time. For example, buy essentials in month one and buy art in month three. The key is to create a budget that takes into account your home decorating plans.  
2. Introduce Yourself to The World of DIY Room Decor
If you want to become familiar with DIY home decor to save money, turn to Pinterest for inspiration and start creating boards to save for reference later. 
You can check out this Pinterest page for DIY home decor inspiration. You can also check out some of the ways you can use repurposed wood or how you can get the most out of hanging space. In addition, try buying cheap supplies at your local home and garden store, Craigslist, OfferUp, and yard sales. Some used items just need a little love to look brand new. 
3. Never Underestimate a Fresh Coat of Paint
One simple way to decorate your home on a budget is to apply a fresh coat of paint. Is there a room that you want to add some color to? Will a fresh coat of paint in the living room lighten it up a bit? Painting your home can give your space a facelift and make it feel more inviting and colorful. 
4. Make Cheap Room Decor by Repurposing What You Already Have
You don't have to go all out and buy only new things to decorate your home. As part of your DIY room decor, look around to see what you already have that can be repurposed. For example, do you have an old nightstand that you can paint? Do you have a cocktail cart that can be used to organize some kitchenware? Or, perhaps you can turn an Amazon box into a toiletry box and old coffee containers into planters.
Think outside of the box when it comes to repurposing. For instance, I turned my cocktail cart into a beauty supply cart. I now have all my lotions and makeup on my new-to-me beauty cart. I'm getting much more use out of it now than I did before its makeover.
5. Scout Out Yard Sales For Hidden Treasures
Getting quality used items should be a part of your DIY home decor strategy. You can check out local yard sales, Craigslist, OfferUp, and Facebook Marketplace. You can even scout out estate sales, or your local Goodwill or Salvation Army store. Sometimes you'll find hidden gems if you dig a little!
6. Decorate With Houseplants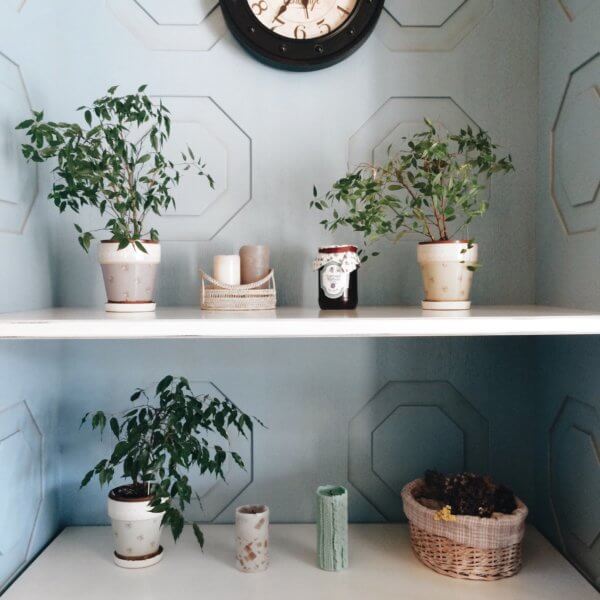 If you want to decorate your home on the cheap, don't underestimate the power of houseplants. Adding a little greenery to your home can go a long way. Plants are all the rage on Instagram so some prices may be inflated. Instead, head to your local nursery to see what deals they have and consider buying herbs like basil and mint from Trader Joe's. Also, try hanging some plants in your living room or bedroom to add some nature vibes to your home. 
7. Decluttering: The Easiest Way to Decorate on a Budget
You might think that decorating your home is all about adding more stuff. Not true! It's also about ditching the stuff that no longer serves you. Take a note from Marie Kondo and focus on the stuff that sparks joy and ditch the rest. You can even take your old stuff and turn it into cash or donate it. Once you free up space, you'll have room for other things to accentuate the rest of your decor. 
8. Buy Art on Etsy
One way to liven up your home is through art. The right art pieces can help set the mood of your home and make it more beautiful. You might not have hundreds or thousands of dollars to spend on items at a gallery but you can check out Etsy. 
Etsy offers affordable paintings and other art pieces from crafters and artists all over the world. Also, if you buy on Etsy, you'll be supporting creators and their livelihoods. It's a win-win situation! 
9. Print Out Old Photos and Frame Them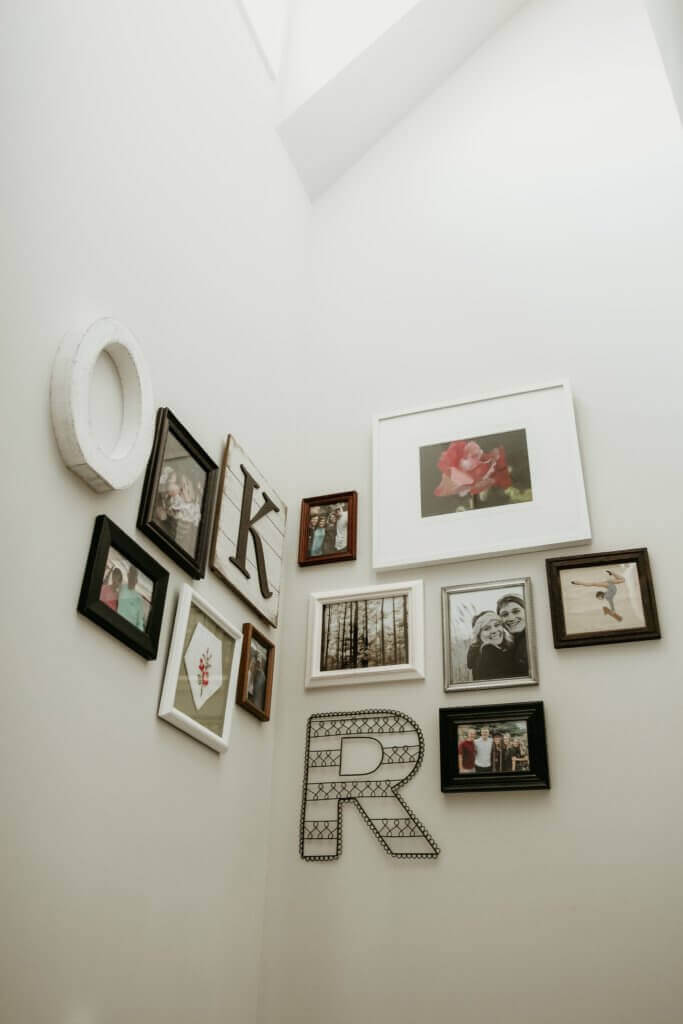 When I moved into my new place a few years ago, I wanted to make it feel more homey. So I decided to adorn my home with pictures of the people I love most. Yet, all of my photos were in my phone. So I took my favorite photos and printed them out at Walgreens for just a few bucks. Then I went to the dollar store and bought frames for the photos. My home felt more comfortable and happy. It was a simple, frugal hack. 
10. Get New Lightbulbs
If there's one thing that can set a mood, it's lighting. Restaurants know this. Why don't you also take this to heart? It's an easy fix. Just change your lightbulbs to something more attractive and mood-setting. 
11. Use the Power of Mirrors
If you want an easy way to instantly make your home seem larger and more light-filled, add some mirrors. Mirrors can help open up the space. Bonus: You can see if you have anything in your teeth after breakfast or see how cute you look before a date. 
12. Buy a New Shower Curtain
When you think of the highlight of your bathroom, you probably don't realize the main player is the shower curtain. Your shower curtain likely takes up the most space in your bathroom. When thinking of cheap house decor, a shower curtain can totally revitalize your space. 
So, head to Target and get something that fits in with the overall style of your home. 
13. Utilize the Power of Pillows 
Apartment decorating on a budget can be tough. But one item can be a total game-changer: pillows. Having accent pillows for your bed or couch can add a level of comfort and style to your home. Plus, throw pillows are affordable and can help easily transform your space. 
14. Place Candles Around Your Home
Having nice candles around your home can be just the thing you need to change your space. Candles add more light and a sense of relaxation. 
15. Have a Place for Everything 
Have you ever felt like you just don't know where anything is? You might have all your stuff strewn all over the place but one of the best DIY decor tips is to keep everything organized. When you walk into your house, for example, have a place to put your shoes. Set out a basket for mail and a tray for your keys. Know where everything goes. 
Bottom line 
Finding cheap house DIY decor can be tough but it is possible to decorate on a budget. To get started, use these 15 tips. Before you know it, you'll be saving money and turning your space into an inspiring home.
---
This page is for informational purposes only. Chime does not provide financial, legal, or accounting advice. This material has been prepared for informational purposes only, and is not intended to provide, and should not be relied on for financial, legal or accounting advice. You should consult your own financial, legal and accounting advisors before engaging in any transaction.