Good credit, for better or worse, can often feel like a game.
And if you've had a string of unfortunate luck, or have fallen on bad times financially, the cards feel unfairly stacked against you. What's more, you might feel as if you're bearing the credit score equivalent of a scarlet letter.
Here's the sweet news: You don't need a credit check to apply for or get your hands on a Chime debit card.
How do you get a debit card?
If you're wondering if online bank accounts have debit cards, the answer is a resounding "yes." 
The beauty of it? You don't need to worry about where your credit stands when you get a debit card. What's more, you don't need to drive into a brick-and-mortar location to get a debit card. 
Simply put: You can get a debit card by filling out an enrollment form. 
If you're applying for a Chime account, just cozy up on your couch with some salty snacks or a refreshing drink in your hand. Then apply through your phone or computer. The process usually takes less than two minutes. 
Say hello to your new online bank account!
Why would bank need to check my credit score for a debit card?
Just like how a credit card issuer checks your credit to see how financially responsible you are, when you apply for a debit card, your bank account may check your credit score to see how risky you might be.
If you've had a past bank account with unpaid fees or fraudulent activity, for example, this can make you seem like a higher financial risk.
So, when would a bank account check your credit? Typically, a credit check happens when you apply for a checking account. While most bank accounts will only pull a soft inquiry on your credit, some credit unions and traditional banks might do a hard pull on your credit.
If you're asking, "can I open a bank account without a credit check?" The answer is: You most certainly can.
If you're opening an account through Chime, we won't check your credit. What's more, you can rest easy knowing we aren't looking at your ChexSystems file, which includes information about your past banking boo-boos, such as overdraft and unpaid fees.
So, how can you check your credit score? It's certainly not hard or complicated. You can do a credit check by signing up for a handful of free credit monitoring services. You're entitled to one from each of the three major credit bureaus — TransUnion, Experian, and Equifax — every 12 months. Another way you can check your credit score for free is by ordering a credit report from AnnualCreditReport.com.
Sure, it can be painful to look under the hood to see what's been going on with your credit. But it can also help you understand what habits and behaviors have been hurting your credit score. For instance, maybe you have a high balance on your cards compared to the maximum limit, or you have a habit of being late on your credit card payments.
It's also worth it to carefully comb over your credit report and see if there are mistakes. Errors — such as accounts mistakenly reported late or in default — can make you look worse off than you actually are. Filing a dispute for free can help fix these errors and boost your credit score.
Chime® Credit Builder Secured Visa® Credit Card
A New Way to Build Credit
No Credit Check to Apply1
No Annual Fees
Learn More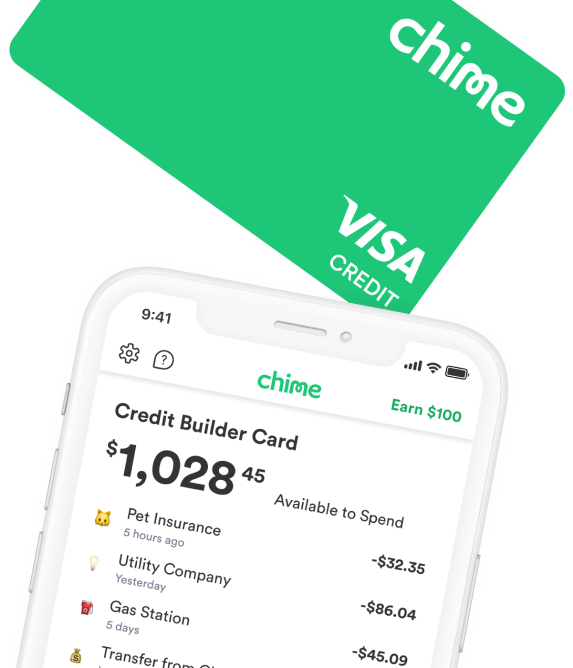 Is Chime's debit card a prepaid card?
Prepaid cards and debit cards look and sound similar. They're also both accepted in the same places as major credit card networks, like Visa and Mastercard.
That's pretty much where the similarities end.
There are major differences between a prepaid card and debit card. For one, a prepaid debit card comes pre-loaded with cash. You can only spend the money that you've loaded beforehand. So, if you load the card with $200, that's how much you can spend before topping it off again.
A debit card, on the other hand, allows you to spend as much as you have in your checking account. Let's say you have $500 in your checking account. In that case, you can spend up to $500.
Another big difference is that a debit card is linked to your bank account, whereas a prepaid card isn't. A prepaid card is usually issued by an outside company.
While a prepaid debit card is typically safer to use than doling out cash, it has its limits. There are generally fees that come with using prepaid cards, like for ATM withdrawals and transferring money. And while there might be a mobile app for certain prepaid cards, they're typically limited in their functions, such as with the Brink's prepaid card. While you can make payments and view transactions, they don't usually come with the bells and whistles that your bank account might have.
Chime's debit card isn't a prepaid card. It's linked to your Chime account and offers an enhanced mobile app experience. With Chime's award-winning mobile app, for example, you can pay friends and family, track your income, and pay bills.
Can I open a bank account without a credit check?
Because debit cards are connected to checking accounts, some banks require a credit check.
Banking through Chime is different. Besides not checking your credit, when you open an account through Chime, there are no monthly fees.
What's more, if you set up direct deposit with either your day job or one of your side hustles, you can get paid up to two days early. And if your bank account ever runs dangerously low, you can receive up to a $100 advance until your next payday with Chime's SpotMe.
What more could you ask for?