You're out to dinner with friends and want to chip in your share of the check. Or your kid brother's car breaks down, and you need to help them with $100 for a tow. 
You could run to an ATM for cash, but who has time for that? With Chime's Pay Anyone feature, you can transfer money at lightning speed to anyone–even if they don't have a Chime account. 
It's just one more way Chime aims to make your financial life easier. But how does Chime's Pay Anyone work? Here's what you need to know.
What is Pay Anyone?
Pay Anyone is a money transfer feature that's built into your Chime Checking account. With the Pay Anyone feature, you can send money instantly¹! Pay Anyone money transfers are fee-free, and you can send money to anyone – they don't even need to be a Chime member.
Pay Anyone can replace other money transfer apps you've been using to send cash to friends and family. You can get money where it needs to go, right from your cell phone. And best of all, when we say no fees, we mean no fees to send or receive money. 
How to Pay Anyone instantly through Chime
Sending money with Pay Anyone is literally as easy as 1-2-3. Here's how to send money instantly¹ by logging into your Chime Checking account.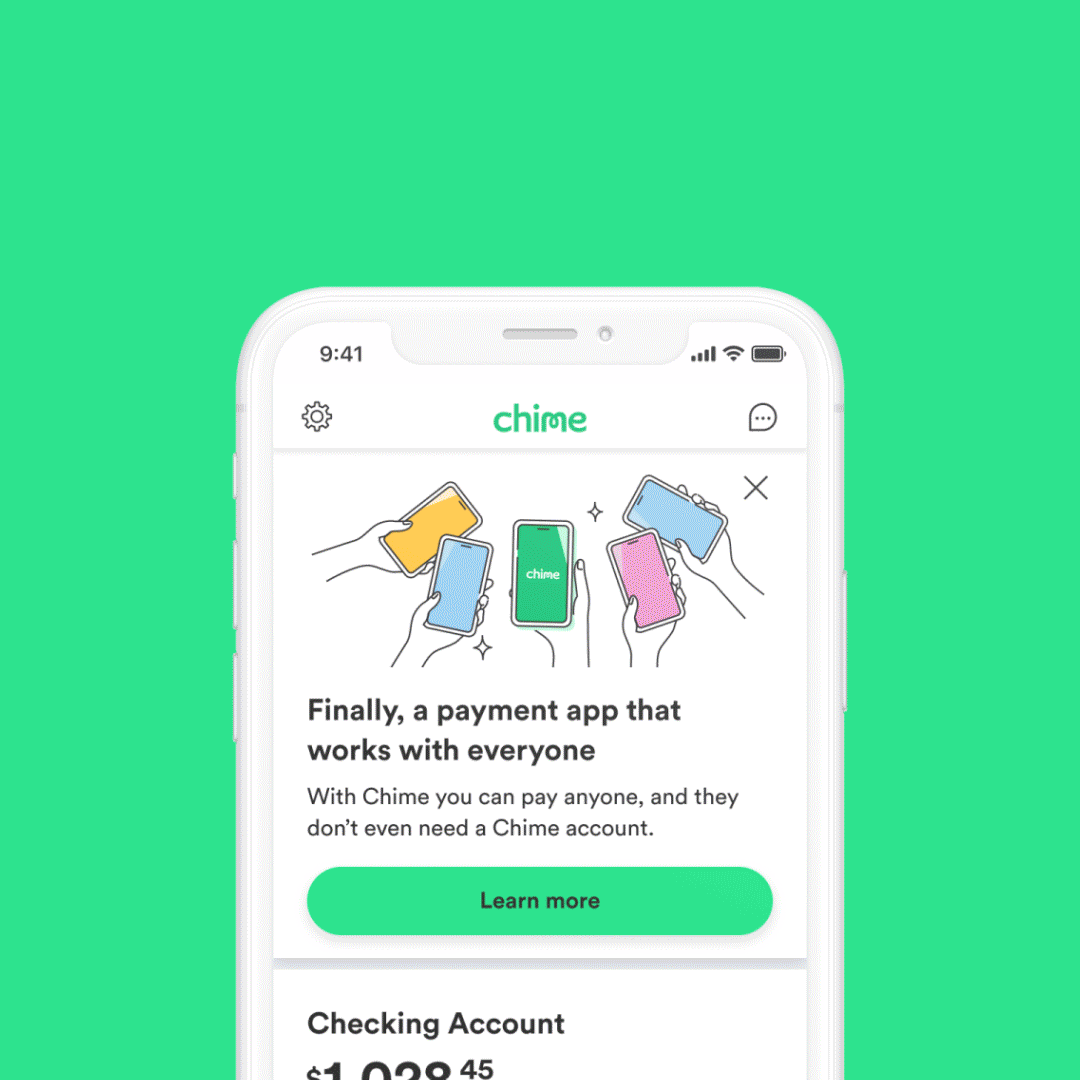 Choose who you want to pay.

Tap Pay Anyone to find a friend or enter their $ChimeSign. If you're paying someone who isn't on Chime, you can search your imported contacts. Find people to pay who aren't in your contacts simply by entering their email address or phone number.

Enter payment details.

Plug in the dollar amount you want to send and a note about the payment. You can even add a GIF or emoji to put the "fun" in "funds transfer". 

Pay instantly¹.

Once you've double-checked the payment details, just hit "Pay" to finish the transfer. Chime members get their funds instantly. Non-members have 14 days to enter their debit card info and claim their cash. 
Wait…is that it?
Yep, that's really all there is to it! We designed Pay Anyone to make sending payments quick and painless. You'll just need to make sure you have enough money in your Chime Checking Account to cover the transfer since funds are debited as soon as you hit "Pay".
How do I receive money from Pay Anyone?
Receiving money from Pay Anyone is just as easy as sending it. How you access payments depends on whether you're a Chime member or not. But either way, you can get your funds in just a few taps of the screen.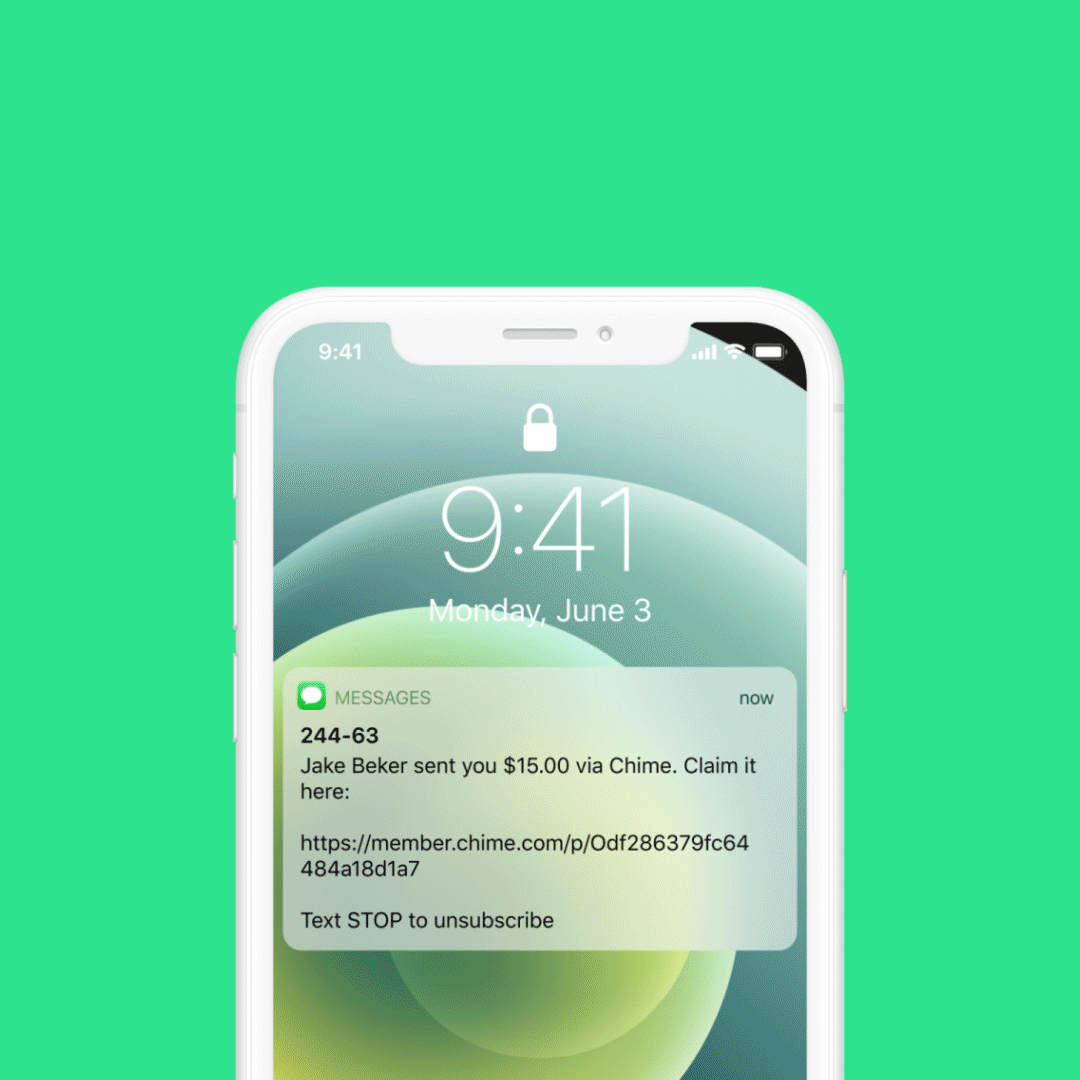 If you have a Chime Checking Account
When another Chime member sends you money through Pay Anyone, it's deposited into your Chime checking account instantly¹. You can even request money from other Chime members if you need to get paid back!
Simply log into the Chime mobile app, tap the "Pay Anyone" button and search for the right person. Enter the amount of money you want to receive and send your request on its way. The person you sent the request to will have 14 days to send the money. 
When you're not a Chime member
Don't have a Chime account? No problem! 
When someone sends you a payment through Pay Anyone, you'll get a text or email with a link to Chime's website. All you have to do to collect your dough is click the link and enter your debit card information. You'll have up to 14 calendar days to claim the money before it's returned to the sender's account. The best part? Even if you're not a Chime member, you can cash out right away without a single fee.
And of course, you could always sign up for a Chime Checking account to start sending money to friends and family in just a few taps.
Safe and secure payments
When trying a new money app, payment security is always a top priority. You want to make sure your money is safe at all times.
The good news is that payments you send through Pay Anyone are secure and the funds in your Chime Checking account are FDIC-insured with two layers of built-in protection. Chime support is also available 24/7 to help if you have questions and need to talk to a human. 
Chime's Pay Anyone vs. other payment apps
There are plenty of peer-to-peer (P2P) apps out there that you can use to send money. And if you're not a Chime member yet, you might even be using some of them. 
Here's a quick rundown of how Pay Anyone measures up against other money transfer apps. 
Pay Anyone vs. Venmo
Venmo is a mobile wallet app that you can use to send money to friends and family. The main difference is that to transfer money with Venmo, you first need to link it to your bank account, debit card, or credit card. 
With Pay Anyone, you don't have to take that extra step since you're already a Chime member. All you have to do is log in, select the person you want to send, choose an amount and hit "Pay."
Venmo charges fees to send and receive payments in some situations, while Pay Anyone doesn't. For example, you'll pay a 3% fee on Venmo to send money to people using your credit card and a 1% fee to receive direct deposit of your paycheck into your account. Venmo also charges instant transfer fees at a rate of 1.75% (up to $25)*, while Pay Anyone always lets you cash out fee-free.
Pay Anyone vs. Zelle
Zelle lets you send money instantly from your bank account to other people with Zelle accounts using an email address or phone number. If your bank doesn't offer Zelle, you can still enroll using your debit card number through the Zelle mobile app. 
Zelle doesn't charge any fees to send or receive money. But if you're using it through your bank, the bank might charge a fee. Again, Chime doesn't charge fees for Pay Anyone transfers. Unlike Chime, Zelle requires both the payer and the recipient to have Zelle accounts to send money.
Pay Anyone vs. Cash App
Cash App is a mobile payment service that you can link to a debit card or bank account. You can use Cash App to send money, receive it, pay bills, or even invest in stocks and cryptocurrency. 
Cash App has many features, but it still requires both the payment sender and recipient to have Cash App accounts to send and receive money.
Fraud can also be a concern when using Cash App. In fact, Cash App fraud increased by 300% from 2020 to 2021, according to data from Apptopia. With its live support and security features, Pay Anyone provides peace of mind when paying friends and family.
Like Venmo, Cash App also charges instant cash out fees∼ if you want your funds deposited to your bank account right away.
Bottom line? Pay Anyone through Chime can replace all the other money transfer apps you're using and help you clear out the financial clutter. You can send money to friends and family without them downloading an app or going through the signup process.
FAQs
What types of transactions can I use Pay Anyone for?
You can use Pay Anyone to send money to friends and family for just about any reason. For example, you could use Pay Anyone to pay your share of the rent, pay back small loans, or send money to someone in an emergency.
Do you have to have a Chime account to use Pay Anyone?
You don't need to have a Chime account or download any apps to receive money through Pay Anyone. You will need to be a Chime member to send money or send requests for payments to other Chime members. 
Does Chime's Pay Anyone have a transfer limit?
There is no limit to the number of transactions for Pay Anyone. Transfer limits vary. You can find your Pay Anyone limits under Settings in the Chime app:
1. Tap the gear icon in the top left-hand corner of the home screen to open Settings
2. In Account info, select View limits
3. Scroll down to view your limits for Pay Anyone Transfers

Start paying anyone, hassle-free
Sending money to friends and family shouldn't be a headache, especially if you need funds to get there fast. Pay Anyone makes it easy for Chime members to send money fee-free, instantly¹. And if you're not a Chime member yet, that could be a great reason to consider opening an account. 
Need to send money to friends and family? Get started with Pay Anyone today.