There are so many options when it comes to banking and managing your money. It's important to weigh the pros and cons of each option to choose what works best for you. One choice you may consider is a Chime debit card vs. a Netspend® Prepaid Card. Read on to learn more. 
Better banking for everyone
Fee-free overdraft up to $2001
No hidden fees2
Get paid up to 2 days early with direct deposit3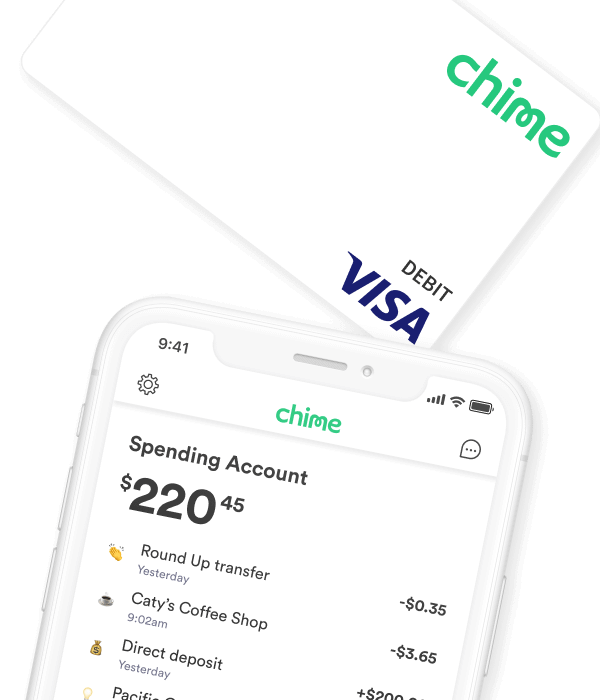 First Things First: Debit Cards vs. Prepaid Cards
What exactly makes a debit card different from a prepaid card? The main difference is a debit card is linked to a checking or savings account while a prepaid card is not. Check out the table below for more details. 
Chime Debit Card
Netspend

®

Prepaid Card

⁴

Usually given to users when they open a checking account

Linked to a checking account or savings account

Transactions are deducted from the linked account balance

You can deposit money into your account for access to more funds

Usually purchased on their own for a fee

Not linked to a checking or savings account

Transactions are deducted from the available balance on the card itself

You must load funds onto the card before making any purchases or payments
Remember, the difference between a debit and prepaid card is, once the amount goes to zero on a prepaid card, it cannot be used for any transactions until it is reloaded. 
Chime Visa Debit Card vs. Netspend Prepaid Account
Through Chime, you can open a Checking Account and get a Chime Visa® Debit Card. You'll get access to a bunch of great features, like mobile banking, online banking, getting paid early³, and much more. 
Netspend® is a prepaid card service with some online card management features. Users can choose between Visa or Mastercard options. They're called Netspend® Visa Prepaid Card and Netspend® Prepaid Mastercard.⁴
Let's take a closer look at how Chime and Netspend® compare.
Fees
Chime has no hidden fees². This means you're not hit with unexpected monthly maintenance fees, minimum balance fees, or foreign transaction fees. You may have to pay an out-of-network ATM fee, but Chime has more than 60,000 participating ATMs.
Netspend® charges a few fees you should be aware of, like: 
A monthly fee or per-transaction fee (depending on the preferred plan)

There is also 

ATM fees (including an ATM balance inquiry fee)

Reload fees

Cash withdrawal fees

Transaction declined fees 

Check request fees 

Inactivity fees
A third-party card purchase fee may also come into play. The type of fees and amount for each fee can vary based on your plan and other factors.⁵
Direct Deposit 
With Chime, you can get paid up to 2 days early³. This means, you can access your paycheck 2 days before your normal payday.
Netspend® also offers early direct deposit of up to 2 days early⁵. Direct deposits onto prepaid cards are essentially reloading your funds with your paycheck. 
Savings Account
Chime's Automatic Savings feature lets clients save money 2 different ways: 
When you spend:

Round up the cost of your purchases and watch the rounded-up amount help grow your savings.

When you get paid:

Set a portion of your direct deposit to go into your savings, growing your rainy-day fund with each paycheck. 
Netspend® has a savings account with up to 5.00% Annual Percentage Yield. Funds can be transferred from the card or you can opt for automatic transfer.⁷
Figuring out your priorities when it comes to a savings account can help you determine if Chime or a Netspend® debit card is right for you. 
Mobile App 
Chime has an award-winning app that lets members check their balance, track spending, transfer money, pay family and friends, pay bills, and much more. This allows you to take control of your money right from the convenience of your phone.
The Netspend® Mobile App allows users to see their balance and transactions, send and receive money, load checks, and find reloading locations.⁶
Security
Chime helps keep your money and information safe with a variety of security features. Here are some ways Chime helps with safety: 
Deposits up to $250,000 are insured through Chime's partner, The Bancorp Bank, N.A., Member FDIC.

You can opt-in for instant notifications and alerts for every transaction.

Chime's debit card is protected under Visa Zero Liability Policy.

The Chime mobile app requires two-factor authentication and supports fingerprint authentication.

If your Chime card gets lost or stolen, easily block any transactions using the mobile app.
Netspend® also employs some bank-level security to keep clients' accounts safe,⁶ such as:
Money is FDIC-insured through the card's issuing bank.

The Netspend® card is under the Visa Zero Liability protection or Mastercard Zero Liability protection.

There is a temporary card number to have more control over online transactions.
It's important to look into what security options are available to you. Make sure you have the protections in place that will give you the most peace of mind. 
Chime or Netspend: Which Is Right for Me?
Now that you have a general idea of what each option has to offer, hopefully you're more confident making a decision. 
Consider making a list of what's most important to you when managing your money. Be mindful of fees and make sure you get to keep as much of your hard-earned cash as possible. Is sending money important to you? Would you benefit from putting change into your savings with each purchase? All of these things are worth considering to make sure you and your wallet are happy. 
Chime vs. Netspend FAQs
Still have questions? Check out some more info about Chime's Checking Account and Netspend® prepaid accounts. 
Is Chime a real bank or prepaid card?
Chime is a financial technology company, not a bank. Banking services are provided by The Bancorp Bank, N.A. or Stride Bank, N.A.; Members FDIC. Chime is also not a prepaid card. Through its bank partners, Chime offers a full-service checking account with a Chime Visa® Debit Card for spending and using at 60,000+ fee-free in-network ATMs. Out of Network ATM fees apply. See Chime.com for more details.
Which card is better, Chime or Netspend?
It's up to you which card will best serve your financial needs. For many people, the answer is Chime. Both function similarly, but have different features and benefits. One of the biggest things to consider is that Chime has no hidden fees², while Netspend® fees can pile up with monthly charges and more. 
Can you overdraft a Netspend card? What about Chime?
You may be able to get a 24-hour overdraft grace period with Netspend®. But, you have to meet eligibility requirements, you must bring your account balance positive within 24 hours, and you're subject to fees.⁸ Chime has fee-free overdraft through SpotMe¹, where they'll spot you up to $200 protection with no fees. 
Final Thoughts: Chime Is the Better Choice
Both the Chime debit card and Netspend® prepaid card seem to have similar features, but what makes Chime a better choice is it has no banking fees that can rack up in the future, unlike Netspend®. Chime is more affordable and more convenient for those who want to save and grow their money. Being linked to a bank account also helps the debit card to have more benefits and more security. For many people, Chime is the overall better choice when it comes to managing personal finances.