We get so much more when we give to others. Whether it's covering for someone when they're a tad short, or being there to help launch a life-changing moment, it's that giving spirit that makes SpotMe a fan favorite.
And now it's your turn to spot others temporarily with some extra money when they need it. Today we're launching SpotMe Boosts—the coolest way to help your Chime friends and family while also adding to your own SpotMe limit.
How SpotMe Boosts work
Every month, we'll give you Boosts to send to people you know on Chime to increase their SpotMe limits. Boosts never come out of your own limit. And yes, they can Boost you back. 
Chime gives you new Boosts every month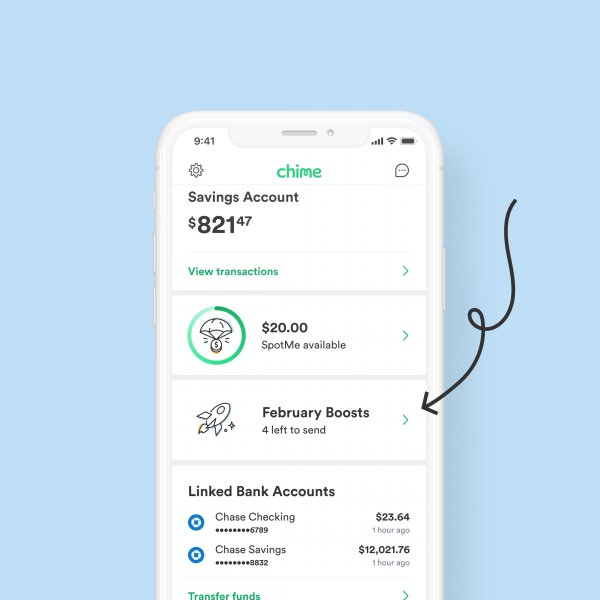 Pick a friend and hit "Send $5 Boost" next to their name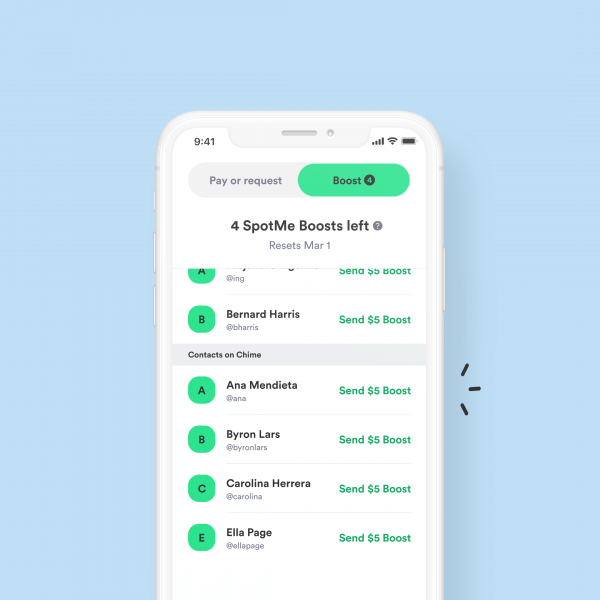 Your friends and fam can Boost you back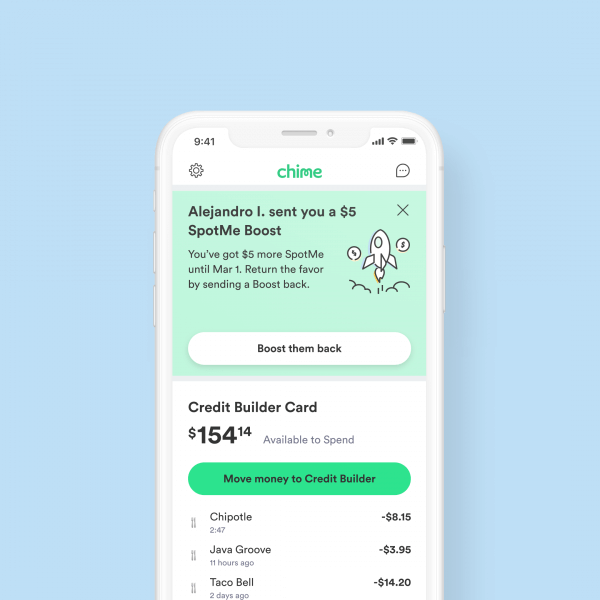 SpotMe Boosts FAQ
Here are some Boosts-related questions that may be orbiting around your mind: 
Do they need to be a Chime member?
Yes. If they're not a Chime member, nothing says "Join Chime now" like a $75 bonus! You and your friend can both get $75 when they enroll for a Chime Spending Account using your referral link, and receive a qualifying direct deposit of $200 or more within 45 days of enrolling¹.
Does my friend or family member need to be eligible for SpotMe?
 No, they don't need to be eligible for SpotMe² to receive a Boost, and they can boost you back!
How do I know if I'm eligible for Boosts?
Simple, if you're currently eligible for SpotMe², you're eligible for Boosts. Just make sure you're enrolled in SpotMe.
So go ahead, spot your sweetie. Boost your boo. Share the love. Try SpotMe Boosts today. It's just another way Chime looks out for you and those you care about.