Chime is a financial technology company, not a bank. Banking services and debit card provided by The Bancorp Bank, N.A. or Stride Bank, N.A.; Members FDIC.
A Guide to COVID-19 and Your Money
How COVID-19 may affect your money
The well-being of our Chime community will always be our top priority—and, now more than ever, we want to be here for you. We've created this guide to share some tips that can get you through it. We've got this 💪🏼
Updated on: May 9th, 2020
Links to external websites are not managed by Chime, The Bancorp Bank, N.A., or Stride Bank, N.A.
This page is for informational purposes only. Chime does not provide financial, legal or accounting advice. This material has been prepared for informational purposes only, and is not intended to provide, and should not be relied on for financial, legal or accounting advice. You should consult your own financial, legal and accounting advisors before engaging in any transaction.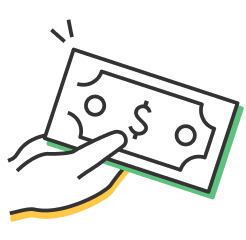 Looking for stimulus payment information?
Check out our Stimulus Payment Resource Guide for more details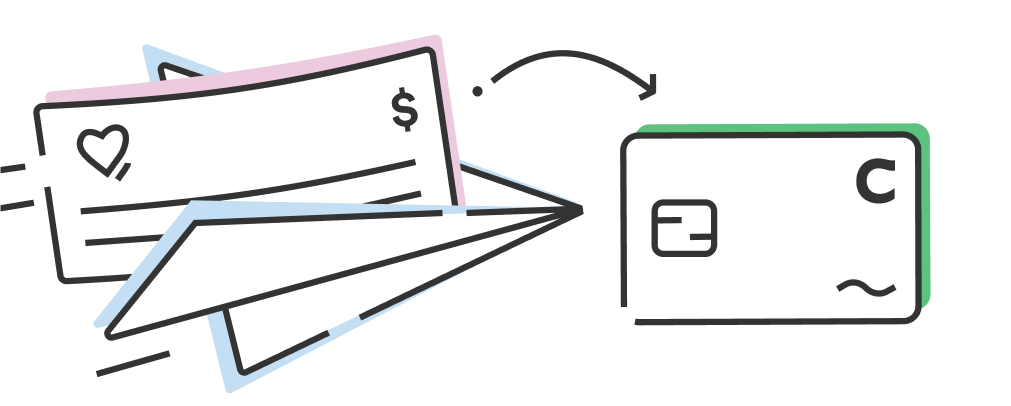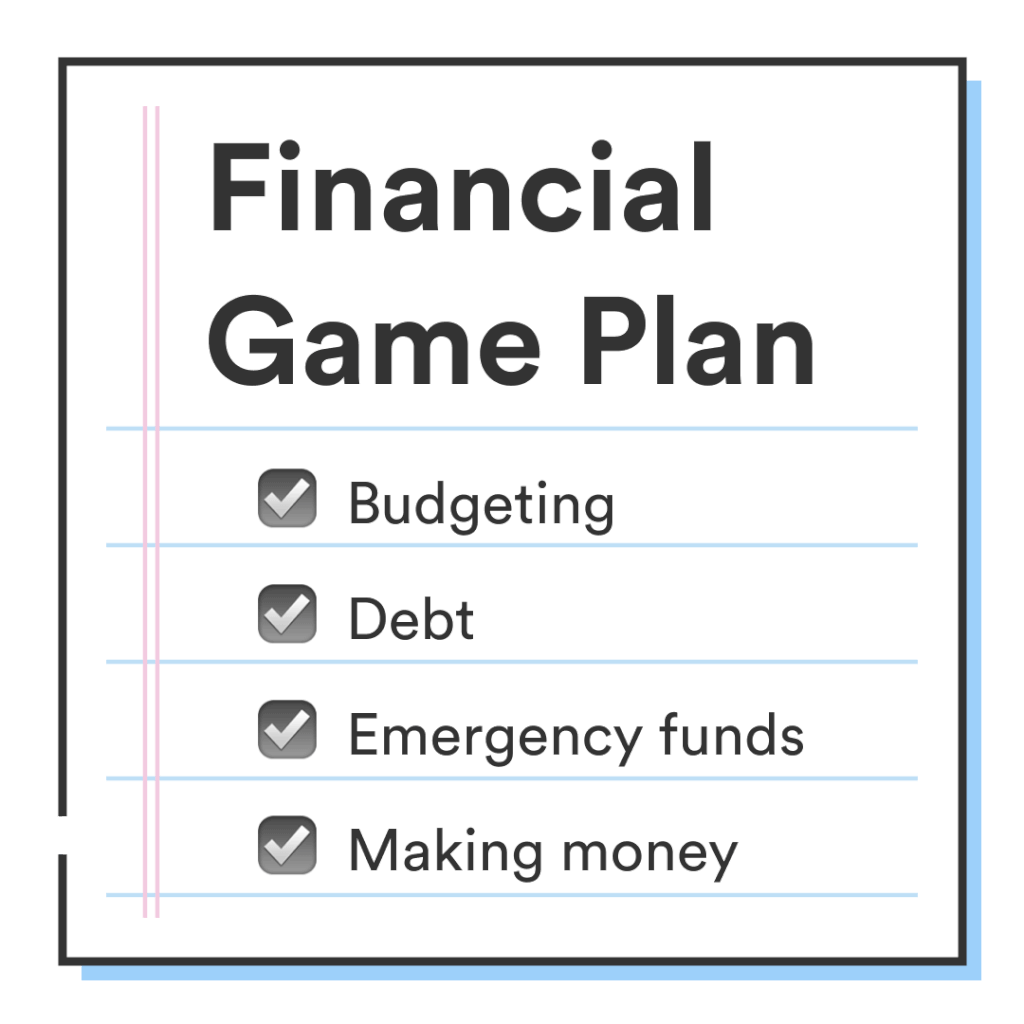 How COVID-19 could affect your finances
To start, we've scoured the internet and collected some commonly asked financial questions to help you understand how COVID-19 (Coronavirus) could potentially affect your finances, emergency fund as well as different ways to think about your budget.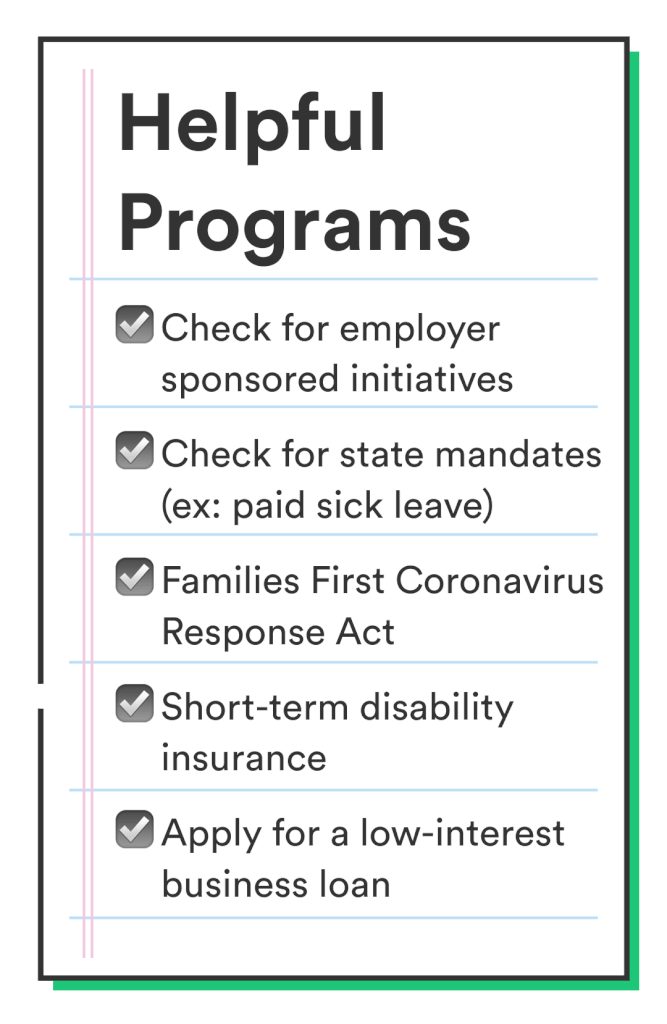 My paycheck's at risk. Where should I turn? 
The most serious economic effects of coronavirus will be felt by those who live paycheck-to-paycheck and whose work depends on getting out of the house: the food industry, transportation, entertainment, travel, and more.
If you've been affected by reduced hours, illness, or layoffs, there are programs that can help.
First, try the federal government.

Congress has passed several bills in recent weeks. The

Families First Coronavirus Response Act

(FFCRA) includes free coronavirus testing, up to two weeks of paid sick leave, and up to three months of paid family and medical leave. The Coronavirus Aid, Relief, and Economic Security (CARES) Act expands unemployment insurance by 13 weeks, and covers freelancers, gig workers, and individuals who are temporarily furloughed. It also mandates direct payments to taxpayers of up to $1,200 per adult and $500 per child. Read our full guide to the stimulus checks here.

Then, research your state's policies.

Most state labor department websites have detailed COVID-19 pages where you can learn about their specific unemployment rules and regulations. Thanks to unemployment insurance, you may be able to get relief if you're quarantined, furloughed, laid off, or providing family care due to coronavirus. You may also be eligible for assistance if your hours have been temporarily reduced.

And look to your employer, too.

Major corporations like Walmart, Uber, Lyft, Amazon, Darden Restaurants, Instacart, DoorDash, and Postmates have

introduced initiatives

for workers who are quarantined or diagnosed with COVID-19. Starbucks has announced "

catastrophe pay

" for workers who've been exposed to the virus, even if they're not sick.

Get professional advice — for free.

More than 50 certified financial planners on the XY Planning Network

are offering pro bono services to individuals affected by the coronavirus. 

Don't forget about short-term disability insurance.

You may already have this protection through your employer, though it often takes a week or two to kick in (and requires that you be physically unable to work). 

Secure business assistance.

If you own a small business, you can apply for a low-interest loan from the

Small Business Administration

, or a federal emergency loan if you continue to pay your workers.  You may also be able to get tax credits for providing sick leave. For more, check out this excellent

resource hub for small business owners

.
Stuck at home? You can also seek out remote side hustles to keep the money flowing. Some ideas include taking surveys, video transcription, or using skills such as writing and graphic design to find freelance gigs. 
Read more: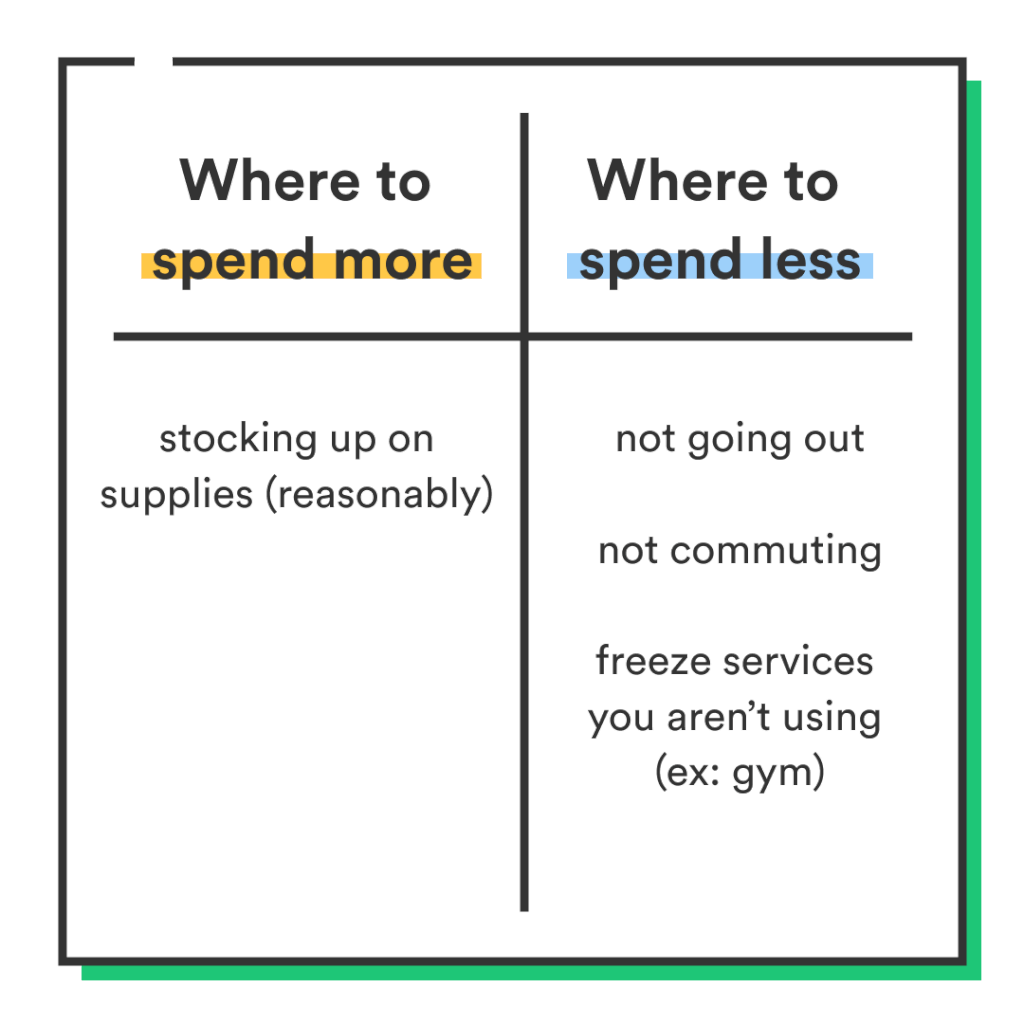 How can I adjust my budget?
Even in this time of uncertainty, it's still possible to control what you can—and that includes how you spend your budget. 
Your spending habits might change
You might spend more, because you're stocking up on medications, or spend less, because you're not out and about. Your food costs might increase because your children are eating at home, rather than school. (The FFCRA expanded SNAP to account for this additional expense; if you need further assistance, contact your child's school and your local food bank.) 
Longer-term decisions are important
While it might be tempting to spend quickly on things like toilet paper or canned goods, remember it's important to save money for longer-term decisions as well, in case the coronavirus lingers for eight weeks or more. And, if you can, see what non-essentials you can cut from your budget today. 
Non-essentials you can look at
– Cancel your gym membership if you're self-quarantining
– Avoid rideshares and walk to the grocery store instead
– Download movies and books from your local library instead of paying for monthly streaming like Netflix or Hulu 
Important: Be on the lookout for coronavirus scammers who send emails claiming to be the "CDC" or offering investment opportunities in companies that "cure coronavirus." 
Read more: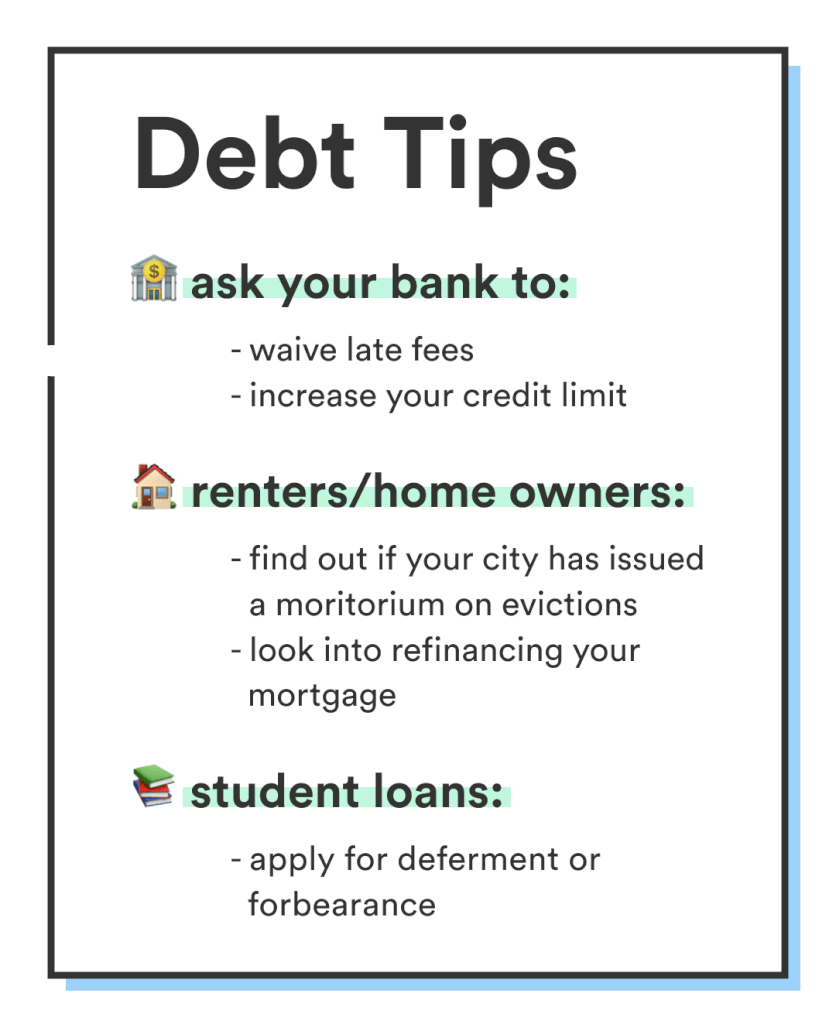 How am I going to pay my bills?
Here's a collection of good news when it comes to the bills piling up:
Late fees policy:

If you're worried about a late fee, it's worth calling directly to check on any specific coronavirus policies that might be in place. For example,

several credit card issuers

have announced relief for customers, such as waiving late fees, allowing skipped payments, or increasing credit lines. Some automotive financing companies, including Ford and General Motors, have

also said

they will also allow borrowers to miss payments (though interest will still accrue). 

Utilities:

Many utility companies have vowed to work with customers to keep electricity and water flowing — and some cities have issued temporary moratoriums on

utility shutoffs

. Even Comcast, Charter, and other telecommunications companies have

promised to continue providing internet service

to users who can't pay their bills.

Mortgages & rent:

The federal government has halted foreclosures and evictions for those with mortgages backed by the Federal Housing Administration, Freddie Mac, or Fannie Mae until the end of April. If you rent from a landlord with a federally-backed mortgage (or if you live

somewhere that has temporarily halted evictions)

,

your landlord can't evict you or charge late fees for 120 days.  

Student loans:

If you have federal student loans, you don't need to make payments until September 30, 2020. Since this suspension applies across the board, you don't need to sign up for it (though it's a good idea to log into your servicer's site to make sure it's following the rules). You won't accrue interest during this period, either. With private student loans, you'll have fewer options, but you can still see if your servicer offers "loan modification" programs.  

Refinancing:

Now might also be a good time to refinance your mortgage, student loans, or personal loans, as the Federal Reserve recently

slashed interest rates to zero

in an effort to boost the economy. Refinancing a $200,000 mortgage from 4% to 3.5%, for example, could save you $14,000 over 30 years. 
No matter what, if you're struggling to pay your bills, we recommend contacting your bank or loan servicer immediately. Its customer service representatives can help you choose the best path forward.
Read more: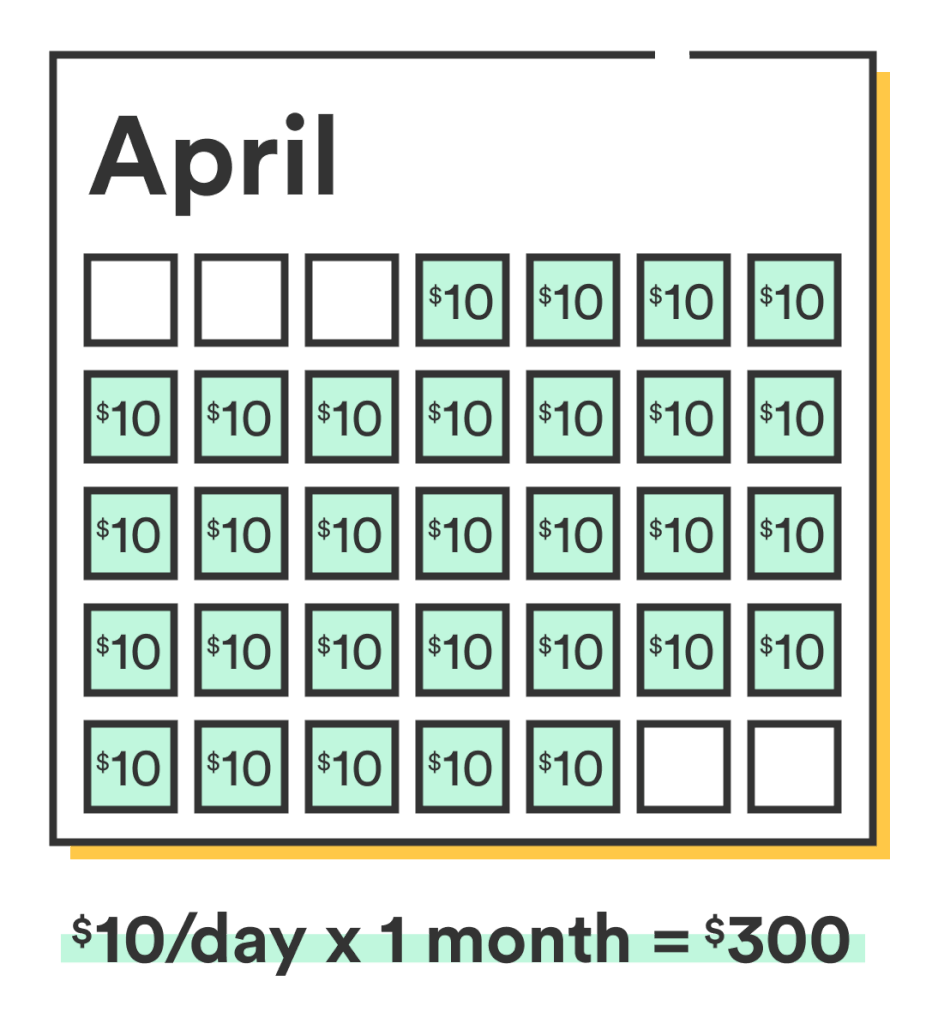 It's an emergency, right? What about my emergency fund?
Although coronavirus has been declared a national emergency, it might not yet be an emergency in your household. If it's not, we don't suggest dipping into your emergency fund yet. You can stay prepared for the weeks ahead, by holding onto money you might need down the road. 
In addition, if you're still working — either from home, in health care, or in food or retail services —  consider taking things a step further, and padding your emergency fund while you can. For example, try transferring $10 per day toward a separate, high-yield savings account. After a month, you'll have $300, which could be just the boost you need later on.
Read more: