When it comes to saving for upcoming expenses, the holidays have a befuddling way of sneaking up on you. 
While it's obvious that Christmas and other end-of-year holidays happen every year, the next thing you know, these celebrations are right around the corner. To avoid suffering from holiday debt hangover, here's a Christmas spending plan so that you can afford presents for everyone on your list: 
Make a list, check it twice
First of all, jot down a list of friends, family, co-workers and neighbors you'd like to get gifts for. You'll also want to include how much you can reasonably afford to spend. Put a price range next to each name. Next, brainstorm a few ideas for presents. See if you can take a peek at someone's Amazon wish list, or find out if they've dropped any hints on Facebook or Instagram. 
Create a savings plan 
Now that you have a list of gifts and roughly how much money you should save, you can figure out a savings plan. Let's say you want to save $400 in 8 weeks. That tallies up to $50 a week over two months. Need $800 in 8 weeks? That's $100 a week, and so forth. (You can also refer to the handy chart below.) 
The beauty of having a clear targeted savings amount and date is that you can get creative on cobbling together money for your goal. You will find ways to free up money. 
Start buying gifts now 
You don't have to necessarily wait until you've reached your Christmas savings goal to buy presents. If you're wondering when is the best time to buy Christmas gifts, it's pretty much whenever you find something at a discount. After all, if you can lower the amount you need to spend on each gift, that's less money you'll need to save. And in turn, that's less stress on your part.  
Stack the savings
You should definitely look for deals, but consider using a credit card with cash back rewards. This way you not only save on the cost of an item, but you get cash back. Some cards have rotating cash back categories, where you can get more cash back on certain types of purchases. 
Comparison shop 
To keep more dough in your wallet, figure out the best price for a product using browser extensions and deal apps. By spending a mere few minutes doing this, you can find the lowest price, coupons and deals. This way you won't waste tons of time hunting around to score the best price. 
Beware of opportunities to overspend
While mega deal days like Black Friday and Cyber Monday might seem like a good way to save, beware of the lure of a deal. Watch out for Black Friday fails, stick to a budget, and do your research. Otherwise, you might fall prey to spending more than you initially intended to. 
In a time crunch? Let's say you only have 6 weeks to save for presents for your friends, family, and co-workers. Here are three things you can do to shore up enough funds to make it work: 
Take on a side hustle: The holidays are a prime time to ramp up certain side hustles — ride sharing, pet and house sitting, and working seasonal gigs wrapping gifts or as a server at a holiday party. You might be able to save for your Christmas savings at an accelerated rate.
Slash expenses: Find ways to cut back on your daily spending. No, you shouldn't have to skip that latte run you make in the afternoons, but maybe order one fewer drink when you go out to happy hour? Or find ways to cut back by negotiating for a lower rate on your cable bill, or carpool to work instead of driving solo.
Make adjustments to your gift list: Remember that gift list you so masterfully created? It's time to make tweaks to lower the total amount you need to save as you certainly don't want to bust your holiday budget. This can be hard to do because ideally, you want to buy presents for everyone. But, now is the time to see if you can spend less on certain people.                                You might also consider grouping gifts. For instance, instead of buying individual gifts for your aunt, uncle, and three cousins, buy a gift basket for the entire family instead. Another way to lower your Christmas savings goal? Instead of buying gifts for your co-workers, consider making homemade gingerbread cookies for your department. And don't be afraid to rock the boat and suggest an alternative to gift-giving this holiday. Maybe you can work out a pact to buy gifts for only the kids in the family. Or, perhaps do a White Elephant exchange instead of gifts for everyone.
Want to know exactly how much to save each week? 
Take a look at our handy chart and you'll be able to afford presents in 8 weeks or less.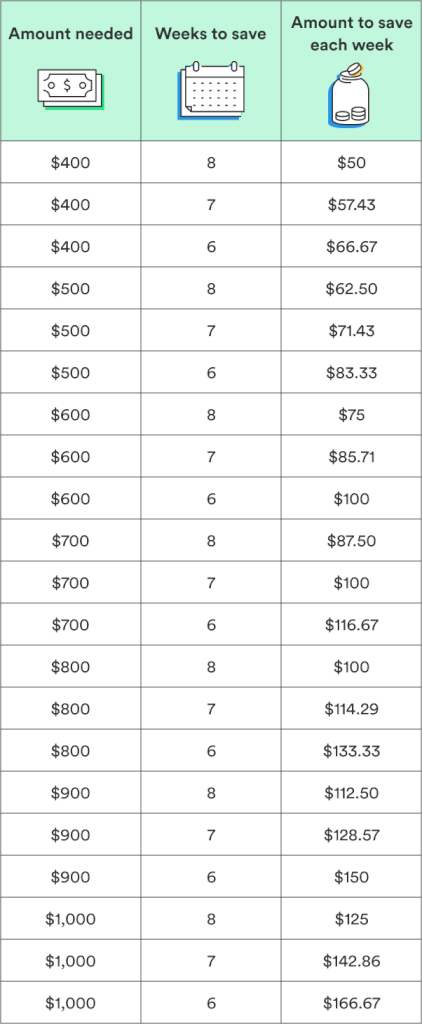 The wrap-up
Saving for Christmas, even when you're short on time, is definitely doable. It takes a bit of planning, and you've got to have discipline and drive to reach your goal. 
This might sound cheesy, but finding ways to hit your Christmas savings takes a bit of resourcefulness. Are you ready to start saving money to buy your holiday gifts?
---
This page is for informational purposes only. Chime does not provide financial, legal, or accounting advice. This material has been prepared for informational purposes only, and is not intended to provide, and should not be relied on for financial, legal or accounting advice. You should consult your own financial, legal and accounting advisors before engaging in any transaction.