What is generational wealth?
Generational wealths refer to the accumulation of assets, like cash, property, investments, and other financial resources, that are passed down from one generation to the next.
Building generational wealth can seem daunting for young adults and new families who are still working toward financial independence. But the sooner you start, the more time you have to build wealth – and you don't need to be a financial expert or millionaire to do so. 
While growing your wealth is an important first step, building and preserving generational wealth requires more than just transferring assets. It also involves teaching your kids about financial literacy, investment strategies, and how to manage their finances wisely. 
Keep reading to learn more about building generational wealth and how it's passed down from generation to generation, along with examples of notable figures who have created generational wealth against all odds and the strategies that helped them get there.
Generational wealth explained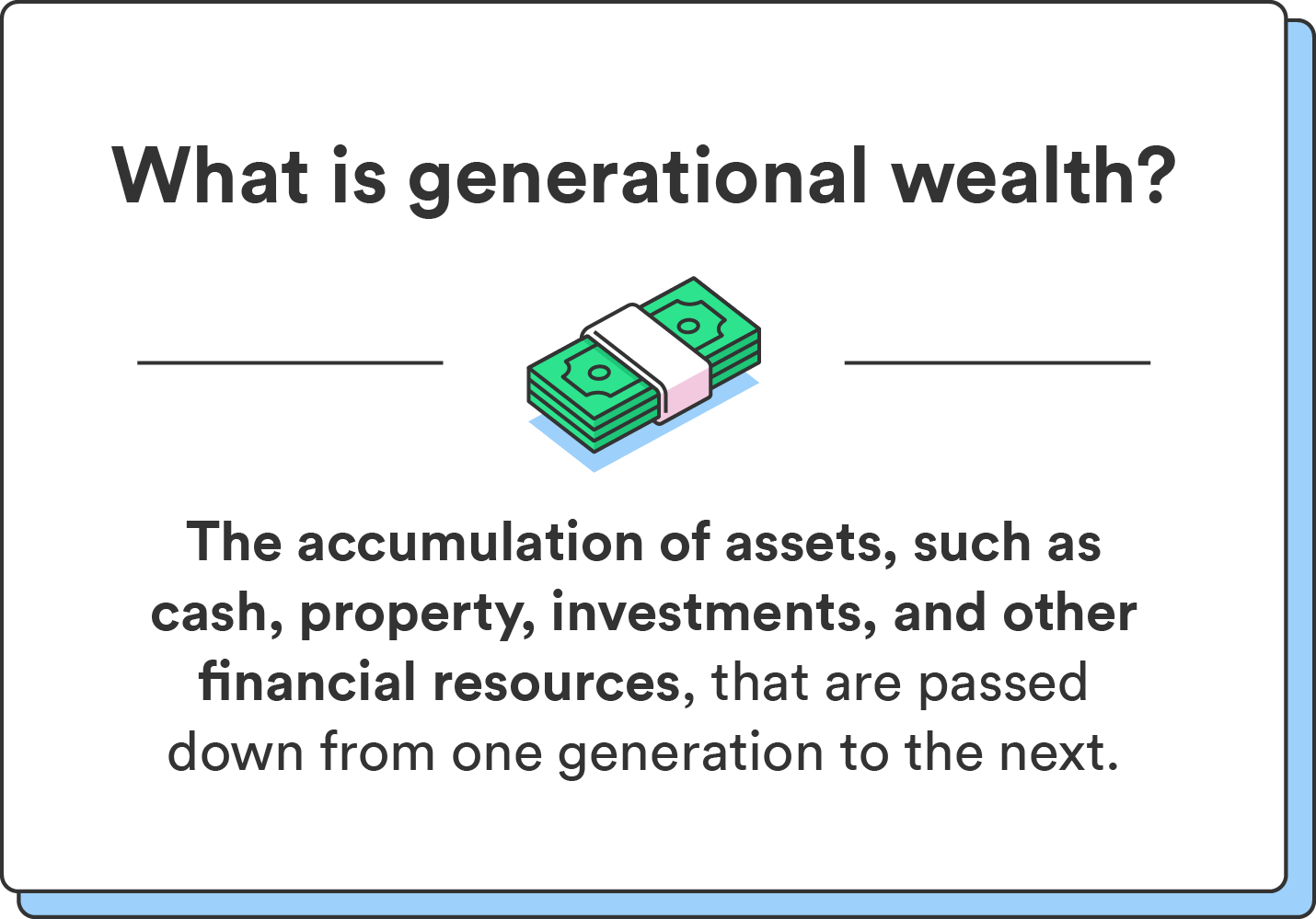 There are a few different ways wealth can get passed down between generations. 
Inheritances:

This refers to when someone passes away and their assets, like property, investments, and savings, are divided up among their heirs or beneficiaries. Inheritances can significantly impact the recipients' financial well-being, providing them with a substantial sum of money they can use to invest, start a business, or

pay off debts

. 

Gifts:

Gifts refer to when someone decides to give money, property, or other assets to someone else while they're still alive. People can make these gift transfers for various reasons, like helping someone out of financial hardship or simply as a way of sharing wealth.

Indirect transfers:

This refers to when someone may cover a major expense for another person or family member. For example, parents may pay for their children's education or provide them with financial assistance to start a business, which can help build generational wealth over time.
Generational wealth and the wealth gap
Unfortunately, generational wealth is also associated with wealth gaps. The Federal Reserve reported that the majority of generational transfers of wealth are going to families with significant resources. 72% of the wealth held by the wealthiest 10% of people is a result of intergenerational transfers.¹
Those who inherit wealth from past generations often have more financial access and opportunity, leading to further wealth accumulation, while those who do not have access to the same resources and opportunities are falling behind. As a result, building generational wealth also has broader implications for reducing societal inequality. 
How to build (and pass down) generational wealth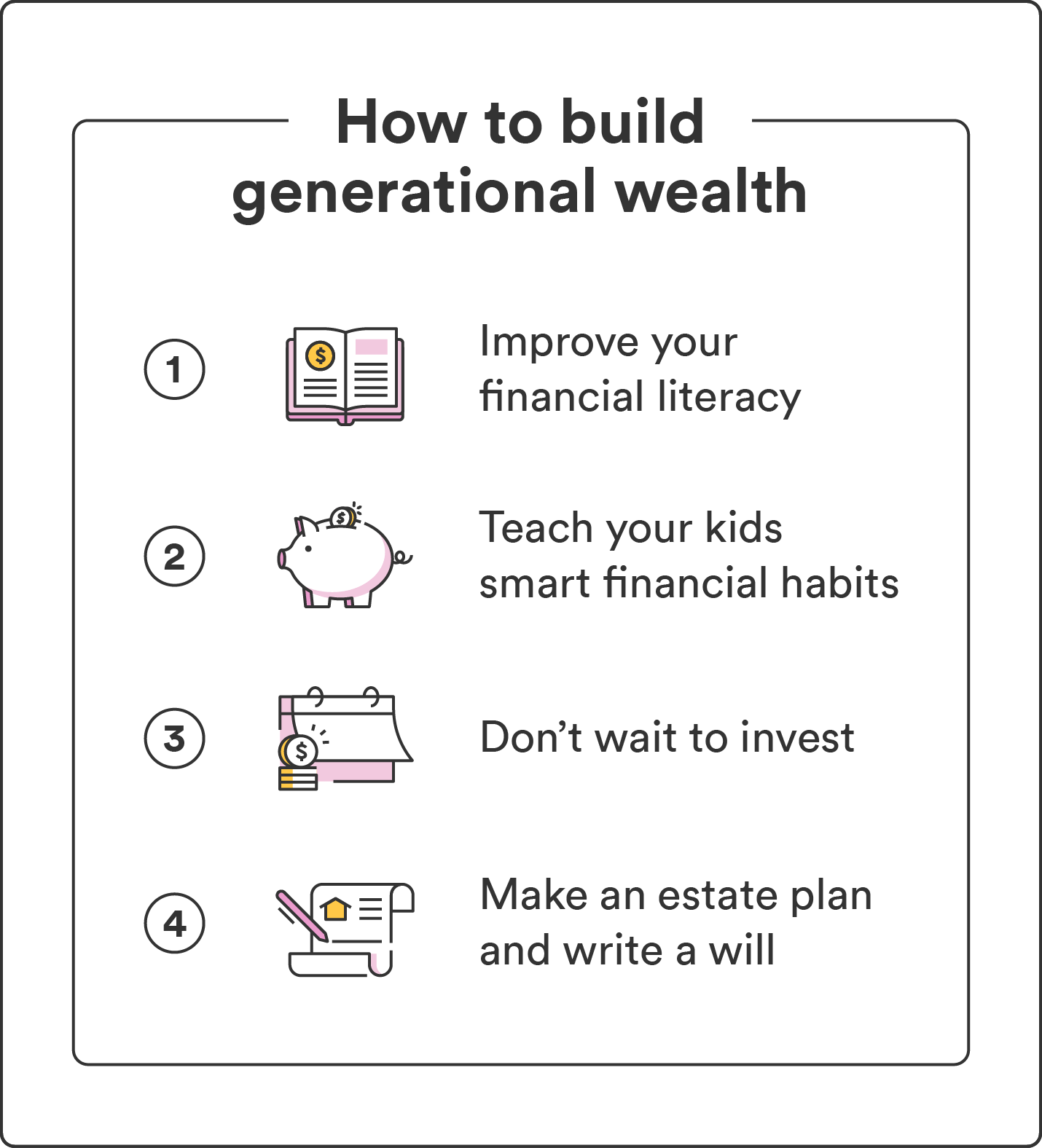 Building generational wealth can look different for everyone, but there are a few time-tested strategies. 
Improve your financial literacy
Successfully building generational wealth starts with improving your own financial literacy. With a solid understanding of personal finance, making informed decisions about saving, investing, and passing on wealth to future generations can be easier. 
Your day-to-day money habits also largely dictate your ability to grow long-term wealth. To begin, familiarize yourself with basic financial concepts, such as budgeting, saving, credit, and investing. Eventually, you can move on to more advanced topics such as estate planning (we'll cover this more below) and tax laws to maximize your savings and investments. 
Take advantage of the many resources available to improve your financial literacy. Read books and articles, watch YouTube videos, or take free courses on personal finance basics. To get started investing, you can deepen your understanding of topics like stocks, bonds, mutual funds, and retirement accounts.
Teach your kids healthy financial habits
Ensuring a financially secure future for your children and future generations requires passing down more than just wealth. You should also teach healthy financial habits for your kids while they're young. 
You could be the savviest investor, but if you pass that wealth to your children without ever teaching them how to preserve and grow it, there's a slim chance that wealth will last.
One of the best ways to improve your kids' financial literacy is by encouraging open and honest conversations about budgeting, saving, and other finance topics. 
That could mean discussing the difference between wants and needs when it comes to spending, the idea of paying yourself first, or how to delay instant gratification for bigger goals in the future. 
By promoting financial education and responsibility within your family, you can help ensure that your children and future generations have the skills necessary to eventually take what you've started and continue to build it with confidence. 
Invest as soon as possible
Investing is crucial in building long-term wealth because of the potential of earning higher returns than traditional savings accounts. The sooner you invest, the more time your money has to grow and compound over time.
Contrary to popular belief, you don't need a ton of money to begin investing – even small investments made early on can grow significantly over time, resulting in substantial wealth accumulation. The earlier you start investing, the more time you have for compounding to work its magic and generate significant returns.
There are a variety of beginner-friendly investments you might consider:
Invest in stocks and bonds

Sign up for your employer's 401(k)

or Roth IRA programs

Invest in index funds

Invest in mutual funds 

Invest in fractional shares with a robo-advisor 
For beginners, start by researching different investment options and consider working with a financial advisor or using a robo-advisor to help make informed decisions. 
Establish an estate plan
Without an estate plan, your assets may be subject to probate court (the court that oversees the handling of wills and estates), which can be costly and time-consuming. With clear instructions on distributing your assets, your estate may pass down your wealth according to your wishes. 
Estate planning can also help minimize taxes and other expenses of transferring wealth. Proper planning allows you to use tax-efficient strategies such as gifting and trusts to pass down the maximum amount.
An estate plan can also help prevent family disputes over your wealth after death. By clearly outlining your intentions and instructions for how you want your wealth distributed, you can reduce the likelihood of arguments among family members and ensure that your legacy continues in a positive way. 
Write a will
You should write a will even if you're not ready to create a full-blown estate plan. A will is a document that outlines how your assets should be distributed after your death. It's also where you would include your wishes for the care of any young children you may leave behind. 
Without a will in place, you have no say in how your property or assets are handled once you're gone – instead, it's up to the state to decide (which can lead to an expensive and stressful legal process for your loved ones). 
Consider factors such as your assets, beneficiaries, and potential tax implications when writing a will. A will can also include provisions for trusts, which can help protect your assets and ensure they're passed down in a tax-efficient manner. Working with an estate planning attorney can help you create a comprehensive will that meets your needs and goals.
Examples of generational wealth
It can feel overwhelming to begin building generational wealth in the face of financial disparities, be it wealth or race. Here are some examples of people who overcame these challenges and built generational wealth against all odds. 
By learning the strategies and money mindsets others used to achieve generational wealth, you can = strive for your own generational wealth goals. 
The Rockefeller family
The Rockefeller family is one of the most prominent and wealthy families in American history, whose fortune was primarily created by John D. Rockefeller, the founder of Standard Oil. Coming from a modest family with no history of wealth, this was a major milestone that took significant dedication and effort.²
With the Rockefeller fortune now spanning multiple generations, they're a prime example of what it looks like to sustain lasting wealth over time. However, the sustainability of John D. Rockefeller's wealth wasn't guaranteed. The Rockefeller family used a few key strategies to preserve their wealth across multiple generations successfully: 
Diversifying investments:

The Rockefeller family spread their investments over multiple industries. While their success began in the oil industry, the family has since invested in various other industries, including banking, real estate, and transportation. By diversifying their investments, the Rockefellers were able to protect their wealth from the volatility of any one market or industry. 

Emphasizing education and training:

The Rockefellers strongly emphasize education and training within their family. They established different educational programs to ensure future generations had the skills to manage the family's wealth effectively. 

Creating trusts:

Trusts are legal arrangements that allow you to transfer assets to beneficiaries while maintaining control over those assets. The Rockefellers created several trusts to manage their wealth and ensure it was passed down to future generations.

Encouraging entrepreneurship and innovation:

Encouraging entrepreneurship within the family allowed them to identify new investment opportunities and create additional sources of wealth.
While most of us may not reach the level of wealth as the Rockefeller family, the tactics that helped them sustain generational wealth can be replicated by anyone – yes, even you! 
Daymond John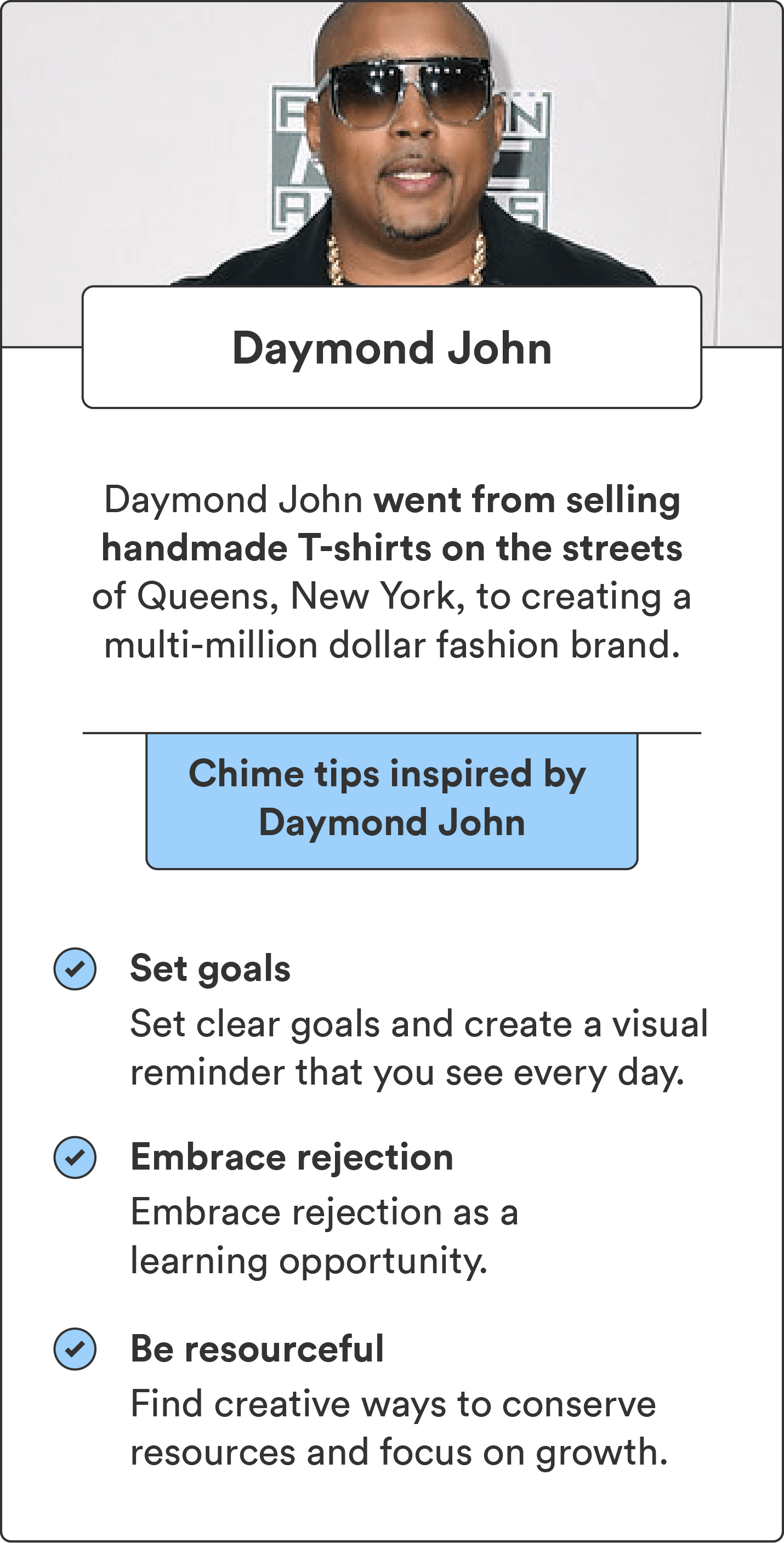 Daymond John is a successful entrepreneur and investor known for his clothing line FUBU® and his role as a shark on the hit TV show "Shark Tank." John's early years are a far cry from the success he's since attained – he built FUBU from nothing, starting with a few handmade hats and T-shirts sold on the streets of Queens, New York.³
John's entrepreneurial journey began when he was still a teenager, when he had his hands in multiple side hustles. His passion for hip-hop music and fashion led him and some friends to create FUBU, selling their designs from a trade show booth in Las Vegas. 
Eventually, his scrappy self-made business turned into $300,000 worth of orders in 1995. When he ran out of capital, he struck an investment deal with Samsung and sold $30 million worth of product in three months, at which point FUBU really took off. 
Ultimately, John succeeded thanks to a combination of passion, resilience, resourcefulness, and diversification. We can learn a lot from his can-do attitude and persistence as he built his wealth from the ground up: 
Goal setting:

After reading Napoleon Hill's book "Think and Grow Rich," John took its advice to heart by setting and visualizing the goals in the book. He deems goal setting as one of the most important keys to becoming who you want to be, as well as keeping those goals front and center as a visual reminder that you see every day. 

Regularly expanding your knowledge:

John reads Napoleon Hill's book every other year after it changed his perspective on goal setting, according to an interview with Business Insider.

³

The takeaway? Never stop striving to expand your knowledge and skill set, and learn from those who have achieved what you hope to accomplish. 

Embracing rejection:

John faced numerous rejections when trying to get FUBU off the ground, but he never let that stop him. Instead, he used each rejection as motivation to improve his product and pitch. Embracing rejection as a learning opportunity can improve not only your skills, but also your resiliency. 

Bootstrapping and resourcefulness:

John started FUBU with just a few hundred dollars and relied on his creativity and resourcefulness to grow the brand. He took advantage of free advertising opportunities whenever possible and found ways to get in the same rooms as the celebrities he wanted to wear his designs. This helped him conserve resources and focus on growth, illustrating that it's possible to find success even if you're starting at the bottom.
John's humble beginnings and commitment to chasing his dream are prime examples of how creating generational wealth is possible for anyone. 
Rihanna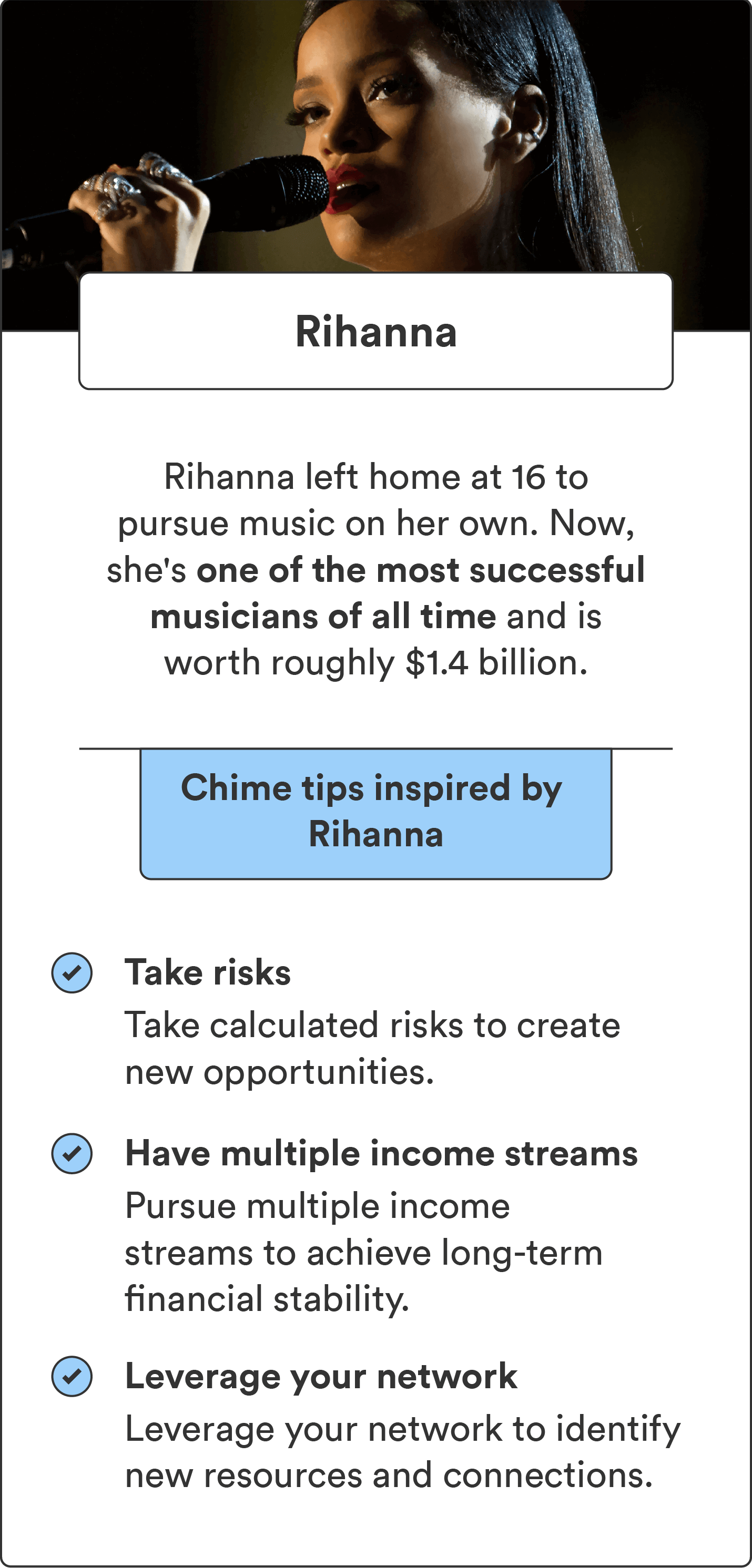 Rihanna is a perfect example of how building and passing down generational wealth can lead to significant financial success and long-term stability. Born and raised by her single mother in Barbados, Rihanna moved to the United States at 16 to pursue a music career.
After auditioning for Def Jam Recordings, Rihanna eventually got her big break. Now, she's become one of the most successful music artists of all time, with an estimated net worth of $1.4 billion as of 2023.4
Rihanna's wealth isn't limited to her music career. She's made smart investments in real estate and other ventures, including her Fenty Beauty® makeup line and Savage X Fenty lingerie line. She's also used her wealth and influence to support causes like education and health care in developing countries. 
Take a look at some ways Rihanna has managed to scale her success that we can all learn from: 
Pursuing multiple income streams:

By pursuing multiple income streams, she has achieved long-term financial stability and provided for future generations.

Being willing to take risks:

Rihanna has never been afraid to take risks, whether experimenting with her music or launching a new business. For example, she launched Fenty Beauty with 40 foundation shades that catered to a wide range of skin tones, which was a risky move in an industry that had long ignored people of color. Rihanna shows us how to create new opportunities by taking calculated risks. 

Leveraging your network:

Rihanna has leveraged partnerships and collaborations to expand her business empire, reach new audiences, tap into new resources, and gain exposure. 
Rihanna's success is a testament to the power of building and passing down generational wealth. She has achieved long-term financial stability and provided for future generations by making smart investments and pursuing multiple income streams. 
Create a plan to build generational wealth
Building generational wealth requires building wealth and having a plan for those receiving it to have the skills to manage it. 
Take advantage of resources like financial education programs, consult with financial advisors, and practice sound financial habits to start building a strong foundation for yourself and future generations.
FAQs about generational wealth
Still have questions about generational wealth? Find answers below. 
How do I know if I have generational wealth?
If you have inherited assets from your parents, grandparents, or other ancestors that have been passed down through multiple generations, then you have generational wealth.
How much money is considered generational wealth?
Generational wealth is defined by any amount of wealth that's passed down by at least one generation – the amount of money or type of assets passed down has no bearing on whether it's considered generational wealth or not. 
What are the barriers to building generational wealth?
Barriers to building generational wealth include systemic inequalities that limit access to opportunities and resources for marginalized communities, lack of financial literacy and education, and a culture of consumerism that discourages saving and investing.