Financial literacy definition:
Financial literacy is effectively managing and making informed decisions about personal finances.
Whether creating a budget, deciding on student loans, or considering opportunities for retirement, financial literacy is the key to wise choices. It helps you understand how your money moves today can impact you down the line. 
While financial literacy includes a wide range of personal finance skills and topics, you don't need to master everything at once. Improving your financial literacy is a long game, and it's best to start with the basics, like budgeting, saving, and managing your credit. 
Wherever you are in your financial journey, small, manageable steps are all you need to start. We'll cover what you need to know and share the skills and best practices you need to improve your financial literacy. 
The importance of financial literacy: 8 statistics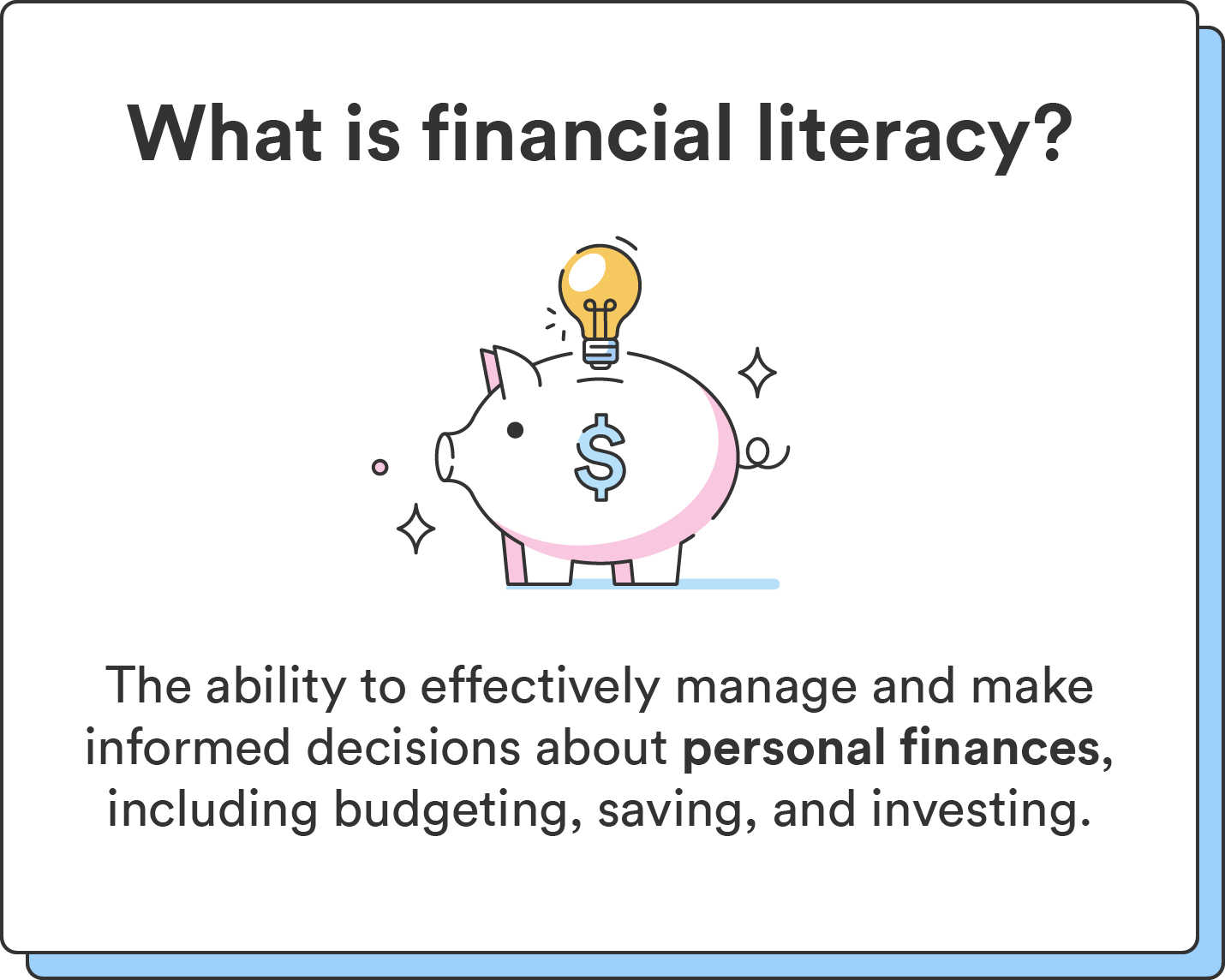 Building your dream life can feel difficult if you're burdened with debt, unable to cover unexpected emergencies, or feeling out of control with your finances. Financial literacy can help you approach your money as a tool to build the life you want rather than a burden that causes stress and overwhelm. 
Consider the following questions: 
How can I save money for unexpected expenses on a low income?

Is it better to buy or rent a home? 

How can I improve my

credit score

, and how will that help me? 

Can I be financially secure even if I don't make much money?

How much do I need to save for retirement, and how can I start? 

Can everyday people invest in the stock market? 
These questions help shed light on the importance of financial literacy and why it matters in most parts of life. Without it,  you may spend more time worrying about how you'll afford upcoming expenses or whether or not you'll have enough saved to retire. 
The following statistics help underscore the importance of financial literacy: 
60% of Americans live paycheck to paycheck.

1

 

69% of adults aged 18 to 29 feel anxious when thinking about their finances – higher than any other age group.

2

 

46% of Americans earning $50,000 or less per year say that a lack of savings contributes most to their financial stress.

3

 

53% of Americans don't have an

emergency fund

.

3

 

The average credit card debt for Americans under age 35 is $3,660.

4

 

One-third of adults say that "just getting by financially" describes them completely or very well.

5

One-third of working Americans aren't saving for retirement.

6

 

Household debt has increased to $16.5 trillion in 2023.

7

 
Improving your financial literacy can equip you to face these common financial issues and gain control over your finances. If you want a simple way to get started, check out our printable financial milestones checklist: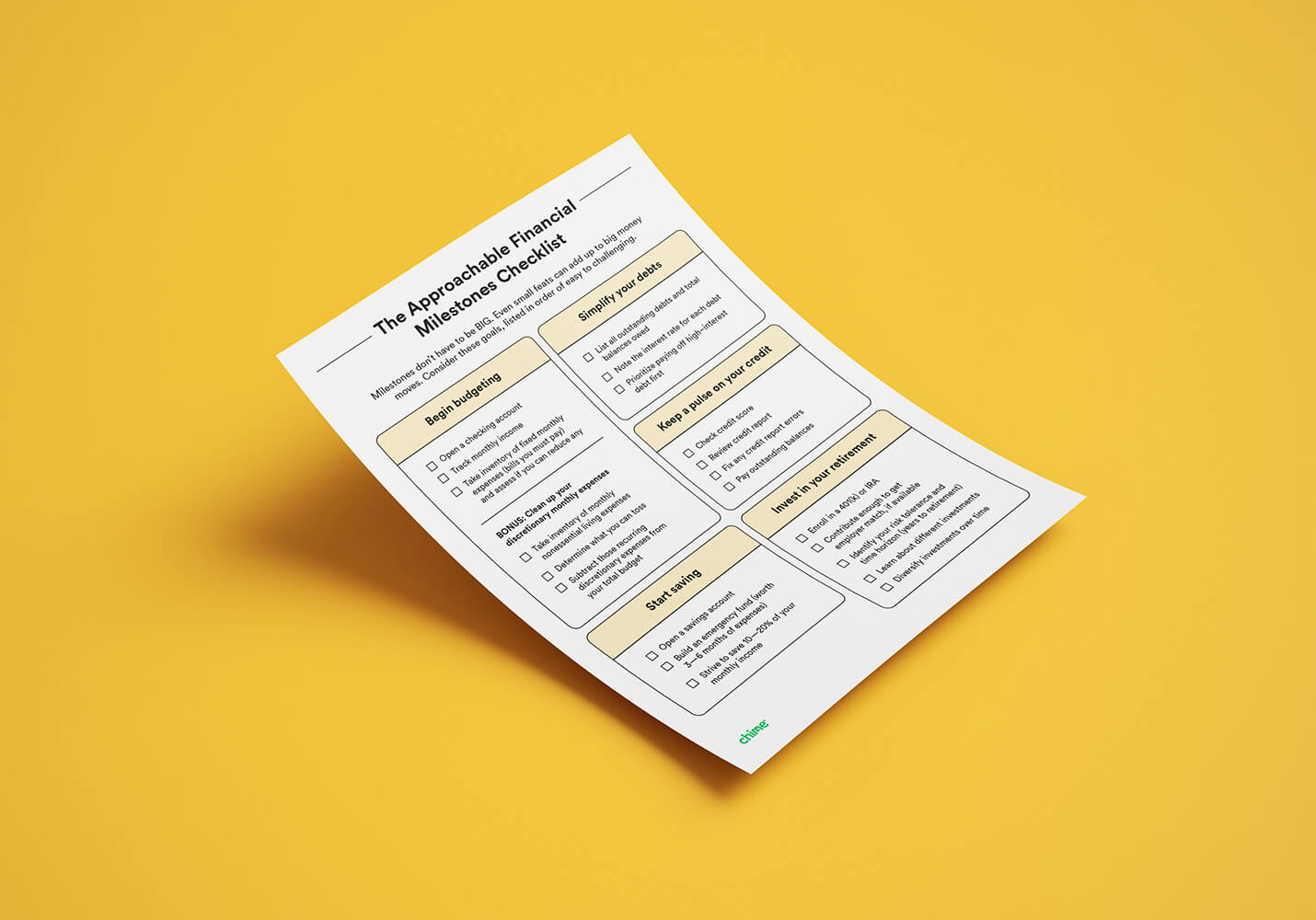 Pillars of financial literacy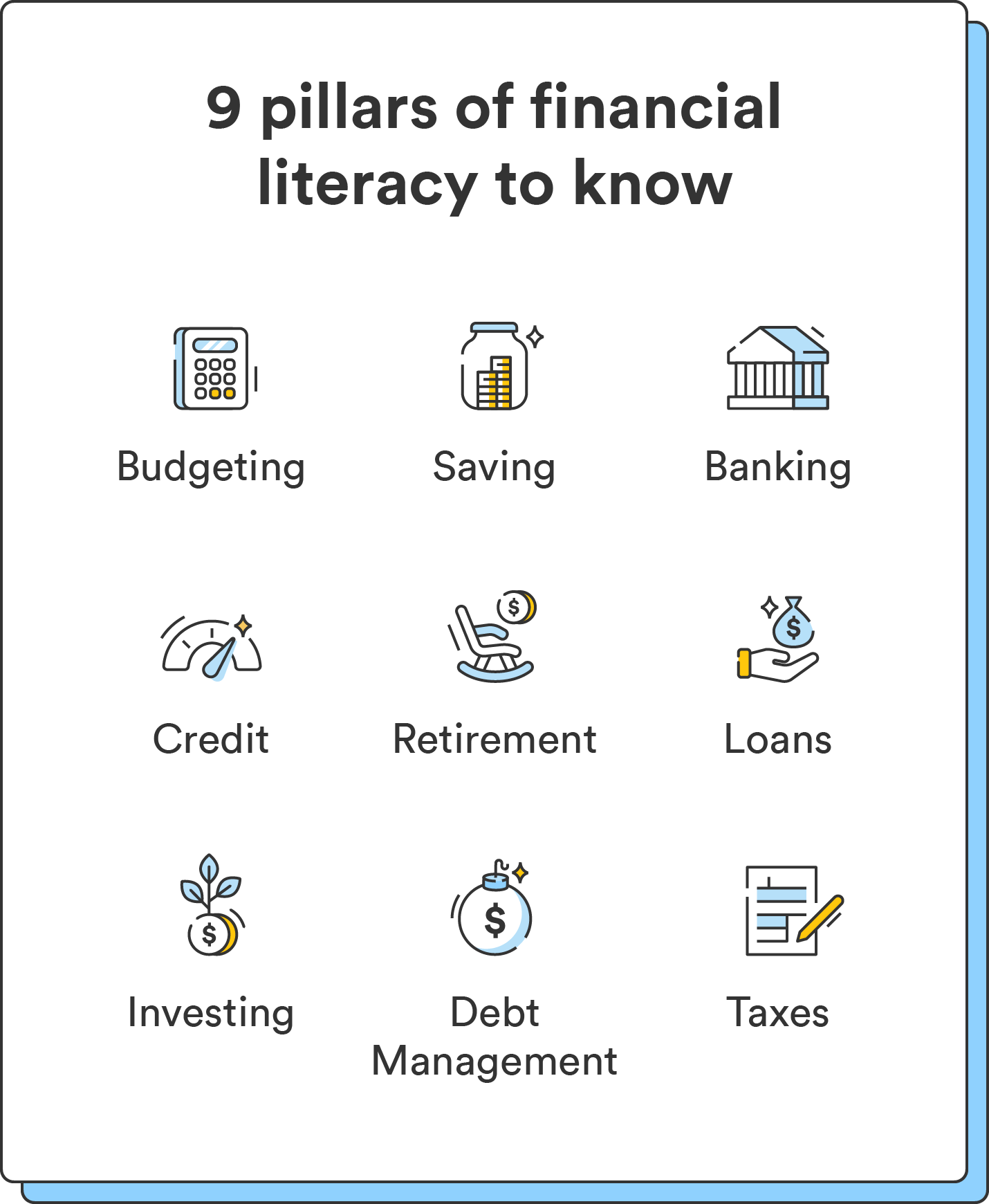 Financial literacy encompasses many different topics. Budgeting, saving, investing, and debt management each play a vital role in your financial well-being. Take a look at the core pillars of financial literacy below. 
Budgeting
Budgeting is a cornerstone of financial wellness and involves managing your monthly income and expenses to align with your means and financial goals. Effective budgeting helps you avoid or pay off debt, pay your bills on time, prepare for upcoming expenses, and ensure that you meet your short- and long-term needs.  
There are countless ways to budget, like: 
The method you choose doesn't matter as long as it works for you. A solid budget will include a fixed and variable expenses list, your monthly income, short-term and long-term savings goals, and future expenses.
53% of those with higher financial literacy reported that they spend less than their income, compared to only 35% of those with lower financial literacy.8
Saving
Saving is a crucial part of financial literacy that allows you to build a safety net for unexpected expenses, achieve your goals, and prepare for the future. It involves setting aside a portion of your income for the future for things like: 
Emergencies

Major purchases

Long-term investments
If you don't regularly save, an unexpected expense can become a much larger setback. Say your car breaks down, and you need $1,500 to fix it. You don't have any money saved to cover it, but you need your car to get to work – so you take out a high-interest loan or cash advance to cover the cost. While this solves the problem in the short term, you're now on the hook for paying back that loan with added interest, costing you more in the long run. 
50% of adults aged 18 to 29 haven't saved an emergency fund that covers three months of expenses.²
Building a habit of regularly saving provides peace of mind and financial stability and opens the door to achieving your savings goals. That could be paying for an apartment deposit or a mortgage for your first home, plane tickets for a trip, or anything else you want to save for. Saving is a tool that can unlock opportunities, dreams, and goals for your future. 
If you're wondering how much to save each month, start with 20% of each paycheck. You can also automate your savings by setting up an automatic transfer from your checking account to your savings account. 
Banking
Another pillar of financial literacy is banking and bank accounts. You'll need a bank account for everything from using a debit card, credit card, or ATM to applying for a home loan. They offer convenience and a safe way to store your funds. Here are some common types of bank accounts:
Checking account

Savings account
Start by choosing a checking account with a financial institution that meets your needs and goals. You'll want to compare different banks or credit unions based on fees, interest rates, and ease of use. A checking account also allows you to use tools like direct deposit, which deposits your paycheck straight into your account each month. 
You'll also want to decide on a savings account to store your savings. While checking accounts are used for day-to-day transactions, savings accounts are separate places to store funds you don't touch often. They allow you to earn interest to grow your money for upcoming purchases. When choosing a savings account, compare each account's fees, terms, interest rates, and withdrawal limits. 
You can download our bank account information printable to keep your account details in one place.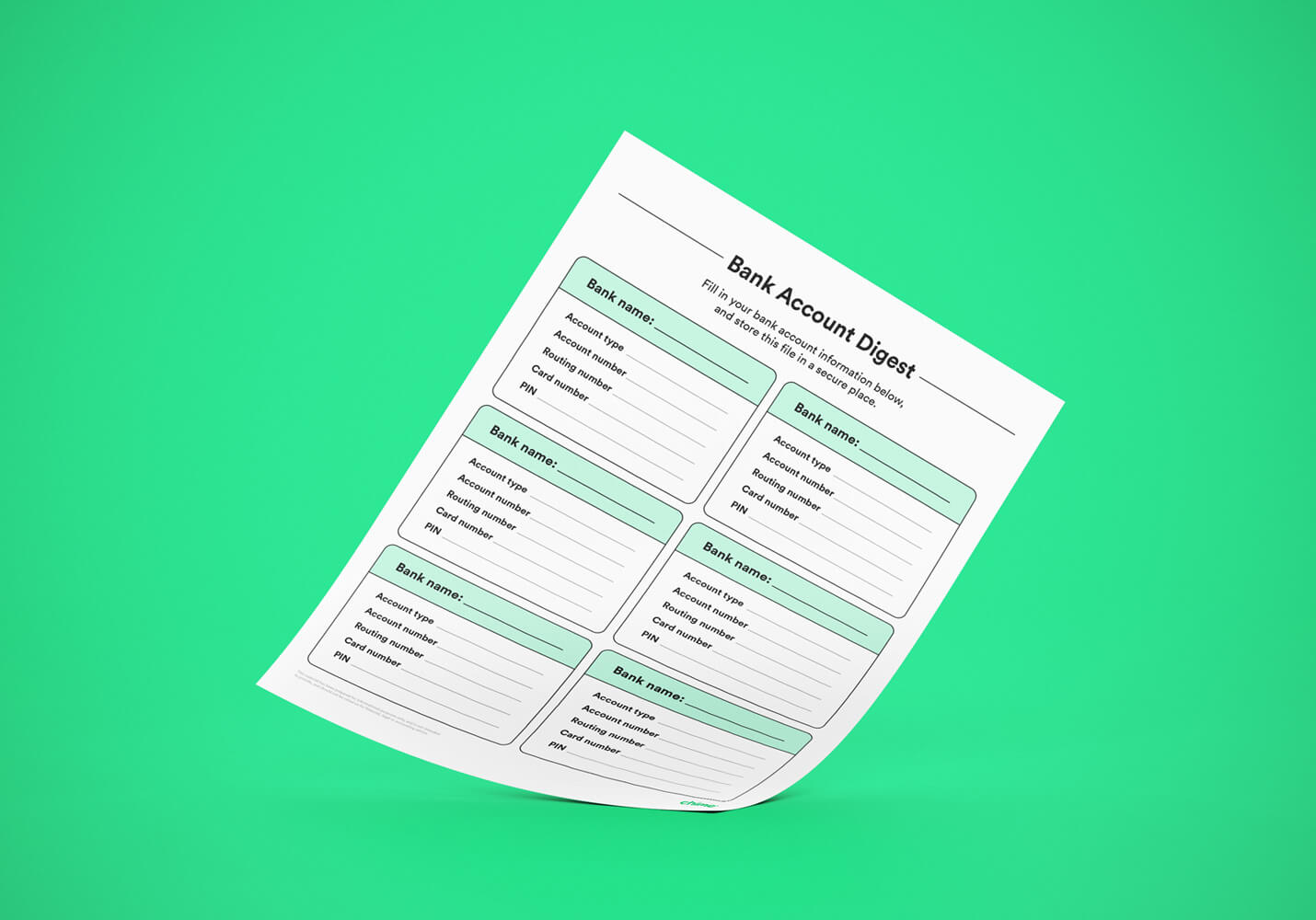 4.5% of U.S. households are unbanked and don't have a bank account at an insured financial institution.9
Credit
Credit refers to your borrowing history and how well you manage credit and debt. Your credit impacts your ability to be approved for loans, credit cards, and other financial products and secure favorable interest rates. A credit score is also necessary for financial products, like car loans or mortgages. 
When you open any type of credit account, your credit history is analyzed by credit bureaus based on five factors: 
Payment history (35%)

Credit utilization (30%)

Length of credit history (15%)

Applications for new credit (10%)

Types of credit used (10%)
Based on your account activity, you're given a credit score associated with your credit report. That impacts whether you qualify for a loan or secure lower interest rates. 
To establish credit, you can start by opening a credit card or obtaining a small loan and making consistent, on-time payments. Paying on time can help you develop a history of responsible credit usage and build up your credit score gradually. If you've never had credit before or have a poor score, you may need to start with a secured credit card. 
While there are many advantages to using credit, remember the impact of poor credit habits on your finances. Not paying your bills on time, maxing out your card, and spending more than you can afford can leave you with high amounts of debt and expensive interest charges that add up fast.
The average credit card holder has $5,474 in debt.10
Debt management
Debt represents money you owe to a lender, who charges you an interest rate to borrow the funds. You'll likely need to take out some form of debt in your life, whether it's student loans for college, a home mortgage, or using a credit card for a large purchase. Different types of debt have different benefits and consequences: 
Mortgages and home loans

allow for homeownership but carry the risk of foreclosure if you miss payments. 

Student loans

provide a path to higher education but can also lead to high levels of student debt without a clear repayment plan. 

Credit cards

offer convenience and flexibility but can lead to high-interest debt burdens if not managed responsibly. 
To borrow money responsibly, ask yourself whether you can afford the debt and review the terms, including interest rates, repayment terms, and any other fees. If debts are left unpaid, you'll accrue interest charges on top of the balance you owe, costing you far more in the long run. 
When you understand the risks and responsibilities of borrowing money, you can avoid unneeded financial stress, avoid feeling trapped in debt, and use certain types of debt to your advantage (like building your credit score). 
18% of U.S. consumers said their main source of debt is their home mortgage, and 20% said their main source of debt is credit card debt. 11
Loans
Loans can provide a way to finance major expenses, like buying a car or pursuing college, without a large upfront payment. They also provide a structured repayment plan so you can budget effectively to ensure the loan gets paid off. Understanding loans and their impact on your finances can help you make informed financial decisions. 
There are different types of loans, like:
Auto loans

Student loans

Home equity loans

Secured loans
There are also costs associated with getting a loan, and you'll want to evaluate different loan options based on your needs. Researching and comparing loans from different lenders can help you find the most favorable terms, rates, and repayment plans. 
While loans can provide access to large expenses, they are a debt that often requires interest payments. Paying more in interest increases your overall cost of borrowing, so understand how much you'll pay in interest over a loan term to make a sound decision. 
Consider the long-term implications of taking out a loan and how much it will cost you over time. Evaluating whether a loan aligns with your goals and is within your means will help you be a financially literate borrower. 
Gen X has an average student loan debt of roughly $45,800, the highest across all generations. Gen Z has an average total student loan debt of $20,470.12
Investing
Investing helps you maximize your financial potential and find opportunities to grow your wealth. Investing means buying securities like stocks, bonds, mutual funds, ETFs, and other investments that grow in value over time. And the sooner you start investing, the more time your money has to grow. 
Part of understanding this pillar of financial literacy is knowing how to choose the right investments. This depends on several factors: 
Your age and time horizon (how much time you have to keep your funds invested)

Your risk tolerance 

Your short- and long-term financial goals 
One key to deciding what to invest in is the concept of risk and return. All investments carry some risk, and some are less risky than others. Those closer to retirement are likely to choose less risky investments, while those who are decades away may opt for riskier investments with the potential for higher returns. 
You can mitigate risk through another key investing principle: diversification. Diversification means spreading your investments across various asset classes and sectors to reduce your overall risk. Diversification helps protect your investment portfolio from market volatility and the poor performance of any single investment. 
Your age, income, and financial goals will determine your best investment choices. You don't need a lot of money to start investing, and you don't need to be an expert to build a solid portfolio. Online brokerages or robo-advisors are a popular way to start investing that doesn't require an expensive financial advisor. Many will help you make investment decisions based on your goals and risk tolerance.
Over two thirds of beginner investors feel like they need more resources to make investment decisions that impact their future.13
Retirement
Retirement planning entails setting yourself up financially for your retirement years. Once you grasp other components of financial literacy, like budgeting and saving, building credit, and managing debt, you can start thinking about ways to build your wealth for retirement. 
62% of 18 to 29-year-old adults have no retirement savings.14
Understanding your finances can help you start thinking about how much money you may need to retire comfortably. Consider the types of expenses you may have down the line and how much money you'll need to afford them. You don't need to know exactly how much money you'll need to start saving and planning. What matters is that you take steps toward growing your savings specifically for your retirement years. 
There are different types of retirement accounts and savings vehicles that can maximize your retirement savings, like: 
These come with different tax benefits, terms, and contribution limits, and you'll need to consider which option best aligns with your unique goals and circumstances. 
Thinking through your retirement goals, envisioning the lifestyle you plan to lead, and making a plan to ensure financial security in your later years are all important parts of financial literacy – and the sooner you start, the more time you have to save. Not sure where to start? Our retirement planning printable can help you navigate important action items: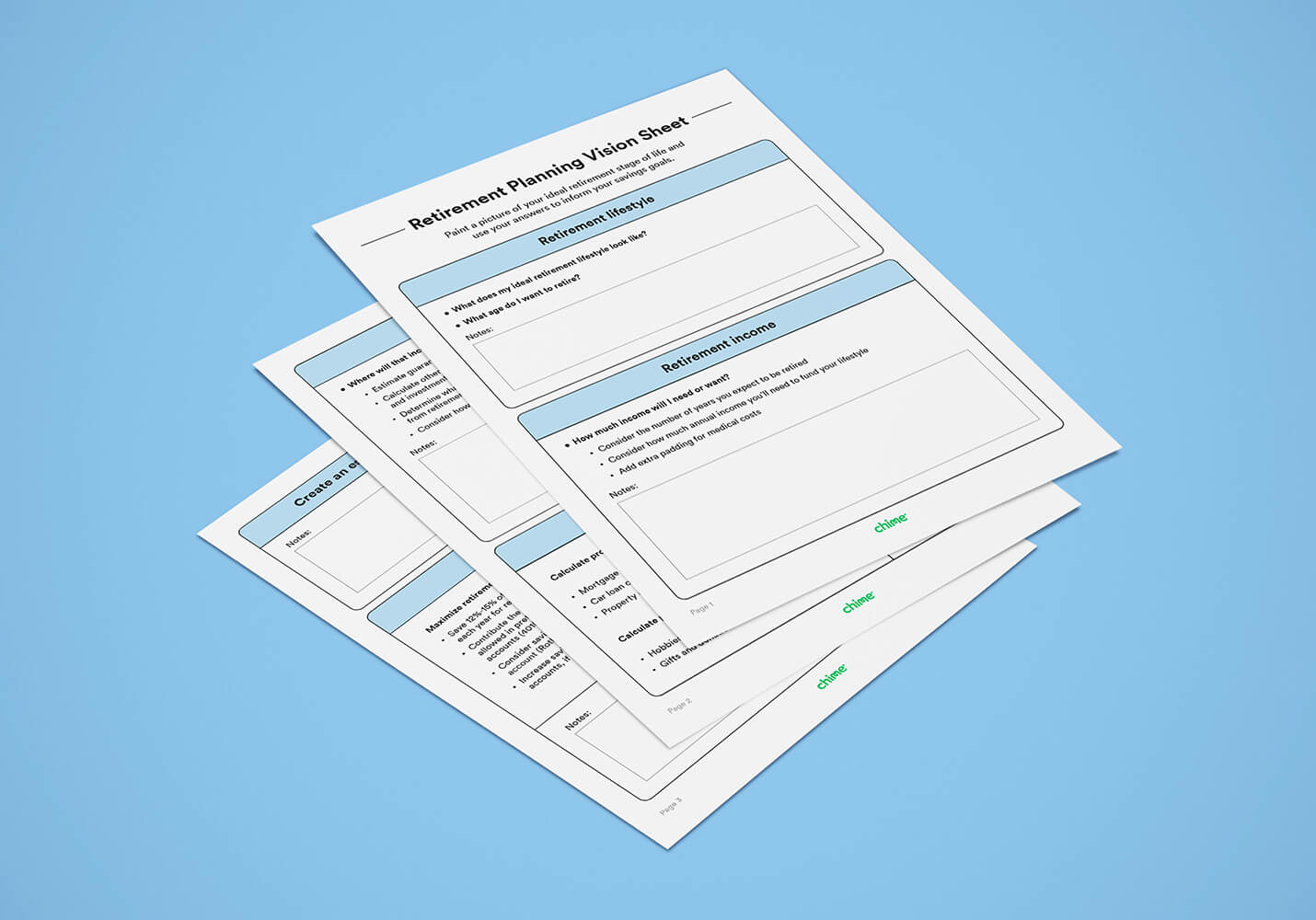 33% of Americans expect to have to keep working after they retire to maintain a comfortable standard of living.15
Taxes
Financial literacy regarding taxes covers knowing how taxes can impact your income and finances. There are different types of taxes, such as:
Income tax

Sales tax

Property tax

Capital gains tax
Each has its own rules and implications, and being aware of the different rates, deductions, and credits can help you minimize your tax liability.
Staying organized and keeping accurate records is also important for tax management. To file your taxes properly, keep track of your income, expenses, and relevant documents like receipts and financial statements. Knowing how to claim deductions and credits can also help you make more informed decisions when filing your taxes. 
Taxes are complex, and you may eventually consider working with a financial advisor to ensure you understand different tax laws and how they apply to your unique situation. Proactively planning and meeting tax obligations can help you maximize your tax benefits.
40% of U.S. households fail to pay their income taxes.16
6 steps to improve your financial literacy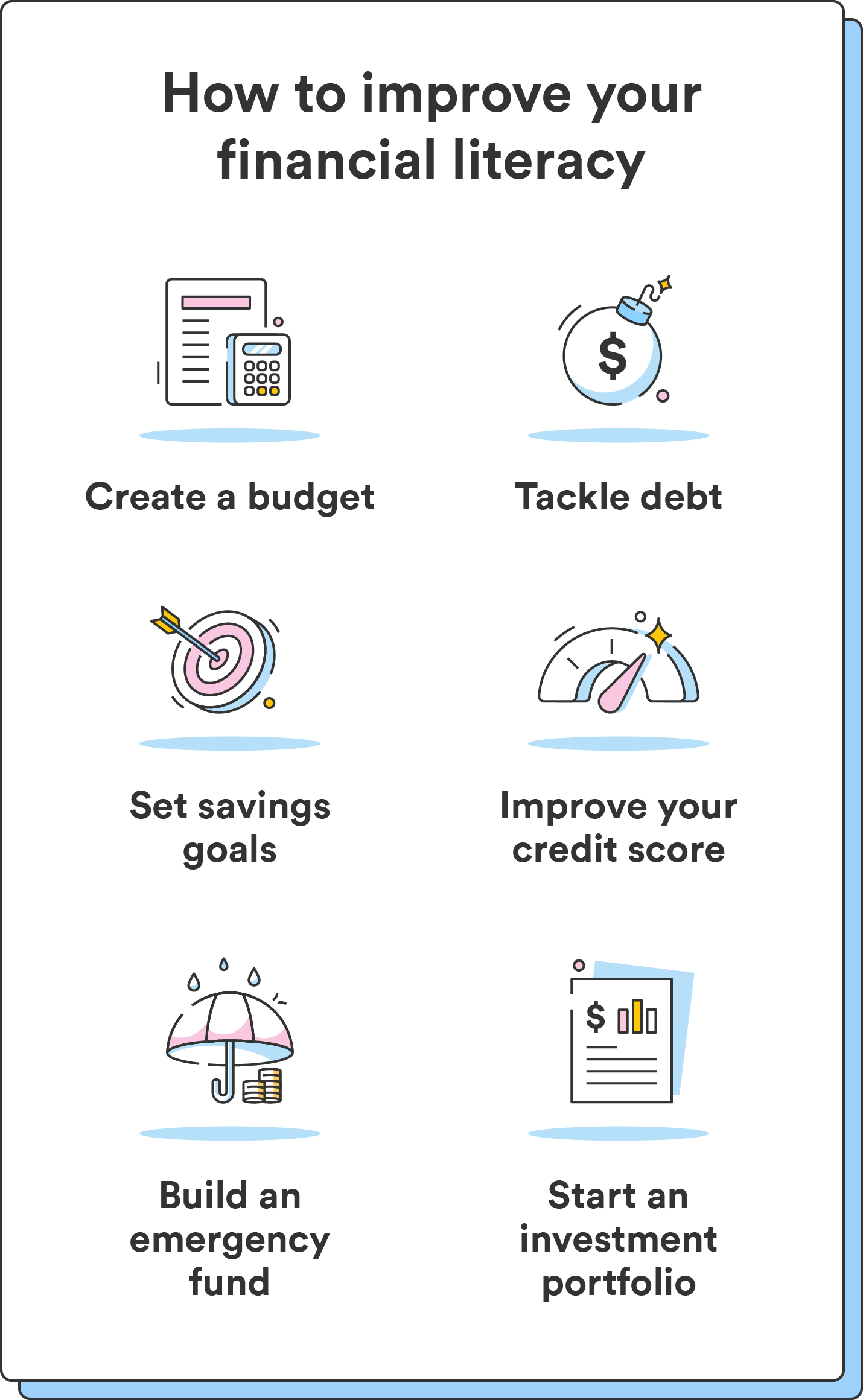 While expanding your financial literacy is an essential step in mastering your finances, it takes more than just knowledge to adopt effective money management skills. Here are some tips to help you get started. 
1. Create a budget
Creating and sticking to a budget is the cornerstone of financial literacy. 
Start by tracking your monthly income and expenses to get a clear picture of where your money is going. Categorize your expenses, like non-negotiable bills, rent or mortgage payments, groceries, and entertainment, and compare them to your income. From there, you can find areas to reduce your spending and put more towards your savings or debts. 
2. Start an emergency fund
An emergency fund is a financial cushion that can protect you when unexpected expenses arise. Prioritize building an emergency fund of at least three months worth of expenses. 
Even if you can only contribute a small amount of your income towards your fund each month, having a safety net is key to navigating financial roadblocks. Whether it's a large medical bill, car repairs, or something else, having an emergency fund means you won't have to take on high-interest debt when times get tough.
3. Tackle debt
Dealing with debt can lead to stress and overwhelm. While it can be hard to face, taking the right steps to become debt-free will open up new opportunities. 
Begin by organizing all your debts, including credit card balances, student loans, or personal loans. Make a plan for how you'll pay them off, like with the avalanche method (paying off high-interest debts first) or the snowball method (paying off smaller debts first). If you need support, consider consolidating your debt. 
4. Set savings goals
Whether you want to buy your first home, go on a vacation, or save for retirement, setting savings goals gives you a roadmap to make it happen. Make a list of specific savings goals and assign a deadline. 
From there, you can calculate how much you need to save each month to achieve your goal. Utilize tools like automatic transfers to make saving as easy as possible.
5. Learn how credit scores work
Understanding credit scores is crucial for many life milestones. Take the time to learn about the factors that impact your credit score, like payment history, credit utilization, length of credit history, types of credit, and new credit applications. 
Once you know how credit scores work, you can work towards building or improving your score. Maintaining smart credit habits like making on-time payments and keeping your balances low can help boost your score over time. 
Improving your credit score enables you to qualify for better interest rates on loans, access more financial opportunities, and access credit cards with better terms, perks, and higher credit limits. 
6. Consider retirement
No matter how far away you are from retirement, it's never too early to start planning. Learn about retirement savings options like 401(k)s, IRAs, and other investment vehicles. 
If you go with an employer-sponsored 401(k) plan, find out if they offer matching contributions and take advantage of them. Determine how much you can contribute to retirement savings each month and add this to your budget. Starting early and saving consistently both go a long way toward setting yourself up for success.
Financial literacy and brighter financial futures
Becoming financially literate is a marathon, not a sprint. Navigating the challenging world of personal finance is a hardship for many. But the process becomes less intimidating and can even be fun when you've taken the time to educate yourself.
Strengthening your finances eases stress and gives you more control over your money and life. And remember: as you are learning about financial literacy, try to pass on knowledge to your family and friends so they can be a part of the journey. 
FAQs about financial literacy
Still have questions about financial literacy? Find answers below. 
How do I become financially literate?
To become financially literate, start by educating yourself about personal finance concepts such as budgeting, saving, investing, debt management, and taxes. Utilize online resources to gain knowledge and practical skills. Practice applying financial concepts in your daily life and seek guidance from financial professionals when needed.
What are the principles of financial literacy?
The principles of financial literacy include the ability to effectively manage personal finances, make informed financial decisions, set and achieve financial goals, budget, save, invest, manage debt, understand credit, and plan for retirement. These principles provide a framework for developing financial knowledge and skills necessary for long-term financial success.
Why is financial literacy important?
Financial literacy empowers you to make informed money decisions, manage your finances effectively, and work towards achieving financial goals. It helps you avoid financial pitfalls, make wise financial choices, and confidently navigate the complexities of personal finance. 
How can I improve my financial literacy?
Start by educating yourself about personal finance topics.  Then, take practical steps such as creating a budget, tracking expenses, and setting financial goals. Seek advice from financial professionals and consider joining financial literacy programs or community groups focused on improving financial knowledge.
Can I improve my financial literacy even if I don't have a lot of money to invest?
Absolutely. Financial literacy is relevant regardless of the amount of money you have to invest or how much you have, as it lays the foundation for sound financial habits and decision-making that can lead to long-term financial success.