Twinkling lights, a mug of hot cocoa, gingerbread cookies fresh from the oven, and the familiar carols of old filling a cozy den. Spending the holidays surrounded by family and friends makes everything lighter – including our wallets.
The holidays are known as a time when the pressure to spend skyrockets. Take a look at the following statistics to understand how Americans are feeling about holiday spending: 
57% of consumers feel less confident in staying within budget for the holidays.

¹

Consumers expect to spend $1,652 on average on gifts and experiences, surpassing pre-pandemic levels for the first time.²

 

72% of consumers are expecting higher prices this year compared last year.

²
With rising inflation and increased pressure for gift-giving, how can you build a stricter holiday budget without being labeled a Scrooge? We've rounded up our holiday budgeting tips to help:
1. Set a clear budget
For a financially stress-free holiday season, establish a clear holiday budget. This is a great chance to review your existing general budget – really examine your current finances, income, expenses, and outstanding debt payments. 
Use this as your baseline for knowing how much money you can realistically spend. (Haven't created a general budget yet? Learn how to budget using the 50/30/20 method). 
Next, make a list of your potential holiday expenses. While your mind might go straight to gifts, other holiday expenses tend to sneak up on us:  
Gifts:

Presents for family, friends, gift exchanges, and more. Don't forget the extras like greeting cards and wrapping paper. 

Decorations:

Including festive decorations to spruce up the interior and exterior of your home.

Meals and entertainment:

Like special holiday meals and treats for gatherings.

Travel:

All the travel expenses associated with visiting loved ones, like flights, gas, and lodging.
Chime tip: Categorize your list of holiday expenses to curb impulsive spending and create a more comprehensive holiday budget.
Once you have your list, assign specific dollar amounts to each category. Avoid vague estimates – the key is to stay within your means and prioritize essentials to avoid overspending.
2. Budget for each person on your list
Once you have a master holiday budget in place, go a step further and assign a specific budget for each person on your gift list:
List everyone you plan to buy a gift for, from family and friends to co-workers. 

Set a price limit for each person based on your holiday spending plan from the previous step. 
Doing this gives you a clear guideline for how much you can afford to spend on each gift. It's a practical approach that will allow you to be generous without spending more than you can afford. Whatever you can afford to budget for your gift list, remember it's the thought that counts more than anything else! 
3. Start saving early
When handling your holiday budget, getting a head start on saving is a game-changer. Planning and taking some proactive steps can greatly impact how financially ready you are for the holiday season. Here are some actionable ways to get started:
Create a holiday sinking fund

Open a separate savings account dedicated to your holiday expenses to keep your holiday savings separate from your regular savings or

checking account

.

Set up automatic transfers

Schedule automatic transfers from your primary

checking account

to your holiday savings fund or savings account to consistently contribute to your holiday budget throughout the year (rather than spending a lot of money as soon as December hits).

Cut back on nonessential spending

Identify any day-to-day expenses where you can cut back in the months leading up to the holiday season. Redirect the money you save into your holiday fund. For example, consider eating out less frequently or reducing impulse purchases. 

Set aside money from bonuses or windfalls

If you anticipate a year-end bonus or

tax refund

, earmark a portion of it for your holiday fund. This way, you'll be prepared when the holiday season rolls around.

Shop year-round

Keep an eye out for sales and discounts throughout the year. When you find a bargain on a gift, purchase it and store it until the holidays. This spreads your spending and can save you money in the long run.
Use our savings goal calculator to calculate how much you need to save each month to achieve your holiday budget costs. 
4. Take advantage of sales
Maximize your holiday budget by shopping strategically. Here are a few ways to make the most of holiday sales and deals: 
Plan your purchases:

Before you hit the stores or browse online, have your completed gift list from Step 2 on hand. This will help you stay focused on your needs and avoid impulse purchases.

Keep an eye on sales events:

Look for events like Black Friday, Cyber Monday, and pre-holiday promotions. Take advantage of these opportunities to grab items at discounted prices.

Compare prices:

Don't settle for the first deal you come across. Compare prices from different retailers to ensure you get the best value for your money.

Consider off-peak shopping:

Shopping during non-peak hours or days (like during weekdays and the morning hours) can help you avoid crowds and potentially find better deals. 

Utilize loyalty programs:

Join loyalty programs to take advantage of promotions that can provide long-term savings. These programs often involve signing up for a membership or using a loyalty card to gain early access to sales or exclusive promotions. 
Taking advantage of holiday sales and deals can add substantial savings that help you stay within your means. 
5. Use coupons
Coupons are a helpful way to save on holiday shopping – and they aren't limited to weekly ads in the paper. Take advantage of:
Savings and coupon websites that offer a vast collection of digital coupons you can easily browse and use for online purchases. 

Coupon apps  that help you save digitally. 

Cash back apps that provide cash back and coupons for in-store and online shopping.
Chime tip: Consider subscribing to email newsletters of your favorite brands and stores. They often send exclusive coupons and promotions to their subscribers.
6. Consider DIY holiday gifts and decor
Opting for DIY holiday gifts and decorations is a cost-effective and personal way to celebrate the season. While you may not choose DIY gifts for every person on your list, going the DIY route for a handful of your loved ones can help you spread your holiday budget further. Here are a few ideas: 
Handmade gifts:

Consider crafting personalized gifts like knitted scarves, homemade candles, or photo albums. DIY gifts save money and show thoughtfulness and care.

Repurpose and upcycle:

Get creative with what you already have. Transform old items into new decorations, like turning Mason jars into candle holders or creating ornaments from spare fabric.

Homemade wrapping paper:

Instead of buying wrapping paper, decorate plain craft paper or even old newspapers with stamps, stencils, or hand-drawn designs.

Cookie or recipe jars:

Create festive cookie or recipe jars. Layer the dry ingredients for cookies, soups, or hot cocoa in a jar and attach a recipe card for a charming and affordable gift.
Nature's decor: Use natural elements like pine cones, branches, and berries for holiday decor. Collect these items on a nature walk and incorporate them into your festive displays.
7. Host potluck dinners
Holiday entertaining is a staple for many, but preparing or buying a meal for your friends and family can get expensive. Instead, consider hosting potluck dinners. 
Having your guests bring a shareable dish can ease the financial burden of elaborate meals while creating a warm and communal atmosphere. 
For a balanced meal, coordinate the dishes with your guests. You can create a sign-up sheet or group chat to get a good mix of appetizers, main courses, side dishes, and desserts.
Consider setting a theme for the potluck to keep costs in check. For example, a "comfort food" or "holiday classics" theme can guide your guests' dish choices.
8. Replace parties with group volunteering
Choosing to organize group volunteering outings instead of parties can be a meaningful and cost-effective way to celebrate the holiday season. Volunteering typically involves minimal to no expenses – you won't need to budget for expensive decorations, entertainment, or catering. Instead, you can focus on making a positive impact.
Choose a cause that resonates with your group and aligns with the spirit of the season. You can volunteer at local charities, food banks, and shelters or participate in community cleanup efforts. Then, enjoy the opportunity to give back together and create lasting memories, which are often far more valuable than material gifts or costly parties.
9. Follow through with returns and exchanges
When managing your holiday budget, don't forget to follow through with returns and exchanges once the holidays end. Make sure you get reimbursed for anything that needs to be returned. 
As you shop, keep all receipts and original packaging for your purchases and store them in one place. Take note of the return policies of the stores you shop at and any return deadlines or special requirements. 
If you received or bought items you no longer need or want, prioritize returning higher-value items first to free up more money in your budget.
10. Have a post-holiday evaluation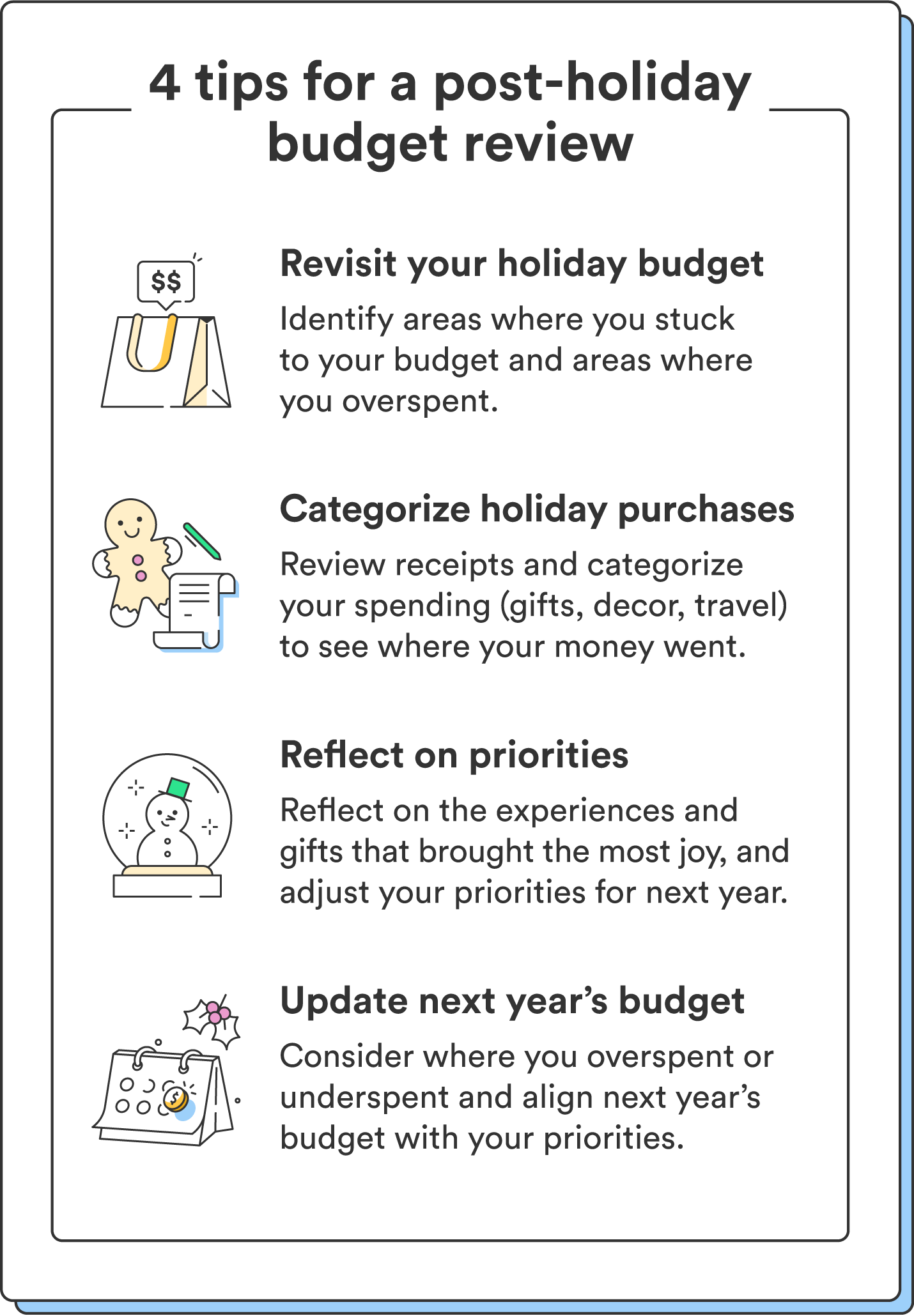 After the holiday season ends, set aside time for a post-holiday evaluation of your finances to assess your spending. Start by revisiting the budget you set for the holiday season and compare your actual spending to what you had planned. 
Review your receipts and bank statements and categorize your spending to see where your money went. This helps pinpoint specific areas that may require adjustment. If you find that you didn't spend much in one of the budget categories that you originally set aside funds for, take note of this for next year's budget. 
Once you've done a full review, take note of areas where you can improve in the future. This may include finding additional ways to save, increasing or decreasing your holiday budget, or reconsidering gift-giving strategies.
11. Carry lessons forward for next year
Based on your post-holiday evaluation, adjust your budget for the following year. Consider any areas where you over- or underspent and align your budget more closely with your priorities. Also, determine whether you started saving early enough for holiday expenses this year and whether you should start sooner next year. 
Continue creating a list of recipients and gift ideas well before the holiday season, and remind yourself of the priorities you identified during your evaluation. Most importantly, focus on what truly matters and avoid unnecessary spending that doesn't line up with your values.
Unwrap the gift of financial progress
With careful planning and a commitment to financial well-being, you can maximize the holiday season while staying within your budget, ensuring a season filled with joy, gratitude, and financial peace of mind.
Get a head start on next year's finances with our guide to setting financial goals.