For many, physical checks are a thing of the past. Direct deposit makes getting your paycheck more secure and convenient than ever. Still, you might wonder: "what time does direct deposit hit my bank account?".
The short answer is that you'll typically be able to access a direct deposit by 9 a.m. on the morning of your payday and sometimes as early as 12-6 a.m. That said, the exact timing of when direct deposit hits can vary. 
Factors that determine when your direct deposit hits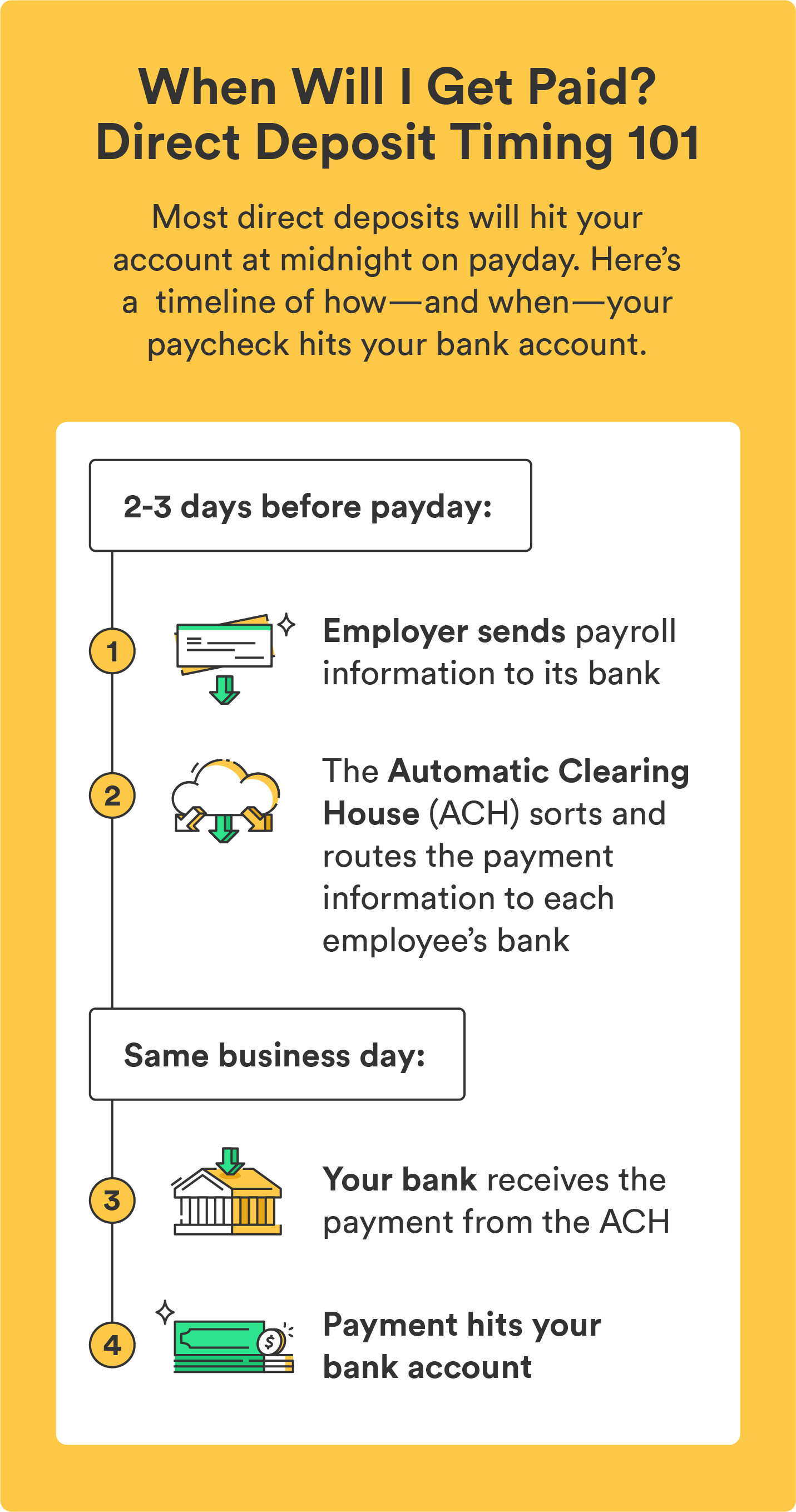 So, how long does direct deposit take?
The exact timing of receiving your direct deposit depends on two main factors: your bank and your employer's payroll software.  There's also the role of The Automated Clearing House (ACH), the electronic funds-transfer system that facilitates transactions in the U.S.¹
Here's a step-by-step breakdown of how direct deposit works: 
Your employer sends payroll instructions to their bank:

Before payday, your employer sends a payroll file to its bank containing employees' bank account details and paycheck amounts. 

The ACH processes the payroll file:

An ACH operator reviews the payroll file for accuracy and ensures all payments are properly routed. 

Payment information is sent to your bank:

The ACH sends your payment file to your bank to be processed. 

Payment arrives in your bank account.

Once your bank receives your payment information, your payment is processed and credited to your account. 
While the ACH plays a role in this process, your employer and bank largely determine when you receive your paycheck. That's because it's up to your employer to prepare and send employees' payroll information ahead of payday – and if they don't, your direct deposit may be delayed. 
How soon your money is available also depends on the bank you use. All banks are required by law 2 to make direct deposits available by the next business day following the day your bank receives the money from the ACH.
Average direct deposit times

Exact direct deposit times will vary no matter where you bank, but some banks offer better direct deposit programs than others. If getting your paycheck early is important to you, be sure to research different banks to learn about their direct deposit programs. 
If you're currently with a traditional, big-name bank, you might consider online banking options (like Chime!) to get additional perks beyond early direct deposit. 
Reasons your direct deposit hasn't hit
Remember, what time your direct deposit hits largely depends on your bank and employer since they're responsible for submitting payroll information in time for it to be processed as scheduled. 
That said, if you haven't received a direct deposit you're expecting, it could be for several reasons: 
Your employer entered an incorrect date

when processing your payroll. 

Processing is taking longer than usual

due to holidays (payday falling on a bank holiday often delays direct deposits). 

The direct deposit request was

accidentally submitted after business hours. 

Your bank has a specific time window for receiving electronic fund transfers, and

your employer missed the cutoff

.

 
Whatever the reason, the best thing to do is contact your employer's payroll department. You can ask them to confirm whether or not you sent your payment information in time for processing and confirm that the bank account information they're using to route your paycheck is accurate. 
How to get direct deposit faster
Direct deposit gives you immediate access to your hard-earned cash, but many banks now offer early direct deposit up to two days ahead of your scheduled payday. 
Online banks like Chime offer an early direct deposit feature, which allows you to get paid up to two days early.
Once you get your direct deposit up and running, consider automatically depositing a portion of your paycheck directly into a savings account. Chime's Save When I Get Paid makes it simple to save money from your paychecks every month. Just set up direct deposit with Chime and, when you get paid, Chime automatically transfers 10% of your deposit of $500 or more into your Savings Account.³
FAQs about what time direct deposit hits
Still have questions about direct deposit? Find answers below.
Does direct deposit go through on weekends?
The ACH Network does not settle payments on weekends (or holidays) when the Federal Reserve system is closed. If your payday falls on a Saturday or Sunday, it won't post until Monday. 
How do I set up direct deposit?
To set up direct deposit, ask your employer for a direct deposit form. Fill In your bank information, including your routing and bank account numbers, and choose a deposit amount (select 100% if you want your entire paycheck deposited to a single account). Submit your form and get paid!
Can you use direct deposit without a bank account?
You may be able to set up direct deposit without a bank account by getting a prepaid debit card through your employer. Your employer can use this reloadable card to send electronic funds directly to you – instead of being deposited into a checking account, it's deposited directly onto your prepaid card.