The conversation and the wine have been flowing. No red flags have come up. Your vibing is off the charts. You even reach the "let's follow each other on IG" stage. Your first date with that friend-of-a-friend has been a total success. Then, your server swings by with the check.
*insert sound of screeching tires coming to a halt*
The mood shifts. There's an awkward pause. We want to know: Who pays on a first date? If this were, say, the '50s, social norms might've dictated that "the man" picks up the tab. But times have changed. And who foots the bill on a first date can be ominous territory. If not sussed out beforehand, expect faux pas, potentially prickly scenarios, and hidden expectations.
So who should pay on the first date? No need to fret. We'll go over some ways to go about it — we even conducted an online poll (!) — to help steer you toward what's best for your situation. We also asked our social media followers to chime in with their thoughts on who pays: 
Option 1: the person who asked for the date
In this scenario, the Date Asker pays for the date. While it might seem like a solid option, there are some advantages and drawbacks.  
Supporters Say: A major plus with this route is that it lifts heteronormative standards. Let's say you'd much prefer to forgo the cultural notion that "the man" should always pay on a first date. (Many dates won't even include a man.) In that case, going by the rule that the initiator pays on a date can help make this standard go *poof*.
Another upside: if you're the Date Asker and are paying, you could feel like you have more say in deciding what to do on that date. (Operative word here is could.)
Critics Say: One potential disadvantage is that it could create an assumption that the person who asked for the date continues to pay for future ones. You can figure out what works best for your dynamic and respective money situations by having a convo about it down the line.

And if you're the Date Asker, you might resent needing to pay for everything on your date.  
"If it's a first date, and I'm being asked out, then they pay. Any date after, we split." — $CafeMau
Etiquette tip: If you're the Date Askee, and the person who initiated the date offers to pay, it may be a good idea to offer to go halfsies. The Date Asker might well insist they cover the date. No matter. Your willingness to help pay for the date shows that you don't expect them to pay for the costs of the date because they asked. 

Option 2: split the bill
First, let's consider the advantages and downsides of going Dutch on a first date:
Supporters Say: Splitting the bill on a first date seems like the equal and fair thing to do. No one assumes the "dominant" role by paying for the date. Nor is one person getting slapped with the entire cost.
Another plus? It could also imply: If you're willing to go halfsies on a night out bowling and enjoying Italian cuisine, maybe you'll be cool with splitting bigger items should things get serious, like fur parent duties. 
Critics Say: Surprisingly, splitting the bill is actually not the favored option. A poll by Elite Singles finds that going halfsies on a date is not a popular choice. Only 7% of respondents preferred splitting the bill.
While the reasons are unclear, It could be that going halfsies on a romantic romp equates to being friends. Or if you suggest splitting the costs of a date, it could look tacky to some. You might come off like you're not really into that person. When gazing deeply into each other's eyes, envisioning wedding bells, and mentally planning an eternity together, figuring out the logistics of going halfsies could be a mood killer.
Another route you could take? Take turns paying. That way, you won't have to quibble over how to split the bill and send each other money through Pay Anyone. You can also pay for dinner while the other person covers the movie tickets.
"We keep it equal!" – $Hannah-Williamson-4
Option 3: "the man" Is expected to pay
Back in the day, "the man" was often expected to always pick up the tab on a date. But in modern times, dates don't conform to this heteronormative, gendered way of courtship and romance.
For the woman to pay on a date — or to go halfsies — asserts that both parties are on a level playing field. Cultural expectations around dating are shifting.
One person always paying means they're saddled with forking over dough to go on a date, regardless of their bank balance or debt situation. It doesn't take into account who makes more. If the other person is better off financially, it could tip the scales further. 
Expecting one person to pay for a date no matter the circumstances or the dynamic is, well, antiquated. It also could imply dominance and hierarchy in the relationship.
For some, in our modern age, the person who pays is just the person who is raking in more dough. While expecting "the man" to always pay for romantic outings may not make sense for you, it largely depends on what jives best for you and your date. 
"Me! Because I make more money " – @annafrieden
We asked. You answered. Curious how our Instagram followers felt about who pays? Our poll results revealed that 34% prefer splitting, which is much higher than the percentage on the EliteSingles poll but still not as popular as the Date Asker paying (54%):
See more below: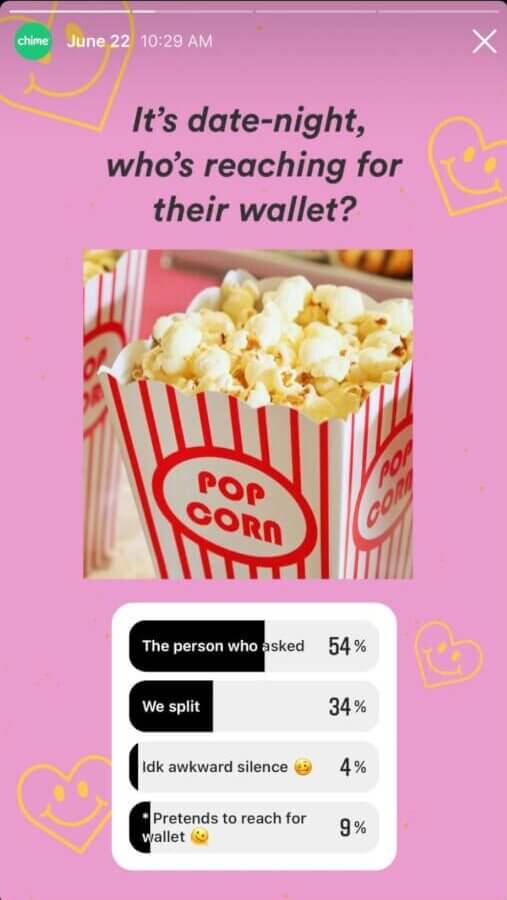 How to avoid the awkward silence
The rules of who pays on a date aren't cut and dried. Plus, there are multiple options. Here are some tips on managing expectations, so it doesn't lead to an awkward standoff: 
Bring it up beforehand
It's best to have a quick chat before the server drops off the bill. Is it your first date? No need to make it complicated.
Depending on the route you'd like to take, simply say something like, "I asked you out, so let me pay for this one." Or, "I usually like to go splitsies on a date, that way, no one person feels like they have to pay for everything." Or, "How about I get this, and you get the ice cream afterward?"
You get the picture. Then assess their response. 
"🪨, 📄, ✂️" – $SunflowerBoss
Kick things off with an inexpensive date
During the early stages of courtship, consider a low-key date with a minimal investment of time and money. For instance, a quick coffee meetup or a stroll in the park. (We'll delve into more free or low-cost ideas in just a bit.) 
Let it go
Life's not perfect. We're only human. And while it is an anxiety-inducing matter to figure out who pays on a date, should things not go according to your plan, don't stress. For example, let's say your date paid, which you regrettably agreed to. (You would have preferred to split the bill.) Instead of beating yourself up over it, bring it up on the second date. 

Low-cost date ideas
Dating? Expensive? No surprise there. The average cost of a date in the U.S. $102.32, according to Yahoo Finance. (Note: This varies from state to state.) This includes dinner for two, a bottle of wine, and a pair of movie tickets. 
While the debate rages on whether it's more expensive to be single versus coupled, expect to pay up when dating. With rising inflation driving up the cost of everything from a hamburger to a glass of wine to a tank of gas, the cost of dating will only go up.
Alleviate some of that money stress with cheap date ideas:
Get out in nature
Going on a hike, taking a tour of a nearby botanical garden, or spending a lazy Saturday by the river is low-cost and can help boost your well-being. A study by the European Centre for Environment & Human Health at the University of Exeter revealed that spending two hours in green spaces can boost psychological well-being and good health.  
Create a home-cooked meal together
Spending time in the kitchen and concocting your own noms to nosh on can get the endorphins flowing. Beyond kitchen time, decide on a theme, head over to the market, and shop for ingredients as a pair. It'll make your date that much more meaningful. 
Do art night — your way
If you're both shutterbugs, go on a little adventure about town snapping pics of your favorite local sights. Or consider a music night where you have an improv sesh and have a "drum off."  
Check out a free movie in the park
Depending on where you live, and the time of year, there might be scores of free and fun ways to be entertained. This rings true especially during the summer months. Check out listings for free concerts, book readings, art gallery openings, and mutually intriguing events from local arts and culture listings.  
Love & Money: the great debate continues
Who pays on a date remains a great debate — have the Date Asker pay, split the bill, or wing it on the date. Each option has pros and cons, and it's ultimately up to you and your date which option suits you best.
To continue the convo, check out our other love & money posts, like: when should I bring up a prenup?
Real Members. Sponsored Content.