Auto loans allow you to borrow money in order to purchase a car. If you're in the market to purchase a car but don't have the full cost of the car upfront, you can use an auto bank loan to help finance the car and pay down the cost over time, usually through monthly payments. 
To help you estimate what your car loan is likely to cost, use this auto loan calculator as you compare available rates. To start, enter how much money you're looking to borrow, how long you need to borrow, the interest rate, and your current credit score. You can also input any down payment or trade-in value. Please note that this is an interest-only calculation. 
From there, the calculator will determine your estimated monthly auto loan payment so you have a better idea about the kind of car you can afford.
Auto loan calculator
Auto Loan Calculator
Your estimated auto loan payment is:
$500
Based on 7% APR
This calculator is for educational purposes only. The formula used is an interest-only formula, not an amortization formula. It calculates estimated monthly payments based on the information you provide. Your estimated monthly payment may change if any of the information varies.  You should enter figures that are appropriate to your individual situation. This calculator is not intended to offer any tax, legal, financial or investment advice.
Auto loan tips and considerations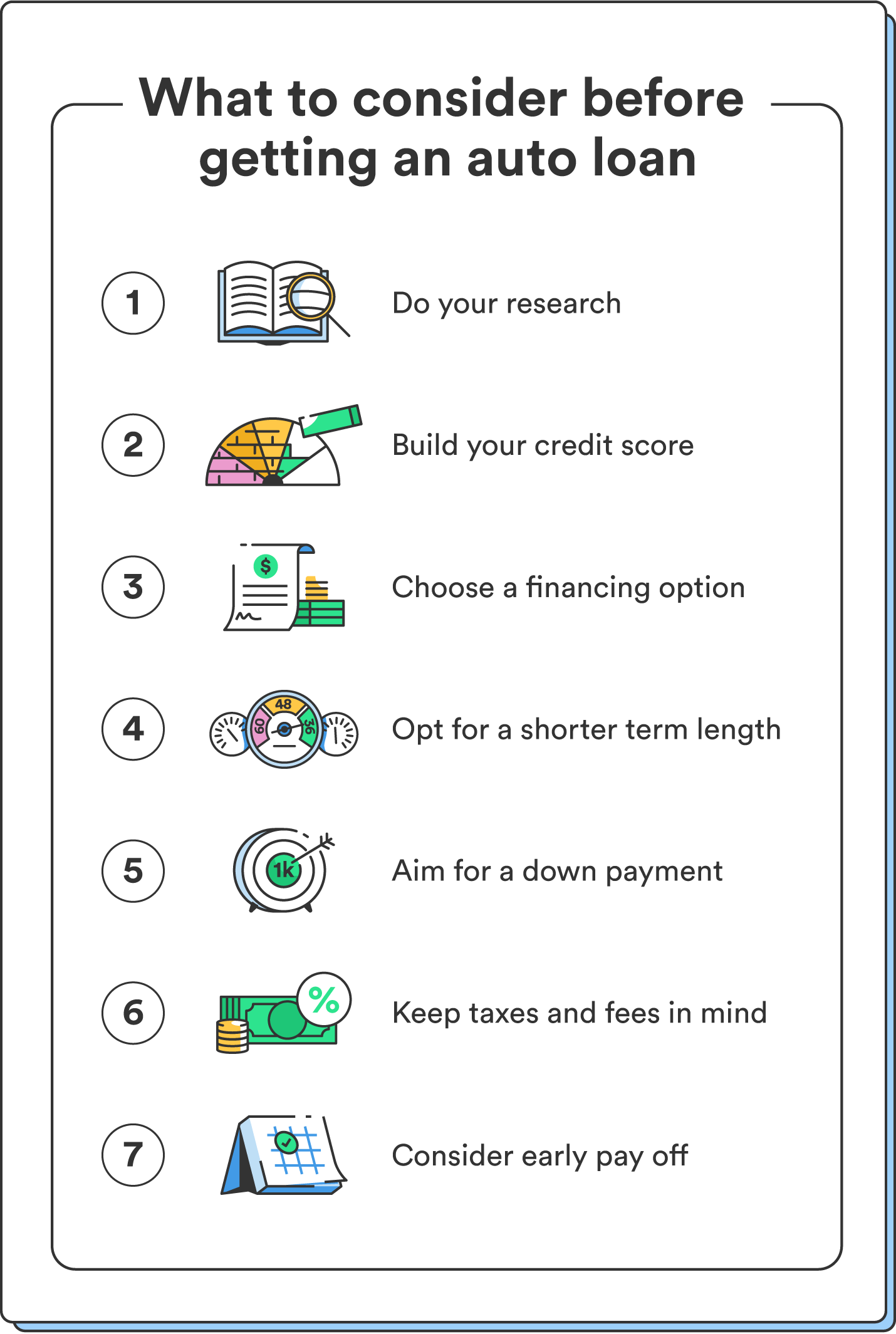 Find the best auto loan that fits your needs. Here are some tips and considerations to keep in mind when you're applying for an auto loan. 
Do some research:

Gather as much information about the car you want to purchase ahead of time. Determine what kind of car you want and what you can afford, take a look at current rates, and consider getting

preapproved

for a loan before purchasing to help with negotiating power. 

Build your credit score:

If you have a higher credit score, you're likely to receive lower interest rates. Some lenders use different credit scoring models, but the most common is

FICO® Score or VantageScore

. In the fourth quarter of 2022, the average credit score for a used car loan or lease was 678, while the average score for a new car loan or lease was 738.¹

 

Choose a financing option:

Before getting an auto loan, choose your preferred financing option. There are typically two options: direct lending or dealership financing. Direct loans come from a financial institution, bank, or

credit union

, while a car dealership deals with the latter. 

Opt for a shorter term length:

Getting a shorter-term auto loan may mean a higher monthly payment, and you'll save money on interest rates in the long run. Essentially, the faster you pay down an auto loan, the less interest you'll have to pay. 

Aim for a down payment:

A down payment is a percentage of the car's purchase price. Aim to put down at least 20% so you don't pay more than you need in interest and financing costs. 

Keep taxes and fees in mind:

When purchasing a car, there are typically several taxes and fees involved for things like documentation, registration, license, sales tax, and more. These are paid separately and are not included in the total loan amount.

Consider early payoff: Paying off your auto loan earlier than the set loan term can result in interest savings. Plus, it can help you avoid owing more than the car is worth. However, some lenders will charge a prepayment penalty, so be sure to look at the loan terms carefully before considering an early payoff.
Car maintenance costs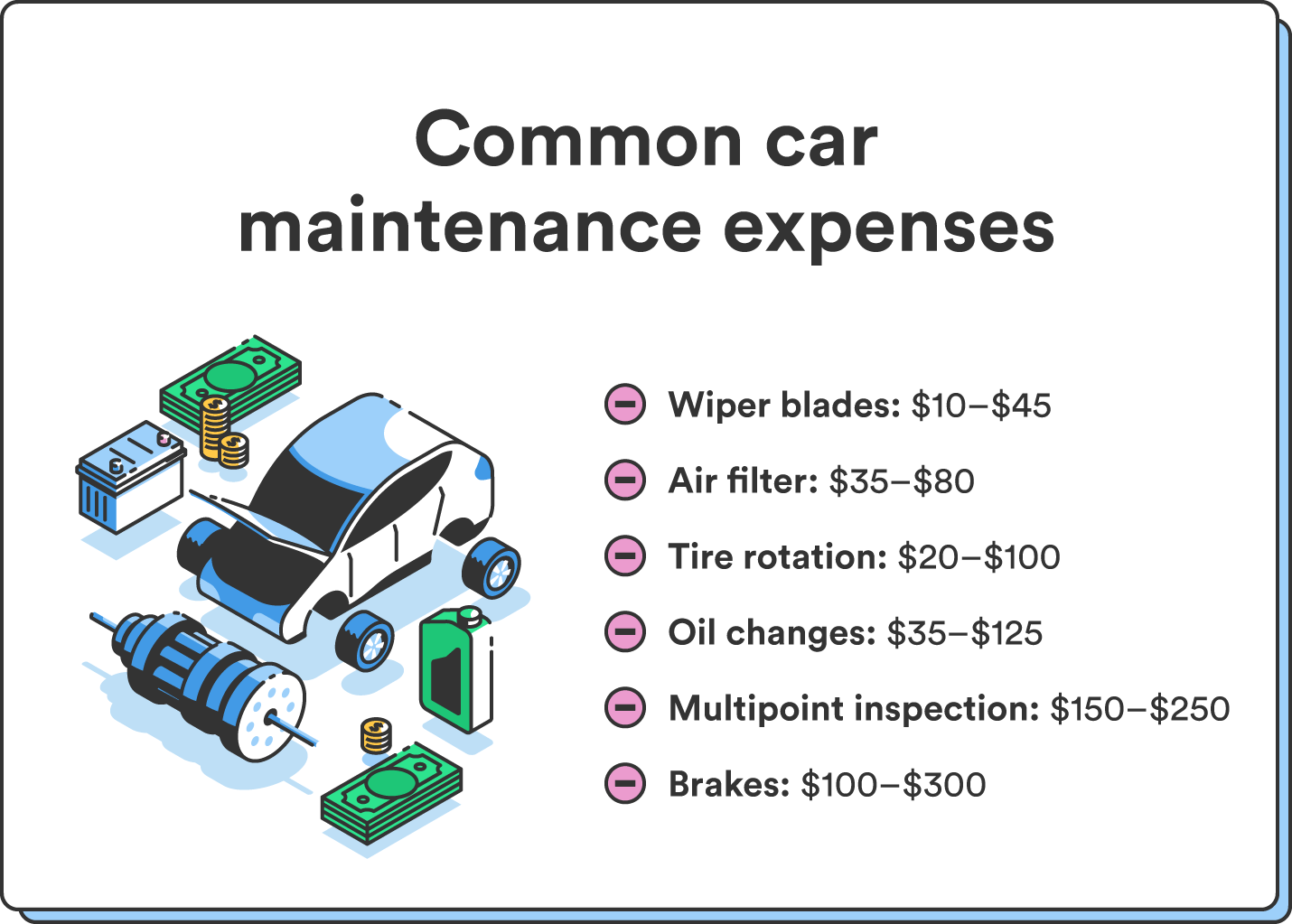 The top car maintenance costs can vary depending on the make and model of the vehicle, as well as its age and overall condition. However, some common maintenance costs include:
Wiper blades:

You'll likely need to replace your windshield wipers every six to 12 months which can cost between $10 to $45.  

Air filter:

If you need to replace your air filters, you'll need to pay between $35 and $80. This is recommended every 15,000 to 30,000 miles. 

Tire rotation:

Manufacturers generally recommend rotating your tires every 5,000 to 7,500 miles. This will typically cost between $20 and $100. 

Oil changes:

Depending on your area and type of car, an oil change could cost between $35 and $125.  

Multipoint inspection:

You can expect to pay between $150 and $250 for a multipoint inspection every 5,000 to 7,000 miles.

Brakes:

The average cost to replace a brake pad is around $100 to $300 depending on the type of car. It's recommended to get these replaced every 10,000 to 20,000 miles. 
These costs are just estimates and can vary depending on the location and the severity of the repair needed. To find the best price, shop around and compare quotes within your area. 
Increase your chances for auto loan approval
Although getting approved for an auto loan can feel like a long process, this auto loan calculator and these tips can help you get on the right track to get approved for a loan that's in your budget. 
To increase your chances of getting approved, improve your credit score ahead of time with smart money habits.
FAQs about auto loans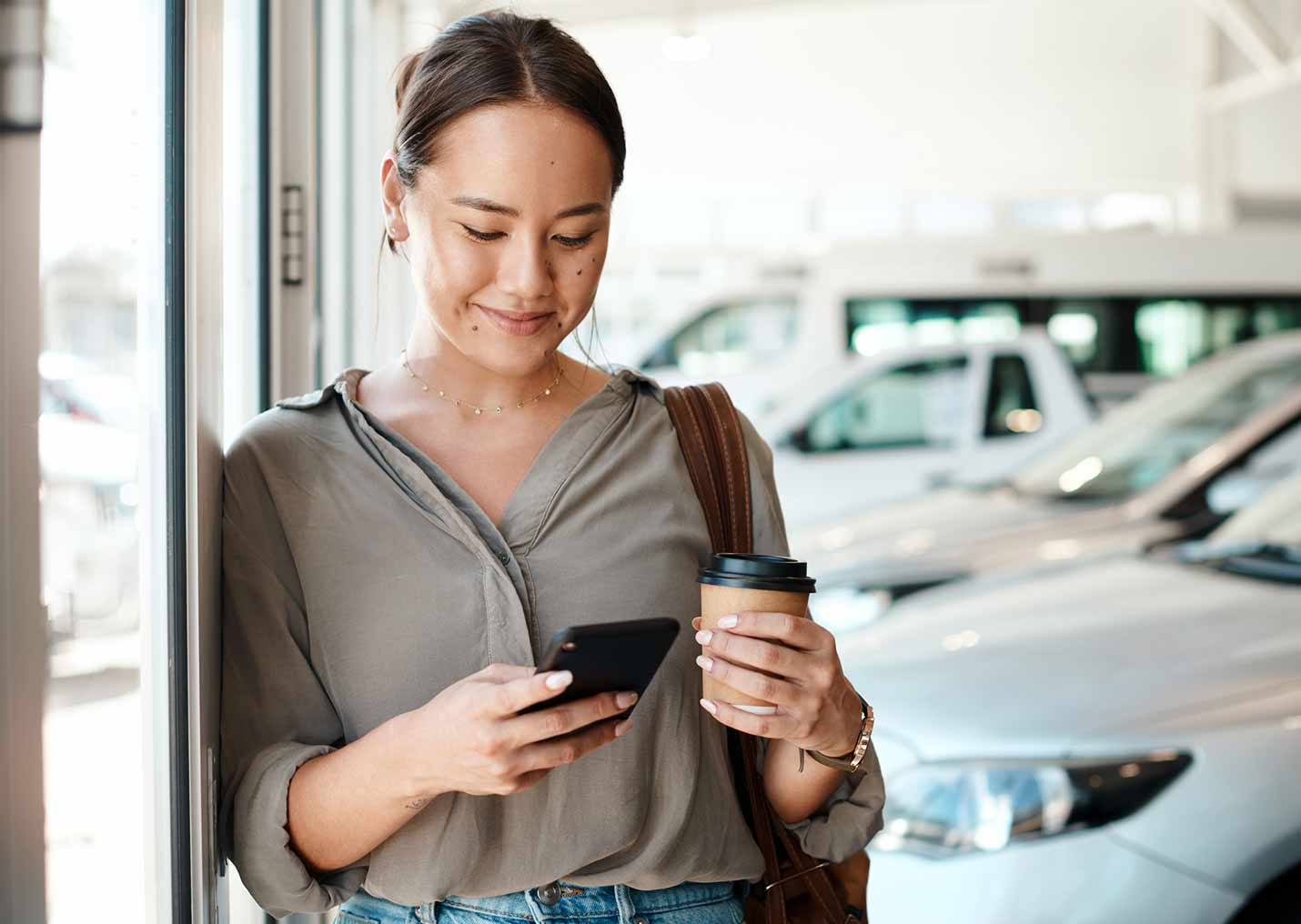 Looking for more information before purchasing your car?  Find more answers about auto loans below. 
How do car loans work?
Car loans allow individuals to finance the purchase of a vehicle by borrowing money from a lender. The borrower will typically make monthly payments over a set period of time, with interest, until the loan is fully paid off. The interest rate and terms of the loan will depend on the borrower's credit score, income, and other factors.
Where can I get an auto loan?
There are several places where you can get an auto loan, including banks, credit unions, and online lenders. You can start by checking with your own bank or credit union, as they may offer preferential rates to their existing customers. You can also shop around and compare rates and terms from different lenders to find the best deal for you.
When is the best time to buy a car?
The best time to buy a car is typically at the end of the year, especially in November and December, when dealerships are looking to meet their sales goals. Additionally, shopping toward the end of the month may allow you to negotiate a better deal as salespeople are often trying to meet their quotas. 
You can also consider timing your purchase during a period when the dealership is running a promotion or offering incentives to buyers.
What's a good term length for an auto loan?
Auto loan terms between three and five years are popular lengths to choose from. It's worth noting that the longer the loan term, the lower the monthly payment. However, with longer loan terms, you accrue more interest rate fees over time than with a short-term loan, which is another factor to consider when choosing your auto loan.  
Is there interest for auto loans?
Yes, there's interest for auto loans. The auto loan interest rate is an annual percentage of the amount of money you decide to finance. It serves as the cost you pay for borrowing money from a lender. The interest rate will depend on a variety of factors, including the borrowers: 
Credit score

Income

Length of the loan
What credit score do you need for an auto loan?
The credit score required for a loan will depend on the lender and the type of loan. In general, the higher your credit score, the better your chances of being approved for a loan with favorable terms, such as a lower interest rate. While there is no specific credit score that guarantees approval, a score of 670 or higher is generally considered to be good, while a score of 740 or higher is considered excellent. 
However, some lenders may offer loans to individuals with lower credit scores, although they may come with higher interest rates or less favorable terms.      
Should I get an auto loan rebate?
Whether or not to get an auto loan rebate depends on your financial situation and priorities. A rebate can reduce the overall cost of the car by providing cash back after the purchase, which can be used to pay off the loan or put toward other expenses. 
However, keep in mind that a rebate may not always be the best option, as it may be more beneficial to negotiate a lower purchase price or secure a lower interest rate on the loan.
Are new or used cars better?
Deciding whether to buy a new or used car depends on your individual needs, budget, and preferences. New cars typically come with a higher purchase price, but they may offer the latest technology and features, as well as a warranty. Used cars are generally less expensive but may require more maintenance and repairs. 
Should I lease or buy a car?
The decision to lease or buy a car depends on your financial situation and driving needs. Leasing a car may have lower monthly payments and allow you to drive a newer car with the latest features, but you won't own the car and may have mileage restrictions and fees. Buying a car may have higher monthly payments, but you'll own the car and have more flexibility with customization and driving mileage.