What credit score is needed to buy a car?
A credit score of 661 or higher will give you the best chance of qualifying for a car loan with a good interest rate. But you can still find a car loan with nearly any credit score.
A car may be one of the most expensive purchases you'll ever make — second only to a home. In March 2023, the average price for a new car was $48,008 according to Kelley Blue Book.1 That's a lot of dough.
While you can save money by buying a used car, you still need enough cash to drive away in your new wheels. If you don't have the money, your other option is to get a car loan.
You'll generally need a good credit score and enough money for a downpayment to get approved for a car loan. Read on to learn more about car loans and what credit score is needed to buy a car.
Chime® Credit Builder Visa® Credit Card
A New Way to Build Credit
No Credit Check to Apply1
No Annual Fees
Learn More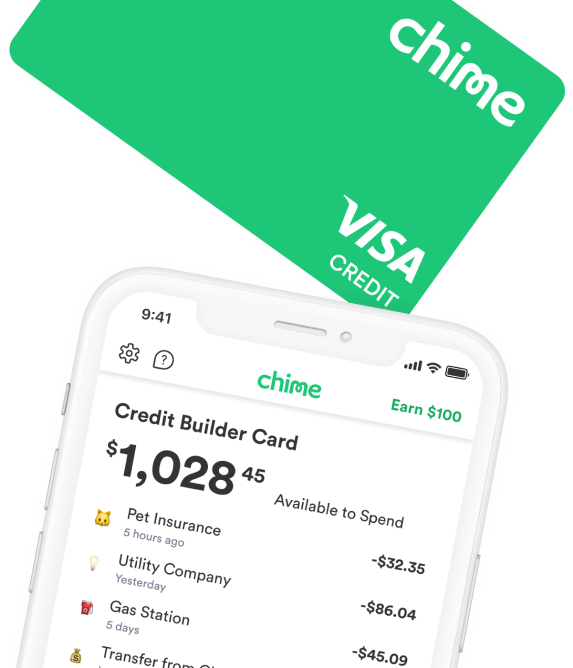 What is a good credit score to buy a car?
Car loans are similar to other types of loans. You usually have to come up with a down payment, and you can apply to borrow the rest. You can get a car loan at an auto dealership, bank, or a credit union. Some online lenders specialize in car loans.
Some car dealerships will allow you to trade in your current car and use the value as a down payment for the new vehicle. They will then run your credit and shop around for the best lender for your loan. This can take some time, so spending several hours at the car lot is not uncommon as you wait for a financing decision.
Once approved for a car loan at a dealership or through another lender, you can review the loan terms and sign the paperwork. You'll be given an interest rate based on your credit score, income, and debt-to-income ratio (how much you already pay toward your debt each month compared to how much income you bring in).
Generally, you'll be asked what your budget is for a monthly car payment. Lenders can shorten or lengthen your loan repayment term based on this preference. For example, you can get a 36-month car loan or even a loan that will take seven years to pay off. The longer the loan, the more interest you'll typically pay over time.
What credit score do you need to buy a car?
Your credit score is the number one factor determining whether you get approved for a car loan.
Of course, if your credit score is excellent or above average, you can rest assured that you'll likely get a loan with the best terms. You probably won't be approved for a car loan if you have no credit or bad credit. That could mean it's time to start building your credit.
Each quarter, Experian publishes a report detailing the state of the automotive finance market. This is how Experian, as well as most lenders, rank borrowers' credit scores:2
Super prime: 781 – 850
Prime: 661 – 780
Nonprime: 601 – 660
Subprime: 501 – 600
Deep subprime: 300 – 500
You'll generally want a score of 661 or higher to qualify for most conventional car loans and obtain the best interest rates.
Average car loan interest rate by credit score
In the fourth quarter of 2022, the average credit score for a used car loan or lease was 678, while the average score for a new-car loan or lease was 738, according to Experian's State of the Automotive Finance Market fourth-quarter report.2
Here are the average interest rates you can expect depending on your credit score.
| CREDIT SCORE | AVERAGE LOAN RATE FOR A NEW CAR | AVERAGE LOAN RATE FOR A USED CAR |
| --- | --- | --- |
| Super prime: 781 – 850 | 4.75% | 5.99% |
| Prime: 661 – 780 | 5.82% | 7.83% |
| Nonprime: 601 – 660 | 8.12% | 12.08% |
| Subprime: 501 – 600 | 10.79% | 17.46% |
| Deep subprime: 300 – 500 | 13.42% | 20.62% |
Source: Experian State of the Automotive Finance Market, Q4 20222
Having a higher credit score will get you the best terms and the lowest interest rates. This can save you a significant amount of money as you repay your loan. If your credit score is subprime or worse, it's better to work on building your credit before applying for a car loan.
How do credit scores affect auto loans?
If you want to build or improve your credit score, you first need to understand how credit works. Lenders typically use the FICO® Score or VantageScore credit-scoring models when considering whether to approve your car loan application. The FICO Score is a specific credit scoring model, but it helps to understand how it works so you'll know which areas of your credit report to focus on.
According to MyFico, credit scores are calculated using these five main factors:3
Payment history – 35%
Amounts owed (overall utilization of your credit limits) – 30%
Length of credit history – 15%
Credit mix – 10%
New credit – 10%
As you can see, your payment history and amounts owed hold significant weight in terms of determining your score. If your score is low, the odds are your payment history could be better.
How to improve your credit score before applying for a car loan
So, how long does it take to improve your credit? Depending on how much work you need to do, you may start to see a change in as little as 30 to 45 days after implementing improvements.4 To start making positive changes, you can do the following:
Try monitoring your credit and tracking your improvement using free sites like Credit Karma and Credit Sesame.
Use your credit cards wisely, which includes paying off some debt to lower your balances.
If you see missed payments or defaults on your credit report, contact the lenders to determine if you can settle the balance.
If you have no payment history, consider getting a secured credit card and putting a small monthly charge on it. Then, pay it off in full each month to build a positive payment history.
Keep your credit utilization under 30%. This means that if you have a credit card with a $2,000 limit, for example, you shouldn't carry a balance of more than $600. Going above and beyond that amount tells lenders that you rely too much on credit.
How to buy a car with bad credit
If you have bad or no credit, now is a good time to try transportation alternatives before buying a car. For example, while working on building your credit, you can consider public transportation or carpooling.
Or, you can try buying an older used car with cash to get you from one place to another. You can use windfalls like a tax refund or bonus payments from your job to help you round up the money to buy a cheap car. This might hold you over until you can improve your credit score and apply for a car loan for a new car.
Build your credit score to buy a car
Don't lose hope or patience if your credit score needs to be improved before you finance a car. The benefits of working your way up to an excellent credit score will be well worth it when you get a car loan with better terms and a lower interest rate.
A lower interest rate for your car loan will potentially save you thousands of dollars. While figuring out your budget for a new or used car, be sure to figure out the average cost of car maintenance.
FAQs
Is it possible to buy a car with bad credit or no credit?
If you have bad credit, getting a car loan is still possible. Some lenders work specifically with people with lower credit scores. Research your options, consider a co-signer, or make a large down payment if you need help getting approved or finding acceptable rates.
If you don't have any credit history, getting a car loan will be more difficult. You'll need to show that you can repay the loan in other ways. Consider some of the following to demonstrate to lenders you are not a risk without any credit history:
A full-time, secure job with a regular income
A "high enough" income to comfortably make the repayments on the loan
No history of late payments on bills or failed payments
A savings account with a high balance
What credit score is needed to buy a car?
There is no minimum credit score to buy a car. Credit requirements for car loans vary by lender since lenders make their own rules for evaluating your credit. Generally, most lenders like to see a score of 661 or higher to show that you are a low-risk borrower. Keep in mind that lenders often look at multiple aspects of your finances when considering you for a car loan, such as income, debt, and whether you've paid past loans back on time.
What credit score is needed to lease a car?
Similar to buying a car, when you lease a car, you will need a favorable credit history. No minimum credit score is needed to lease a car, but the higher your credit score, the less you'll have to pay when signing and the less you'll need to pay monthly.
How much will a car loan drop my credit score?
Applying for an auto loan might ding your score temporarily because a hard inquiry will be made to your credit report. If you qualify for and accept a loan offer, you'll typically see a slight drop in your credit score. It's hard to predict how much your credit score will drop, but hard inquiries generally reduce your score by about five points.
Does a car loan build credit?
Car loans, like most loans, can help build your credit as long as you make on-time payments. How soon and by how much a car loan will raise your credit score depends on many factors, such as payment history, amounts owed, length of credit history, new credit, and credit mix.
What is a FICOⓇ auto score?
A FICO automotive score is an industry-specific credit score intended for auto lenders. Fico auto scores are speciality scores ranging from 250 to 900. FICO auto scores weigh past car-loan payments more heavily than the traditional FICO scores. It also gives more weight to any repossessions or auto-loan bankruptcies you might have previously filed.
Some dealers might use a FICO auto score instead of a traditional FICO Score or VantageScore.
Is a 600 credit score enough to buy a car?
A 600 credit score is enough to buy a car, but you can expect to pay a higher interest rate than someone with a prime or super-prime credit score. According to Experian's State of the Automotive Finance Market report, the average score for people with a new car loan was 738 in the fourth quarter of 2022.
Can I get a car with a 500 credit score?
With a credit score in the 500s, it is still possible to get a car, but you will have more limited options and pay a higher interest rate. Consider adding a co-signer to increase your chance of getting a car loan. Alternatively, you can apply for a bad credit card loan, which is like a regular car loan but designed for people with lower credit scores.