Imagine a familiar scenario. You're at the register, ready to make a purchase, when the store clerk mentions an irresistible offer: Sign up for the store credit card and receive a big discount on your purchases, both now and in the future. Instant money off and guaranteed savings—sounds like a no-brainer. Right?
Well, with the holidays around the corner, taking advantage of store discounts and building your credit to purchase gifts, becomes an even more tempting offer. But are store credit cards really the right financial move to make? Do the pros outweigh the cons? And which stores offer the best credit cards?
Understanding how store credit cards work, and what to look for, is a great step toward financial health this holiday season.
Chime® Credit Builder Secured Visa® Credit Card
A New Way to Build Credit
No Credit Check to Apply1
No Annual Fees
Learn More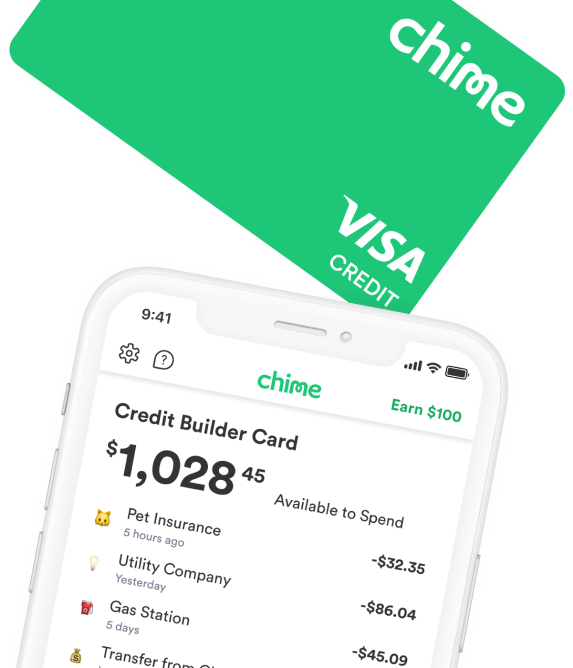 What are store credit cards?
Store credit cards fall under the rewards card category because they reward customers for loyalty by giving discounts or other benefits for shopping at the store that provided the card.
There are two types of store credit cards:
Closed-loop cards: You can only use them at the issuing store, or perhaps at a group of stores under one company's umbrella.
Open-loop cards: You can use them anywhere.
Rewards cards are ideal for cardholders who pay their bill in full every month. When you carry a balance, interest charges nip away at the value of rewards. Keep in mind that store credit cards, in particular, come with higher interest rates, so paying off your bill on time is pivotal.
Pros and cons of getting a store credit card
Pros
Store credit cards are known for having $0 annual fees and being available to people with credit scores of 640+, which makes them great for building credit at a low cost.
Many store cards offer generous first-purchase discounts and lucrative ongoing rewards.
Open-loop credit cards can be used anywhere.
Cons
Store credit cards are known for having terrible interest rates, which means you could be stuck paying off small purchases for years to come.
Rewards may not be flexible and APRs are higher than average.
Late or missed payments can negatively impact your credit score.
Closed-loop credit cards are limited to that certain store or chain.
What you should consider
Before applying for a store credit card, there are several important considerations consumers should be aware of.
Determine if you can pay your balance. If you can't pay your balances at the end of the month, take a pass on the store credit card, and turn to a different card (or shop for essentials only).
Analyze your shopping habits. How often have you shopped at that store? If you shop there more than three or four times per month, it might be worth it to open a store card, because stores tend to give special discounts for using that card.
Check out the APR. The APR (annual percentage rate) varies greatly from store to store. Be sure that you know what type of credit you have before you apply, since the card's APR can be as high as 25% for those with poor credit.
Ask about annual fees. Not all store credit cards charge an annual fee, so try to avoid the ones that do.
Find out about the perks. They all offer perks, but if the costs of the card outweigh the perks, it probably isn't worth getting the card.
Limit the number of store cards you open. While there is no hard-and-fast rule for this, opening new credit cards results in a hard inquiry on your credit report. You should only sign up for a new card when absolutely necessary.
Don't make a quick decision. You don't need to make a decision right away. Take time to research more at home before you choose a store credit card.
Best store credit cards
Here are 6 of the most popular store credit cards of 2020, from some of the largest retailers. Keep in mind they each have their drawbacks, but they were selected for their valuable rewards, and/or low rates and fees.
1. Amazon Prime Rewards Visa Signature Card
The Amazon Prime Rewards Visa Signature Card is an easy way to get 5% back for everything you buy on Amazon. Since Amazon has one of the broadest product ranges of any marketplace, this is probably the most versatile store card you can get. It has no annual fee but requires an Amazon Prime membership. Enjoy 5% back on everything you buy from the mega-retailer, plus categories for Whole Foods and some other common purchases.
Rewards Summary: Earn 5% back on Amazon (including Prime membership) and Whole Foods purchases; 2% at restaurants, gas stations, and drugstores. All other purchases earn 1% back.
Drawbacks: High ongoing APR; available only to Amazon Prime members.
2. Capital One® Walmart Rewards™ Mastercard®
The Capital One® Walmart Rewards™ Mastercard® can be a good option for frequent Walmart shoppers. The $0-annual-fee card offers added value since items at this huge retail chain are often already heavily discounted. It provides the most cash back for online Walmart purchases, while in-store purchases are 2%. Rewards are more flexible than those you'd earn with some other store cards, as you aren't limited to using these rewards for just Walmart purchases. You can redeem for a statement credit or toward a purchase, apply points during checkout at Walmart.com, get gift cards, or use rewards for travel bookings via the Capital One portal.
Rewards Summary: Earn 5% at Walmart.com, including grocery pickup and delivery; 2% back on in-store Walmart purchases (including Murphy USA and Walmart gas stations), restaurants and travel. All other purchases earn 1% back.
Drawbacks: Limited in-store rewards; high ongoing APR.
3. Target REDcard™ Credit Card
The Target REDcard™ has a $0 annual fee and gives 5% back on all Target purchases, both in-store and online. The card is great for everyday spending, as Target carries a little bit of almost everything. You'll also get a 10% discount coupon every anniversary, 30 extra days for returns and free shipping on most Target online purchases. But take note that certain products and services won't be eligible for the discount, like gift cards, prescriptions, and eye exams.
Rewards Summary: Get a 5% discount on all eligible Target purchases, plus 30 extra days for returns and free shipping on most items at Target.com. And a 10% discount on your cardmember anniversary.
Drawbacks: Closed-loop card; high ongoing APR.
4. Costco Anywhere Visa® Card 
The Costco Anywhere Visa® Card is a great option for Costco members. While the 2% back on Costco purchases is average, the rewards rate on gas is among the highest around. You'll earn 4% cash back on eligible gas worldwide, on up to $7,000 in spending annually. There's no annual fee with your paid Costco membership and no foreign transaction fees on purchases. You'll also be rewarded well for spending on restaurants and travel.
Rewards Summary: Earn 4% cash back on eligible gas (up to $7,000 per year; then 1%); 3% on restaurants and eligible travel purchases; 2% on all other purchases from Costco online and in-store. All other purchases earn 1% back.
Drawbacks: Requires Costco membership, which is at least $60 per year; requires excellent credit; cash-back rewards are paid only once a year at the end of the February billing cycle and must be redeemed at Costco.
5. Lowe's Advantage Credit Card
The Lowe's Advantage Credit Card has better rewards than most home improvement credit cards – offering an unlimited 5% off all purchases, or special financing on larger purchases. This card is a smart choice if you frequently shop at Lowe's and want to earn more rewards on your purchases. Because the rewards come as a 5% discount, instead of points to cash in on later, you'll get your savings in advance. If you opt for the promotional financing offer instead, you could save on interest charges, assuming the balance is paid down on time.
Rewards Summary: An unlimited 5% off eligible Lowe's purchases, or promotional financing for purchases $299 or more, if you decide not to get the 5% rewards.
Drawbacks: Closed-loop card; deferred interest accrues if promotional balance isn't paid down in time; high ongoing interest rate.
6. Gap Visa® Credit Card  
The Gap Visa® Credit Card is a great option if you do most of your clothes shopping at Gap and its sister stores. The card offers excellent loyalty benefits. For example, if you earn over 5,000 points in a calendar year, you'll achieve Gap Silver status, which earns you perks like free basic alterations on Banana Republic purchases. The high rewards rate and cardholder benefits on the Gap Visa® Credit Card could also save you money.
Rewards Summary: Earn 5 points for every $1 spent at Gap brands, in store or online, and 1 point per dollar spent elsewhere; 0% off every time you shop at Gap and Gap Factory stores, plus opportunities to earn more loyalty benefits.
Drawbacks: Points are only worth credit toward purchases within the Gap family of brands; high ongoing interest rate.
Do store credit cards build credit?
In most cases, yes — just like any other credit card, a store credit card can typically help you build up your credit and improve your credit scores. That's because store cards usually report your card activity to the three major credit bureaus: Equifax, Experian, and TransUnion. It's important to keep in mind that store credit cards are generally targeted at consumers with lower credit scores, and therefore the benefits they provide aren't as good as what you can expect from products offered by banks. Anyone with an average credit score or better, who is looking to build their credit, should look at general-purpose credit cards instead.
Another great way to build your credit is with Chime's Credit Builder Credit Card. With Chime, there are no fees, no credit check, and no minimum security deposit required² — making it one credit card you can really rejoice about this holiday season.