Closing a credit card is a pretty straightforward process – but before you do, it's important to know how it could impact your credit score. The effects of closing a credit card account on your credit score mainly depend on any other accounts you have open. Still, your credit utilization ratio will likely be the most immediate impact. 
When you cancel a credit card, that line of credit can no longer contribute to your credit profile. As a result, any existing balances from other accounts will take up a larger portion of your total available credit, causing your credit utilization to jump and potentially lowering your score. 
If you're not new to building credit and have had one or more accounts open for a while, it's possible that closing your credit card won't impact your credit significantly. But check if that's the case before you do. 
Below, we cover the best way to cancel a credit card and shed some light on the question, "is it bad to close a credit card?"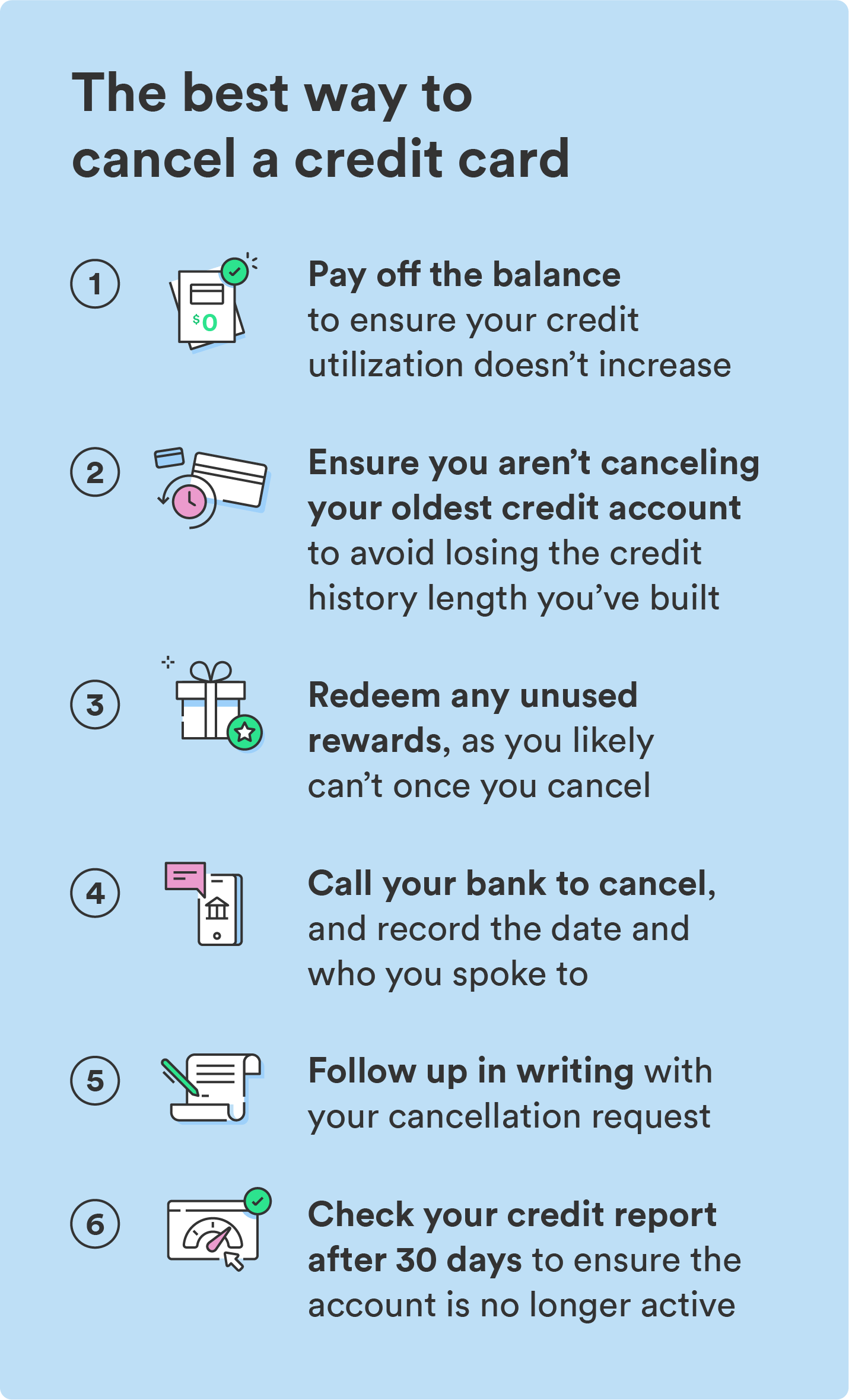 Pay off your remaining balance
Before learning how to close a credit card account, you should first pay off your remaining balance to avoid any fees or owing money on your card after it's been closed. 
Canceling your credit card doesn't change anything about the current balance you owe or when it's due; you'll continue making payments until it's all paid out. You can simplify things by paying the card off before you cancel it.
Chime Tip: Be wary of whether closing a credit card will drive your credit utilization up – you can ensure it doesn't by bringing all your credit card balances down to $0 before closing your card.
Redeem unused rewards
Before canceling a credit card, redeem any unused rewards, like travel miles or points, as they could expire once you close the card. Check the terms of the rewards program you're using to confirm whether or not you'll need to take advantage of them before you cancel. 
Also, check if you're eligible to transfer your rewards – some programs allow you to transfer points to another loyalty program or someone else using the same rewards program.
Call your bank
Now for the actual cancellation process. To start, call the customer service number on the back of your credit card, and let them know you'd like to close your account permanently. 
While it may not happen, be prepared for the representative to try and sway you from canceling your account. They may attempt to keep you around by offering a better rate or a promotion, but the decision is ultimately yours – simply reaffirm that you'd like to close the account. 
Before you hang up, ask for the name of the representative you're speaking to and what mailing address you should use to follow up in writing. Also, ask that they mail or email you a written confirmation of your closed account status with a $0 balance (if you already paid your balance in full). Afterward, note the date and time the call took place if you need to reference it later.
Mail a cancellation letter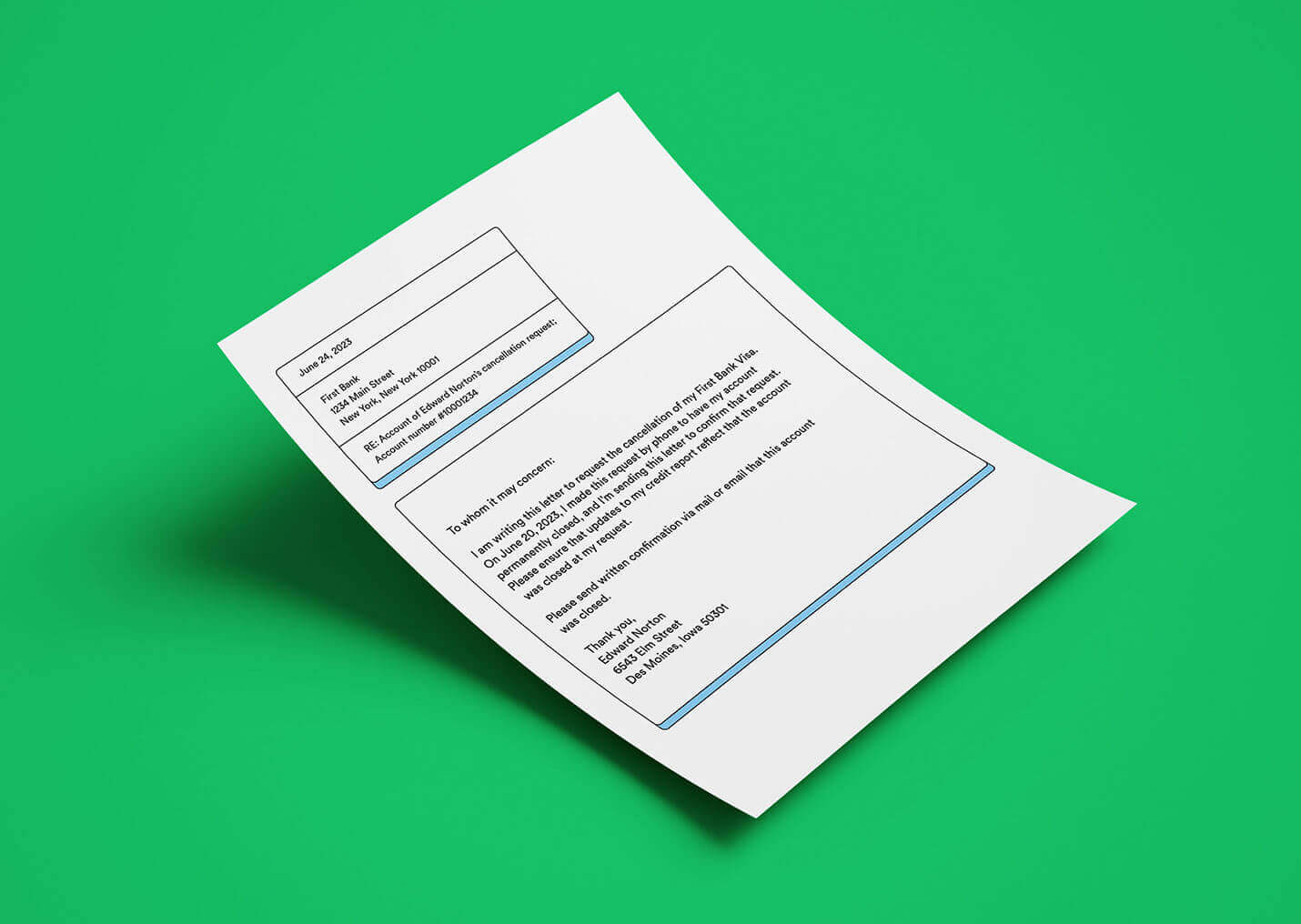 Once you cancel over the phone, it's smart to follow up with a cancellation letter in writing. While your account is most likely already closed, mistakes do happen – if it's still open, you'll have a physical written notice of cancellation you can reference. Here's what to include in your letter:
Your account information:

Include your full name, address, and the last four digits of your credit card account number.

An explicit request to permanently close your account:

Include a line or two explaining that you're writing to request that your account be permanently closed. 

A request to ensure your credit report reflects that the account was closed at your request:

This lets creditors know that you voluntarily closed your account.

A request for a written confirmation: Include a request for a written confirmation of your account closure via paper mail or email.
Confirm your credit reports reflect the cancellation
Wait 30 to 45 days after canceling your credit card to check your credit report to ensure the cancellation is reflected. Look for what's listed as the reason you closed the account – if it reads "closed by issuer" instead of "closed at consumer's request," contact your credit card issuer to have this remedied, as it can damage your credit score. 
Destroy the canceled card
Once you've followed all the steps above, it's time to destroy your old credit card. Cut it up with scissors and ensure no personal information is viewable before you toss it. If you have a metal card, contact your bank for a prepaid envelope to mail the old card back so they can dispose of it safely. 
Plus: How canceling a credit card can hurt your credit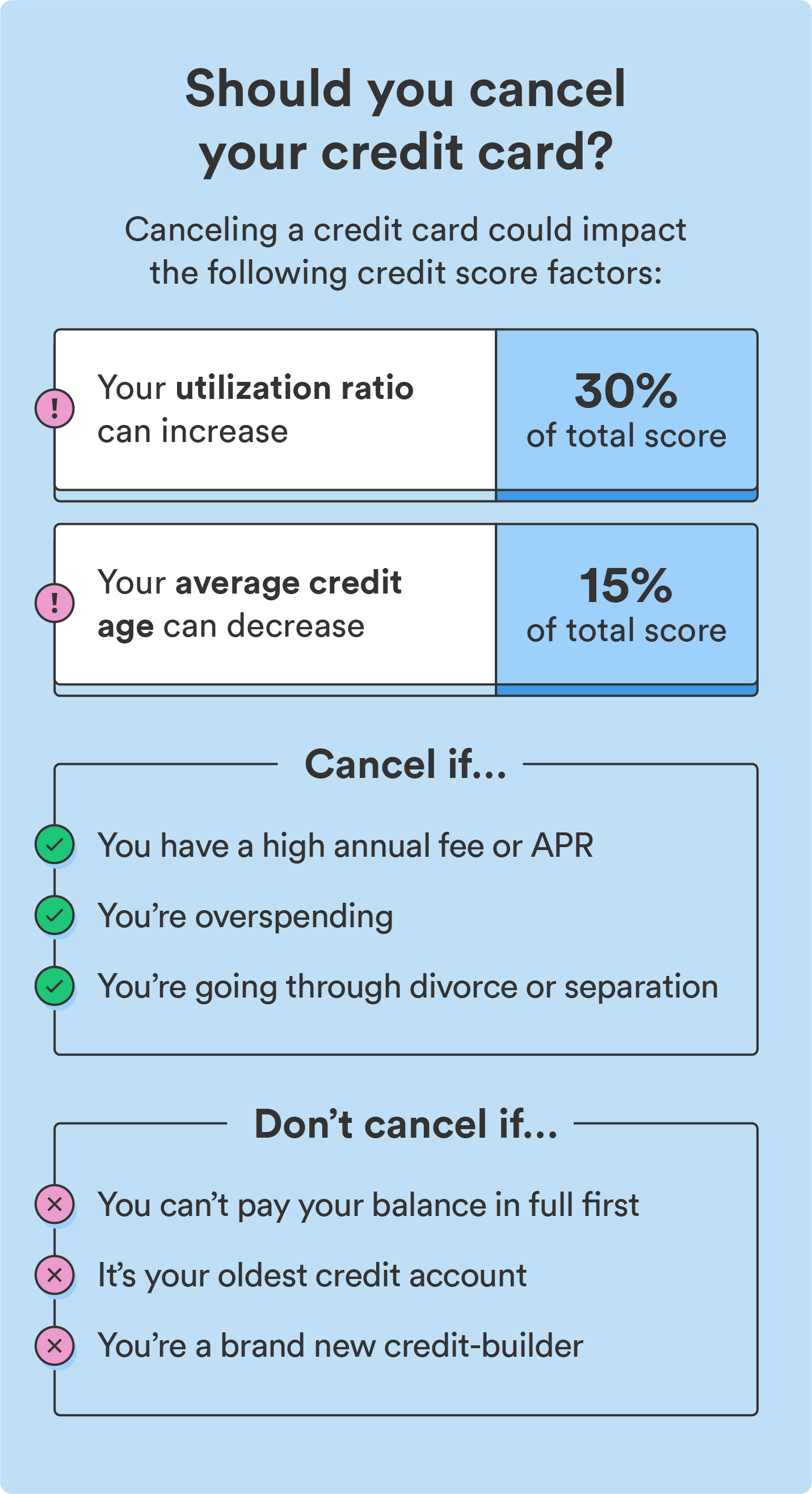 For some, closing a credit card is harmless, but there are some cases where doing so could hurt your credit score: 
Canceling a credit card could

cause your credit utilization to increase

because it lowers the amount of total credit you have available. 

Canceling a credit card can

reduce the average age of your credit

if it's a credit card you've had open for a long time. 
If you want to avoid causing your credit utilization to jump, simply pay down your balances in full and ensure they're $0 before you close a credit card. 
As for the length of your credit history, try to avoid closing a credit card if it's your oldest (or only) credit account – if you have a thin credit file, it could bring your average credit age significantly down. The exception could be if you're paying sky-high annual fees or interest rates that are more than you can reasonably afford. 
If you already have other credit accounts that are older than the one you're closing, your credit score likely won't be heavily affected. 
Chime Tip: Calculate your credit utilization by dividing your total credit balances by your total credit limits.
Decide if canceling your credit card is the right move
While canceling a credit card is a simple process, deciding whether or not you should is more nuanced. If you're paying more than you can afford in annual fees or interest rates, it likely makes the most sense to cancel. Otherwise, consider the impact closing your card could have on your credit score before making any moves. 
FAQs about how to cancel a credit card
Still have questions about how to cancel a credit card? Find answers below. 
Is it bad to close a credit card?
While not inherently bad, closing a credit card could negatively impact your credit score. To avoid this, pay your balance down to $0 before canceling. 
If you're new to building credit and this is your only or oldest credit card, consider keeping it open to maintain your credit history length. 
Is it better to cancel unused credit cards or keep them?
Unless you're paying a high annual fee or APR, it's smart to keep unused cards open –  canceling old accounts can lower your credit age and, in turn, lower your credit score. 
Can I cancel my credit card online?
While you may be able to cancel some credit cards online, it's best to cancel over the phone to ensure your account is properly closed. Request a written confirmation of cancellation to be mailed to you, and follow up with a written request for account closure.