Credit cards are convenient for spending and earning rewards – plus they can pave the way to a better credit score. 
How? Making on-time payments to your credit cards each month can help establish positive credit history, which is the most significant factor in FICO credit scoring. 
On the other hand, even one late or missed payment could deal a serious blow to your credit score. So knowing how to pay a credit card bill matters for maintaining good credit. 
Chime® Credit Builder Secured Visa® Credit Card
A New Way to Build Credit
No Credit Check to Apply1
No Annual Fees
Learn More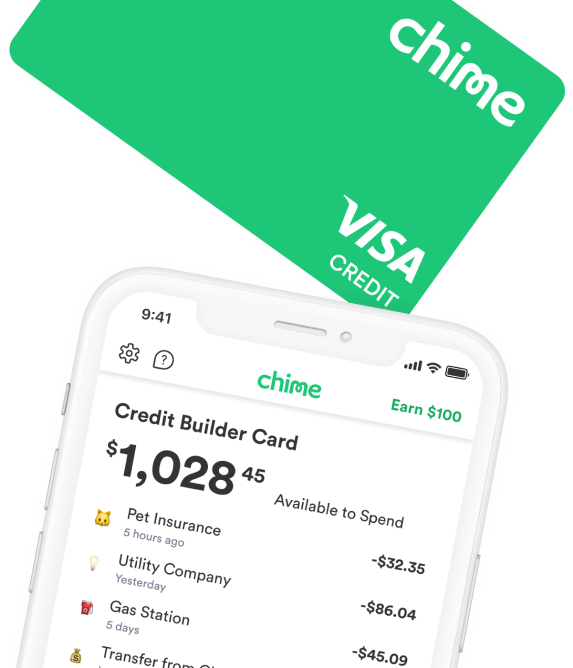 How does credit card debt affect credit scores?
Before diving into the details of when to pay credit card bills and how to do it, here's a quick overview of how carrying credit card balances affects your credit scores.
FICO credit scores are based on the following 5 factors:
Payment history: 35%
Credit utilization: 30%
Credit age: 15%
Credit mix: 10%
Credit inquiries:
In terms of how to pay credit card bills, the first factors are most important. That means paying credit card bills on time can improve your scores, whereas late payments could cost you major points.
Maintaining low balances on your cards, relative to your credit limits, can also have a positive effect. Generally, credit experts recommend keeping this ratio at 30% or lower but the less debt you're carrying, the better.
Credit card bill payment: What are the options?
If you have a credit card bill that needs to be paid, you have several ways to do it. Here are some of the options you might have for how to pay a credit card bill:
Online bill payment. If you have a bank account, you may be able to schedule an online payment to your credit card company.
Check. Sending in a paper check via snail mail is also a way to pay your credit card bill.
ACH transfer. You may be able to pay your credit card bill through your credit card company's website by providing your bank account number and routing number for an ACH transfer.
Wire transfer. Wire transfers, either through your bank account or a wire transfer service like Western Union, may be an acceptable form of payment for a credit card bill.
Cash in-person. If your credit card is through a credit union or traditional bank you may be able to make a payment using cash at your nearest branch.
When choosing a payment method, make sure to consider when credit card payments are due for each account. For example, if you know your bill is due on the 20th and you want to send a check, you may need to mail it a week or more in advance to make sure it gets there on time. An ACH transfer, on the other hand, can process in 1-2 days.
There might also be fees to keep in mind. While you may be able to pay credit cards and other bills online or through ACH transfers without a fee from your bank account, you might pay a sizable fee to schedule a wire transfer.
How to pay credit card bill checklist
If you've taken note of your due dates and you know when to pay credit card bills, the next step is actually making the payments.
Here are some helpful tips for making credit card payments each month:
Choose your payment method. Deciding how to pay credit card bills can determine when you need to schedule or send your payment.
Select a payment amount. Your credit card bill will show a minimum payment amount but you can choose to pay more than that. In fact, paying more is a good thing if you're trying to pay down your credit card balances.
Schedule the payment. Your timing for scheduling credit card payments can hinge on your payment method. While you can technically use certain methods to pay on the due date, you may want to give yourself a few days' cushion to avoid the risk of paying late.
Follow-up on the payment. Once you send a payment to your credit card company, follow up to make sure it's posted correctly to your account.
Remember that federal law requires credit card companies to credit payments the same day if they're received by 5 p.m. So, if you're planning to pay your bill online the same day it's due, you'd need to make sure you send the payment before that 5 p.m. cutoff.
Tips for managing credit card payments
Keeping up with credit card payments shouldn't be a hassle. And there are some things you can do to make this part of managing your financial life even easier.
These tips can help you stay on top of monthly credit card payments:
Use bill payment alerts. Your credit card company may allow you to set up alerts to notify you when a due date is approaching. This is an easy way to avoid late payments.
Automate payments. Scheduling credit card payments to draft from your bank account automatically each month is another simple way to pay on time. Chime Credit Builder offers the Safer Credit Building feature which pays your balance for you on time each month automatically.
Streamline cards. Carrying multiple credit cards could be a temptation to spend and run up credit card debt. And even if you keep balances low, it might be difficult to juggle multiple payment due dates. Using just one or two cards can take the hassle out of managing payments.
FAQs
Can I pay my credit card bill early?
Yes, you can. It won't hurt your credit score or your account standing with your credit card company to pay before the due date.
Is it bad to pay my credit card bill early?
No, and it can actually be a good thing. By paying early, you can reduce the balance that's reported to the credit bureaus each month which could help your credit score. And depending on how your card issuer calculates finances charges, paying early could save you a little money.
Can I pay my credit card bill from another credit card?
Generally, you can't use one credit card to make the monthly payment on another one. You could, however, use a balance transfer offer to move balances from one card to another. This won't reduce what you owe but it could allow you to enjoy a lower APR on your balance.
Is it bad to pay your credit card multiple times per month?
No, and it could work in your favor. By making multiple payments you can reduce the balance that interest charges are calculated on. A lower balance can also improve your credit utilization for credit scoring.
What happens if you miss your credit card bill due date?
Once a payment is 30 days late, your credit card company can report it to the credit bureaus. You can also be charged a late fee. If you miss your credit card due date, schedule a payment as soon as you can. You could also call up the credit card company and ask them to waive the late fee if it's your first time paying late.