You've gotta have credit to get credit — and therein lies the challenge for the average consumer. Most credit card companies save their best offers for people who already have excellent credit. And the rest of us are left with high-interest offers that can quickly accumulate massive amounts of debt.
That's where the Secured Chime Credit Builder Visa® Credit Card comes in. That's right – we offer a credit card. 
You won't pay an annual fee, and there's no interest rate. In short, Credit Builder can help you safely build your credit history and help raise your credit score with on-time payments.¹
Signing up for the Chime Credit Builder card is easy. If you're ready to start safely building your credit¹, scroll on.
Chime® Credit Builder Card
A New Way to Build Credit
No Credit Check to Apply²
No Annual Fee or Interest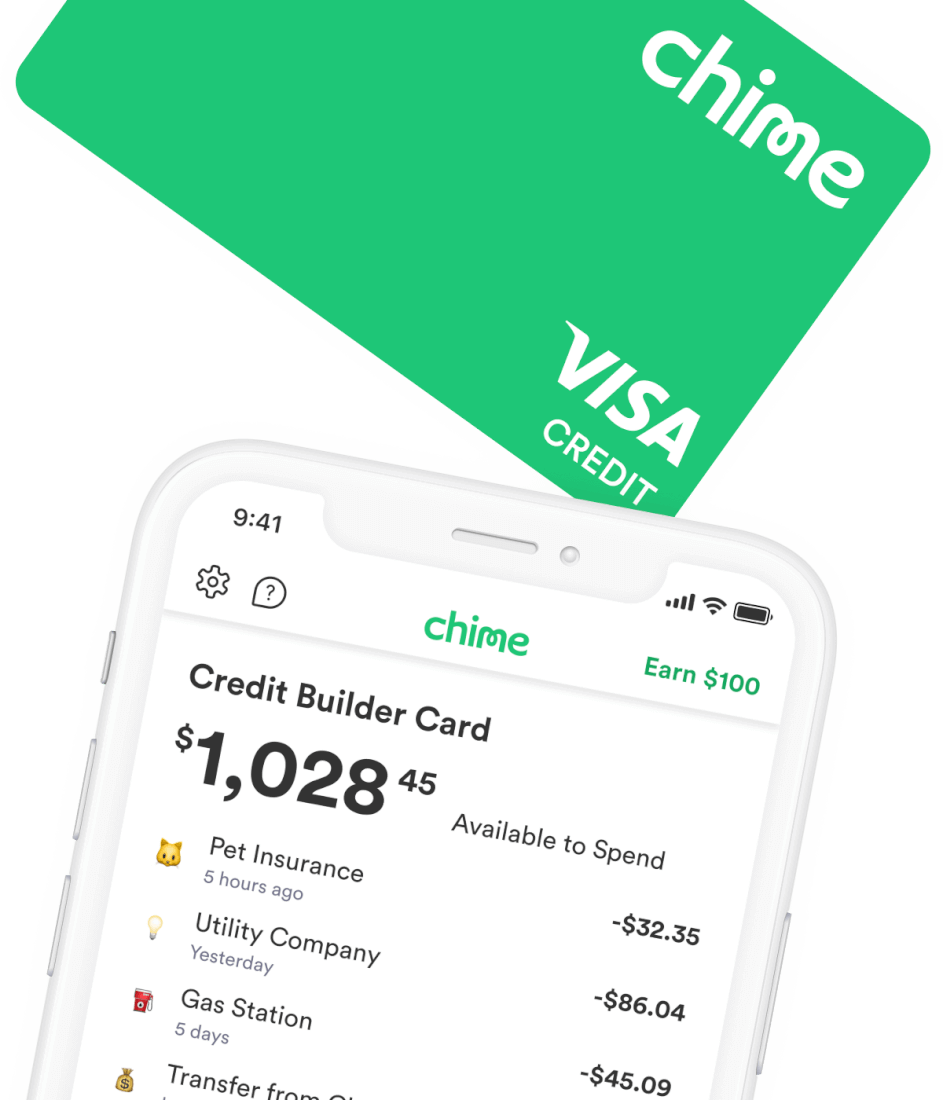 How do I get Chime Credit Builder?
Credit Builder works hand-in-hand with the Chime Checking Account, so you'll need to open one and receive a $200 qualifying direct deposit before you are eligible for Credit Builder.² Don't sweat it: Our checking account has no monthly fees, gets you access to more than 60,000 in-network ATMs³, and offers early access to your paycheck up to two days early with direct deposit.⁴
You have the option to automatically opt-in to Credit Builder during Chime enrollment to access more of what Chime has to offer from the jump. If you go this route, we will mail your Credit Builder card as soon as your qualifying direct deposit hits!
Let's say you don't opt-in for Credit Builder during enrollment. Once you've got your Chime Checking Account squared away, just set up and receive a qualifying direct deposit of $200 or more. When that $200 hits your account, you're clear to apply for Credit Builder.²
What are the benefits of signing up for Credit Builder?
Your Chime Checking Account comes with a Visa® Debit Card, so why should you still open a Credit Builder card?
That's easy: Chime Credit Builder is the interest-free way to build credit history. A higher credit score means easier approval for personal loans, car loans, and even renting an apartment— and at a lower interest rate.
Let's break down the advantages of a Credit Builder card:
No fees 💳
Nearly a quarter of all credit cards charge an annual fee — and it's an average of $94 a year, per a 2021 Consumer Finance study. That's $94 just to keep the credit card in your wallet.
So what's the annual fee for a Chime Credit Builder card? $0.
But even more costly for consumers is a credit card's interest rate. According to Forbes, the average credit card interest rate in 2021 clocked in at 16.45%.
And the interest rate on a Chime Credit Builder card? (I think you know the answer.) None.
Chime's Credit Builder card is an interest-free way to start building your credit without the risk of slipping into inescapable credit card debt.
Oh, and late fees? Accidents happen (we've been there too), so we won't charge you a cent if you miss a payment. 
No credit check 🔎
Most major credit card companies perform a credit check when you apply for a card. If you have no credit history or a low credit score, it can be almost impossible to get approved.
Chime doesn't perform a credit check. You're good to go as long as you have a Chime Checking Account and a qualifying direct deposit of $200. No credit history? No problem.
No minimum security deposit5 🔒
Chime Credit Builder is a secured credit card. You move money to your Credit Builder Account and whatever amount you move is the amount you can spend. Think of it as funding a debit card with cash in your checking account.
Other secured credit cards have a minimum security deposit, and they won't let you use that deposit to cover your purchases; they hold onto it until you close the account. Not so with Chime. The money you move into your Credit Builder Account is yours to spend. 
Level up your credit score 💪
The main draw of Credit Builder is in the name: It's a way to help build your credit.1 So how can Credit Builder increase your credit score?¹
On-time payments:

We report your on-time payments to all three credit bureaus to help you build payment history.

No credit utilization:

Chime doesn't report credit utilization to the credit bureaus, so you can use the full amount every month without a drop in your score.

Length of credit history:

The longer you keep your Credit Builder Account open and make on-time payments, the stronger your score will be.
On average, Chime members see a 30-point increase in their credit score with Credit Builder.⁶
Easy-to-use credit features 📱
Using Credit Builder is safe and easy, especially if you're already a Chime pro with your checking account. Here's how we help you build credit:
Available to Spend:

Why do we say Credit Builder is safe to use? The money you move to Credit Builder is how much you can spend on the card (seen on the app as "Available to Spend"). At the end of the month, you can also use that money to pay your monthly balance. This design helps you to avoid overspending and racking up debt!

Move My Pay:

With Move My Pay, a portion of your paycheck will automatically flow into Credit Builder.

Safer Credit Building:

We recommend turning on this feature. With Safer Credit Building, the money you've moved over from your checking account will automatically pay your monthly balance on time

¹

. Keep this feature turned on to avoid negatively affecting your credit.

Easy monitoring:

Not sure how much you've spent this month? Just open your Chime app to see all your purchases, outstanding balances, and how much you have left to spend. You can even use the app to disable your card to prevent fraudulent activities.
How to sign up for Chime Credit Builder
Signing up for Chime Credit Builder is a three-step process: signing up for a Chime Checking Account, receiving a qualifying $200 direct deposit, and then applying for Credit Builder. 
1. Sign up for a Chime Checking Account and enroll in direct deposit
Signing up for a Chime Checking Account is free and only takes 2 minutes. 
Head to Chime's website.

Hey, you're already here! Just visit

our checking account sign-up page

to get started.

Provide personal info to complete enrollment.

When signing up, you'll enter a few personal details, like your name, email, date of birth, phone number, address, and Social Security Number. We'll review and confirm your information on our end (we promise it won't take long), and then you're in!

Download the app.

Download the Chime app to bank on the go. You'll also get your free Visa® debit card in the mail, typically in 7-10 business days.

Link an existing bank account and set up direct deposit.

You can link an existing bank account to your Chime Checking Account to transfer funds over. To ensure future payments are deposited into your Chime account, set up direct deposit with your employer. Have the Chime routing and account numbers handy — you'll find these in the app under

Settings

.

Wait for your direct deposit.

Once you earn your first qualifying $200+ direct deposit, you're all set to apply for Credit Builder.

²
2. Apply for Credit Builder
Once you've received that initial qualifying direct deposit, you're clear to apply for a Chime Credit Builder Account.²
Here's how:
Open the app.

Once you've gotten your qualifying $200 direct deposit, you'll see an invitation to apply for Credit Builder at the top of your home screen. Just tap "Apply now" to get started.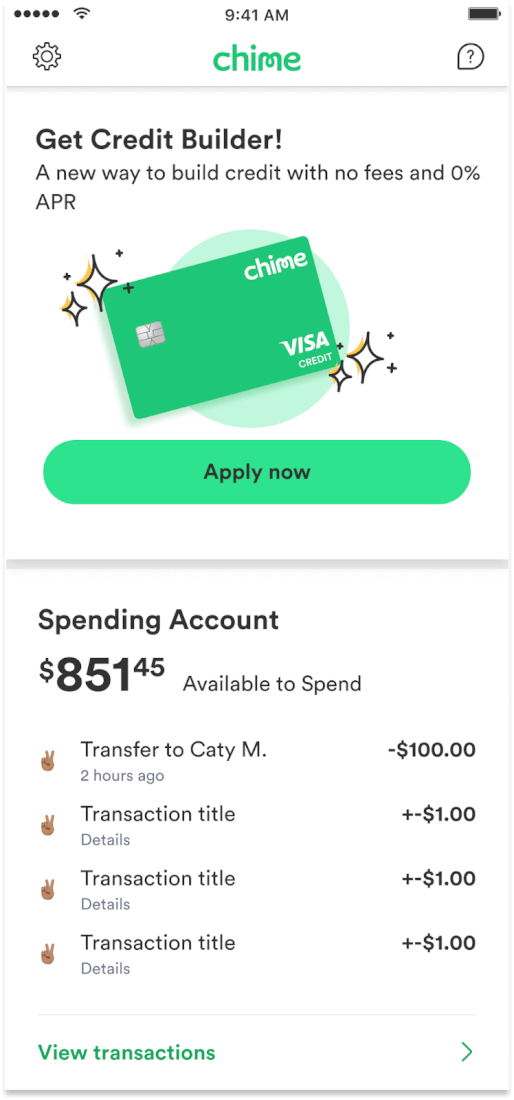 Verify your info.

We just need your name and mailing address.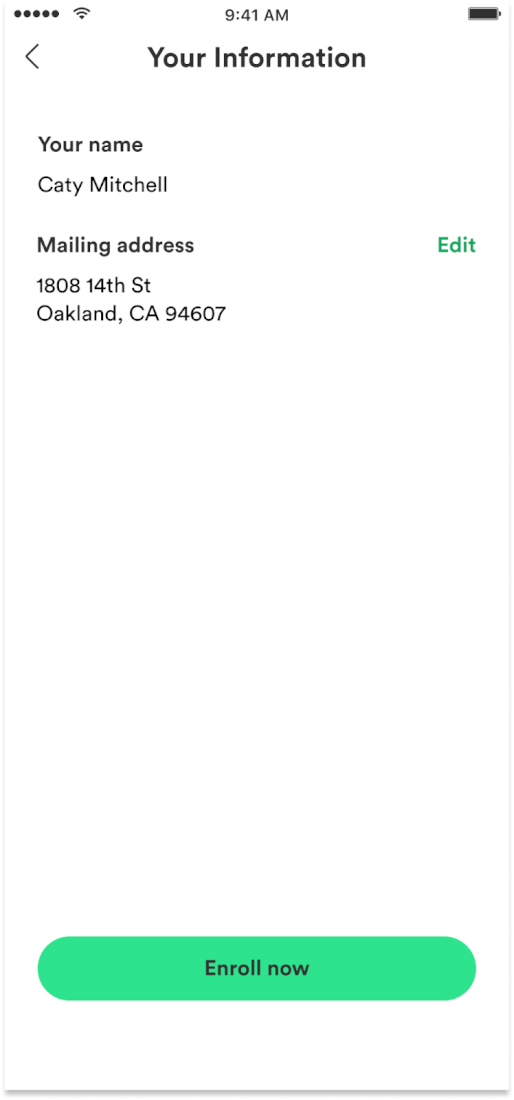 Accept the terms and conditions.

Give these a quick read and opt in to Safer Credit Building

¹

(highly recommended!).

Confirm your Social Security Number.

One last identity verification before you're on your way to building credit.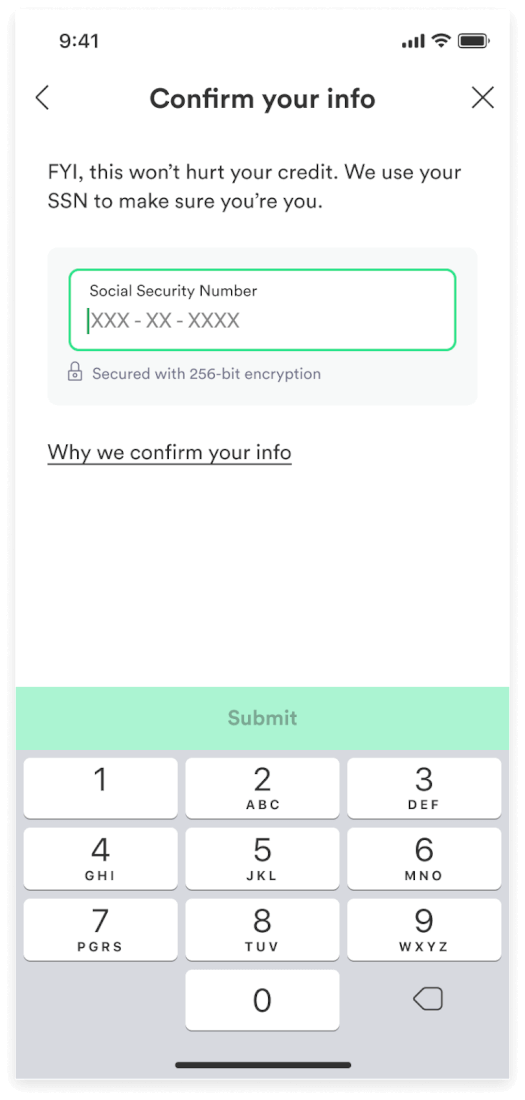 Create an Experian account.

This is totally optional, but it's a safe and free way to monitor your credit. And the best part? It's all housed in the Chime app; no need for separate log-ins.

That's it!

Your application is submitted, and you're on your way to building a strong credit history. Once approved, your Credit Builder card should arrive in the mail in 5-10 business days. You can check your card's estimated arrival date directly in the Chime app!
How do I use Credit Builder?
Ready to start using Credit Builder to help improve your credit score?¹ Here's where to start:
Move money
Open your Chime mobile app and fund your Credit Builder Account with money from your checking account. You can do this manually, but we recommend setting up Move My Pay.
With Move My Pay, you can specify a portion of each paycheck that you want to filter into Credit Builder. Set it up once, and then it's completely hands-off. (You can make changes whenever you need.)
Spend money
Here's the fun part: Swipe your Chime credit card for everyday purchases, just like your debit card. Whether for groceries, gum, or gas, you can use your Credit Builder card anywhere that Visa is accepted.
Pay it off
The key to building credit with Credit Builder is to make on-time payments every month. We'll report those on-time payments to all three credit bureaus, and over time, they'll raise your score for a job well done.
Worried about remembering to make payments on time? Opt in to Safer Credit Building¹. When you make a purchase with Safer Credit Building enabled, the money spent is put on hold in your secured account — and will be automatically applied to pay your monthly balance. On-time, every time.
Build your credit history safely