2020 was full of surprises that kept us on our toes. And to understand how our community has been coping with these ongoing challenges — we asked some of our members to share their story.
The reflections we read completely blew us away, and we couldn't keep them to ourselves. So here are three lessons we learned from our amazing members — hopefully you'll be as inspired by them as we were, and carry them into the new year.
Lesson 1: Adjusting is key 🔑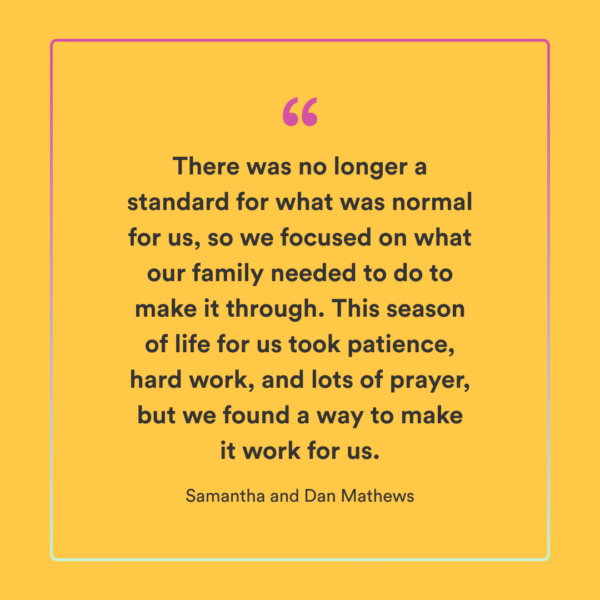 We know, we know: "Unprecedented" was probably the most overused word of 2020. But it's the truth. None of us have ever had to live through a pandemic before — and, for our members, adjusting to the new reality required creativity, strength, and positivity. 
Take Samantha and Dan Mathews, for example. In early 2020, these Chime members had just quit their jobs to focus entirely on their wedding planning business. When the pandemic hit, causing many clients to put their weddings on hold, the Mathews' income dropped dramatically. Then their daycare closed, and they found themselves working from home while caring for their 2- and 4-year-old children. 
Though it hadn't been in their plans, they adjusted: Dan went back to work part-time so they could have one steady income. They also reprioritized their budget, took on virtual side gigs, and sold anything they weren't using. 
Lesson 2: Accept uncertainty ⛅️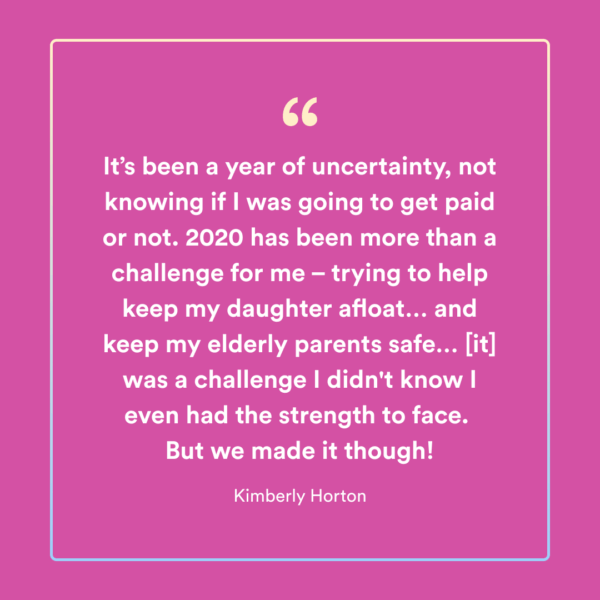 Another word you've heard to describe 2020? Unpredictability. And, TBH, it's been pretty disconcerting not knowing what the world will look like in a week, let alone in a few months. Yet our members found ways to ride the waves of uncertainty, taking the challenges one day at a time. 
For example, it's not news that the pandemic upended our economy, affecting income for millions of Americans. But even if you kept your job, you may not have enjoyed peace of mind when it came to your finances. As Kimberly Horton, a payroll administrator and Chime member in Mississippi, said: "It's been a year of uncertainty, not knowing if I was going to get paid or not."
Though Kimberly's income stayed steady throughout 2020, her expenses did not. With she and her son home all the time, her food budget increased. And then when her daughter lost her retail job, Kimberly helped her cover her rent. To get herself out of some tight financial spots, Kimberly had to take charge and sell some items on Poshmark and eBay. 
Despite the fact she didn't know what each day would bring, Kimberly handled the uncertainty with impressive tenacity. 
Lesson 3: Mindset matters 💚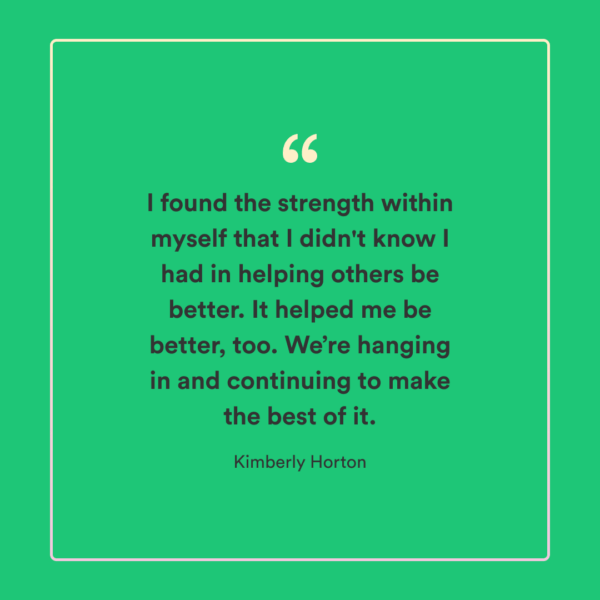 You can't always control what's happening in the world around you — a fact that's become crystal clear this year. You can, however, control what's happening in your mind. And our members demonstrated incredible strength in maintaining positivity and finding silver linings throughout the trials and tribulations that made 2020 what it was. 
Kimberly, for instance, said she learned "patience and diligence" by overcoming each obstacle that arose. "I found the strength within myself that I didn't know I had in helping others be better," she said. "It helped me be better, too. We're hanging in and continuing to make the best of it."
The Mathews family shared a similar perspective. "We are big on focusing on the good — what we have instead of what we don't have," Samantha said. "We may not be at the same financial place as before, but with our hard work and perseverance, we are stronger, closer as a family, and hopeful that 2021 will be our best year yet!"
Looking toward the future
Though 2020 was challenging for many, we are so thankful for you, our members. Not only have you shown us how to overcome challenges with strength and grace, but we know you have so much more to teach us. We look forward to learning from — and with — you in 2021 and beyond.
Real Members. Sponsored Content.