By now you may have heard of Chime, a bank account with no hidden fees¹ that helps you manage your money on the go and save automatically. Pretty awesome, right?
But did you know that Chime members also get a Chime Visa® Debit Card, designed to help you save more money?
You may be wondering how a debit card can help you save money. Plus, you might be thinking you don't need another debit card as you already have a prepaid card or two in your wallet. You may also be wondering if there are any reloadable prepaid debit cards with no fees. But, once you learn more about its benefit, we think you'll be trading in those prepaid cards for a brand new Chime debit card.  
Better banking for everyone
Fee-free overdraft up to $2002
No hidden fees¹
Get paid up to 2 days early with direct deposit3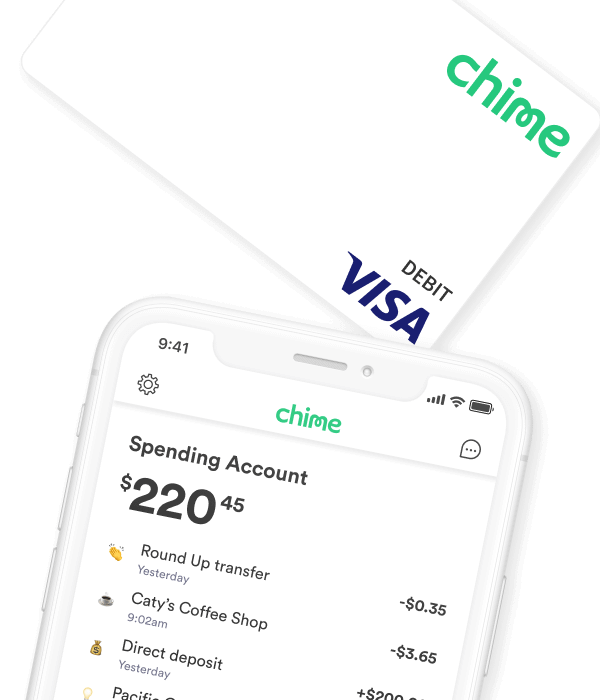 Is Chime a prepaid card?
No, Chime is not a prepaid card. When you open an account online through Chime, you get a Checking Account, a Visa debit card, and an optional Savings Account. Chime's debit card is linked to your bank account and a prepaid card is not.
So, if you use your Chime debit card, your purchases are deducted from your Checking Account. A prepaid card, on the other hand, is not connected to any bank account and it's up to you to load money onto it in advance. Typically, you can use your prepaid card until your loaded-up funds run dry.
5 key differences between the Chime debit card & prepaid cards
To make it easier for you to understand other differences between Chime debit cards and prepaid cards, we took a closer look at four of the most popular prepaid cards: Netspend, RushCard, Brink's and Bluebird by American Express. We then compared the Chime debit card to these prepaid cards in terms of five key categories: fees, mobile apps, ATM access and fees, early direct deposit and security. Here's what we found.
1. Fees
Chime: There are no hidden fees associated with Chime's debit card. This is important as the average U.S. household pays more than $329 in bank fees every year. Chime, however, is on a mission to change this with no overdraft fees, no monthly maintenance fees, no monthly service fees, no minimum balance fees, and no foreign transaction fees when you use your debit card. In short, a Chime Checking Account is virtually free to use.  
Prepaid cards: All of the four prepaid cards that we analyzed charge fees for certain services, including, ATM withdrawals and transferring funds. There may be other fees based on the prepaid plan you choose, which is the case for Netspend.

2. Mobile app
Chime: The Chime app has 150,000+ 5-star reviews.  Offering the best mobile banking experience, Chime's award-winning mobile app helps you track your spending and savings, pay friends and relatives, transfer money, send and deposit checks, and pay bills. You can accomplish all of this from any smartphone.
Prepaid cards: These cards all offer mobile apps that allow you to manage many financial tasks, like depositing checks, paying bills and viewing your transaction history. But, none of them offer extensive features like Automatic Savings or Pay Friends. Why? Prepaid cards are not tied to full-service bank accounts, which ultimately limits your overall banking experience.
3. ATM fees
Chime: How does easy access to money sound? With a Chime account, you can use your debit card to get cash at more than 38,000 fee-free ATMs.
Prepaid cards: With all four prepaid cards on our list, you can withdraw money from ATMs. However, there are fees involved.
Netspend – $2.50 per domestic withdrawal

RushCard – $2.50 per out of network withdrawal

Brink's – $2.50 per domestic withdrawal

Bluebird – no fees for MoneyPass withdrawals and $2.50 per non MoneyPass withdrawal
4. Early direct deposit
Chime: Chime members can get paid up to two days early with direct deposit, as well as enable the option to automatically save a percentage of every paycheck. That's right. No more waiting for your money or worrying about lost paper checks. Chime gets you paid faster and helps you save money.
Prepaid cards:  All four of the prepaid cards also offer an early direct deposit option, allowing you to get your funds two days early. But unlike Chime, these cards are not tied into your savings account, leaving your personal savings up to you.
5. Security
Chime: Security is a priority at Chime, and this includes keeping your information and money safe. Deposits of up to $250,000 are insured through Chime's partner, The Bancorp Bank, N.A., Member FDIC. Chime also uses 128-bit AES encryption to make sure your cash is parked safely. Here are some of the other security features you'll get with a Chime account:
You can instantly block your Chime debit card. This means that if your debit card is missing or stolen, you can block all transactions right from the app.

Chime sends you real-time, instant transaction alerts. This way you can stay informed about your money at all times.

You can shop worry-free at millions (yes, millions) of merchants. That's because the Chime debit card is protected by the Visa Zero Liability Policy, which ensures that you won't be responsible for unauthorized charges.

Your privacy is important, which is why Chime requires two-factor authentication.
Prepaid cards: These cards do offer some security features. For example, Brink's allows you to add your picture to your card. RushCard, in turn, offers One Touch Access, allowing you to use your fingerprint to access your account. And, because Bluebird is part of the Amex family, you'll get purchase and fraud protection.
But at the end of the day, none of these four prepaid cards are bank accounts and therefore do not offer the full scope of security features found at Chime.
Ready to make the switch?
There are many differences between prepaid cards and Chime's debit card. As you can see, Chime is not a prepaid card – far from it. Plus, the Chime debit card offers a lot more perks and benefits than prepaid cards.
If you're looking for a singular card that wins across all categories, Chime takes home the trophy. What are you waiting for? Sign up for a Chime account today and start saving money now.