Whether you're new to Chime or just haven't had the chance to fully explore the app yet, you might be wondering: "How do I deposit money into Chime?" or "How do I transfer money into Chime?"
Well, step right up, because we've made the process as simple as possible.
Better banking for everyone
Fee-free overdraft up to $2001
No hidden fees2
Get paid up to 2 days early with direct deposit3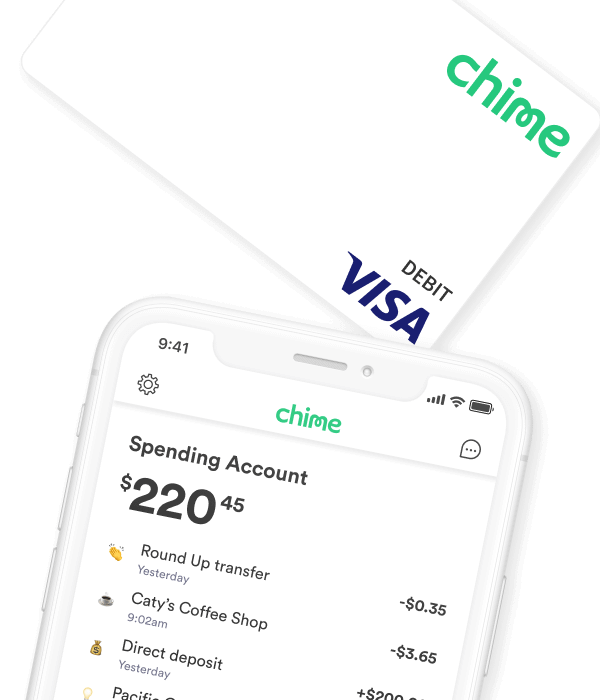 How do I set up direct deposit?
If you set up direct deposit with Chime, you'll start unlocking more awesome features in the app. See below for more details.
Here's how to get started:
Log into the Chime app, and tap on the gear icon to open Settings.
Scroll to Account Information and tap on "Set up direct deposit."
Check your email and print the attached form.
Complete, sign, and submit the form to your employer. You should start receiving direct deposits within two payment cycles!
As long as your employer offers direct deposit as an option, it's a cinch to set up. If you're out of work, you can also receive unemployment benefits via direct deposit. Don't have a printer? You can use HelloSign to complete, sign, and email the form to your employer — all from your phone.
Alternatively, if you have access to your payroll or benefits account online, you can set up direct deposit by logging in there and entering your Chime Checking Account routing and account numbers (also located under Settings —> Account Information).
P.S.: If you'd like a little more guidance, this article dives deeper into the details of setting up direct deposit with Chime. 
Benefits of setting up direct deposit with Chime
Not only is direct deposit a simple and hassle-free way to get paid, but when you do it with Chime, you'll be eligible to unlock a slew of extra perks, such as:
Get paid early¹: Gain access to your paycheck up to two days early
SpotMe®²: Overdraft up to $200 on purchases and cash withdrawals³ (as long as you're receiving at least $200 per month in qualifying direct deposits).
Chime Credit Builder Visa® Credit Card: Chime members have been able to increase their credit score by an average of 30 points.4
Save When I Get Paid5: Automatically save a portion of each paycheck, and watch your rainy day fund grow!
Mobile check deposit6: Easily deposit paper checks via the Chime mobile app.
4 more ways to move money into Chime
Not eligible or interested in setting up direct deposit with Chime? No problem. Here are three other ways to move money into Chime.
1. Make an instant transfer7
This option is available the first time you add money to your Chime Checking Account. All you have to do is link an external bank account, and add your debit card number, then you'll be able to add at least $200–instantly.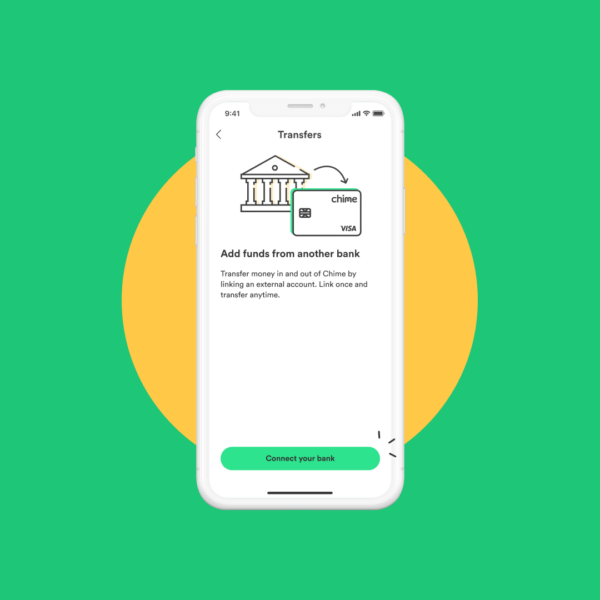 2. Transfer from a major bank
This option works if your account is at one of the following banks: Bank of America, Capital One 360, Charles Schwab, Chase, Citi, Fidelity, Navy Federal, PNC Bank, SunTrust, TD Bank, USAA, US Bank, or Wells Fargo.
Here's how:
Log into the Chime app and click "Move Money" —> "Transfers."
Enter the username and password for your other bank (don't worry; it's encrypted!).
Transfer your money: up to $10,000 per day and $25,000 per month for most members. You'll have access to the funds within five business days.
3. Transfer from another account
If you're using a bank that's not listed above, or you want to transfer a larger amount of money, worry not. You can also move money from your old bank.
Here's how:
Log into your old bank's website or app.
Look for a menu item that says something along the lines of "transfer funds" or "add external account."
When prompted, add your Chime Checking Account number and bank routing number (which you'll find under Settings within the Chime app).
While the transfer time will depend on your old bank's policies, you'll usually see the money in your Chime Checking Account within a few business days.
4. Deposit cash*
Depositing cash into your Chime Checking Account is quick and easy. We've teamed up with WalgreensⓇ to bring you free cash deposits at any of 8,500+ locations. That's more walk-in locations than you'd have using any bank in the US.
Cash deposits can also be made at more than 75,000 other retailer locations, including Walmart, CVS, and 7-Eleven stores.
Here's how to deposit cash:
Log into the Chime app and click "Move Money" → Deposit Cash
The map will direct you to the nearest walk-in retail location.
Hand your cash and Chime Visa® Debit Card to the cashier.  You can deposit up to 3 per day $1,000.00 per load; $1,000.00 per day; $10,000.00 per calendar month (subject to any retailer imposed limits).
* The retailer that receives your cash will be responsible to transfer the funds for deposit into your Chime Checking Account. Cash deposit fees may apply if using a retailer other than Walgreens.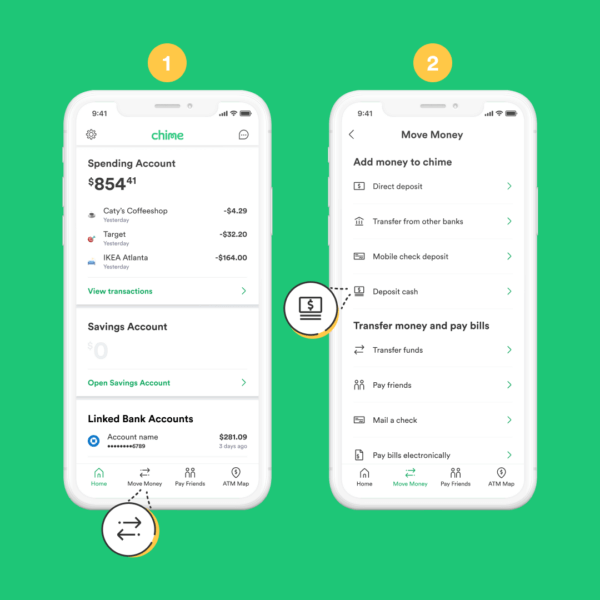 Heads up: As these third parties might impose their own fees or transaction limits, be sure to get all the info before proceeding.
Wondering about wire transfers? While we don't allow those yet, we hope to add them in the near future.