Gen Z, the workforce's youngest generation, is already making waves across the financial landscape. Born between 1997 and 2012, Gen Zers are known for their digital skills, entrepreneurial spirit, and unique approach to money management. Unlike older generations, Gen Z grew up in a world with technology all around them, shaping their attitudes and behaviors toward money and building wealth.
We surveyed 1,000 Gen Zers between the ages of 16 and 25 living in the U.S. to gain insights into their financial habits, attitudes toward money, and strategies for building wealth. The results of our survey revealed a generation that's financially conscious and proactive when it comes to creating wealth. Below is a combination of results from our survey and additional data from trusted sources.
Gen Z and money: the financial climate
Growing up in the aftermath of the Great Recession, Gen Z saw their parents and siblings struggle financially. They've watched as interest rates climbed,¹ housing prices soared,² and our economy dealt with uncertainty. Despite these challenges, Gen Zers are blazing their own trail.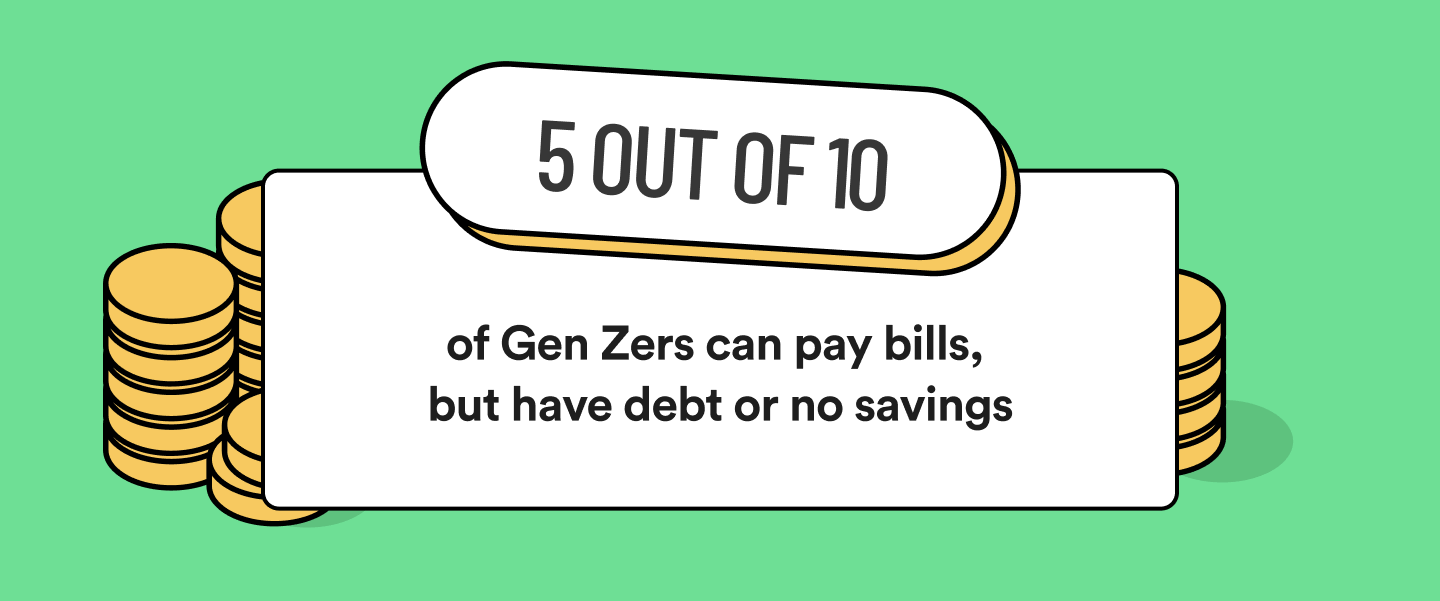 Our survey data highlights that more than 50% of Gen Zers have a combination of debt and savings or debt without any savings. However, they actively manage their finances by paying their bills on time and covering essential expenses like groceries and necessities.
Within this group, approximately 30% of surveyed Gen Zers can pay their bills but currently lack savings. They need to explore new saving strategies to start building a financial cushion for their future.
On a positive note, around 10% of those surveyed are debt-free and possess additional savings. They demonstrate the potential for financial independence.
What is Gen Z's average income?
Gen Zers are beginning their professional journeys or still pursuing education. They earn an average income of $32,500 annually.³ While this seems low compared with more established generations, as Gen Zers progress in their careers, their income levels should increase. 
But it's not just about the income they bring in. It's about how they manage it. Gen Zers have shown they are thinking ahead when it comes to managing money. They are budgeting, saving, and planning for their financial futures. These habits, combined with increasing income over time, lay a strong foundation for growing wealth. 
Gen Z's approach to earning money goes beyond traditional jobs. Many are exploring side hustles and becoming entrepreneurs.4 This has enabled them to establish multiple money streams and gain valuable experience in money management and business, better positioning them to increase their wealth over time. 
How Gen Z handles their money
Gen Z, being at the early stages of their financial journeys, typically have lower net worths than other generations.5 But their proactive money management habits and focus on building wealth indicate their determination to improve their financial standing over time. 
Gen Z's approach to money management reflects a combination of caution and foresight. Here's a breakdown of how Gen Z handles their money, according to our survey results: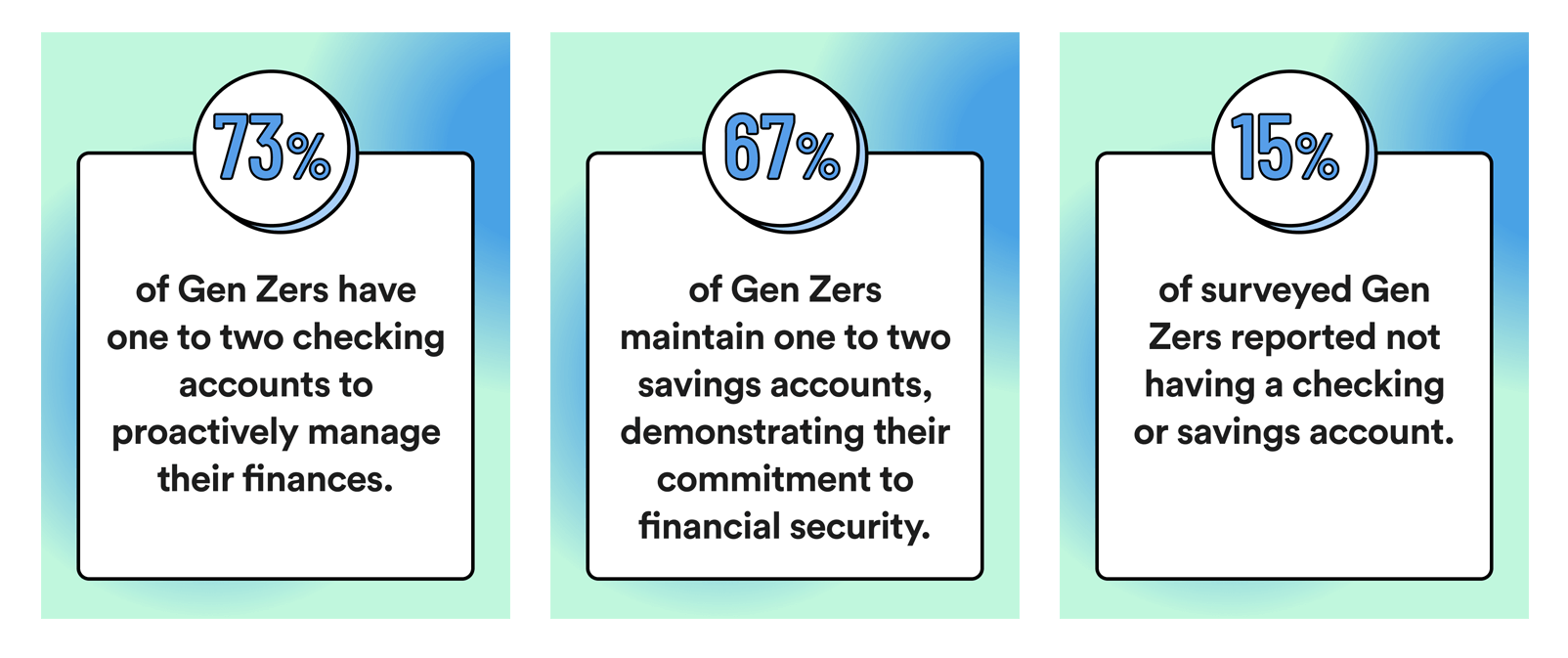 Gen Z's financial habits showcase their thoughtful approach to managing their money, with a focus on maintaining checking and savings accounts to support their financial goals.
Gen Z and credit cards
Gen Z's approach to money management reveals a cautious attitude toward credit. Around 21% of Gen Zers don't have credit cards, possibly due to a preference for cash transactions or concerns about credit card debt.
On the other hand, about 25% of Gen Zers possess three or more credit cards, indicating they may be comfortable with credit and strategic use of it. They may be leveraging credit cards to start building credit and work toward future goals like buying a house.
A significant portion of Gen Zers actively monitor their credit scores. Many fall within the fair-to-good credit standing, with 19% having scores between 580-669 and 22% between 670-739. These are similar to the average scores by age and are promising, especially for those still establishing their credit history.
19% of Gen Zers are unaware of their credit scores, highlighting the need for more financial education. Understanding credit-building can help secure loans, rent apartments, and improve job prospects, as many employers perform credit checks during the interview process.
Gen Zers' approach to credit cards and credit scores seems to showcase a cautious yet strategic financial mindset. Based on the responses we collected, Gen-Z shapes their financial future by trying to manage credit responsibly and being mindful of their credit scores.
When it comes to credit card preferences, Gen Zers show the most interest in cards that offer real-world benefits and minimize costs. Gen Zers are drawn to two main features and one type of credit card: cash-back, cards with no-annual-fee, and credit cards for students. This reveals a practical approach to credit card usage, with a focus on maximizing returns from everyday transactions and minimizing costs from maintenance fees.
Does Gen Z carry debt?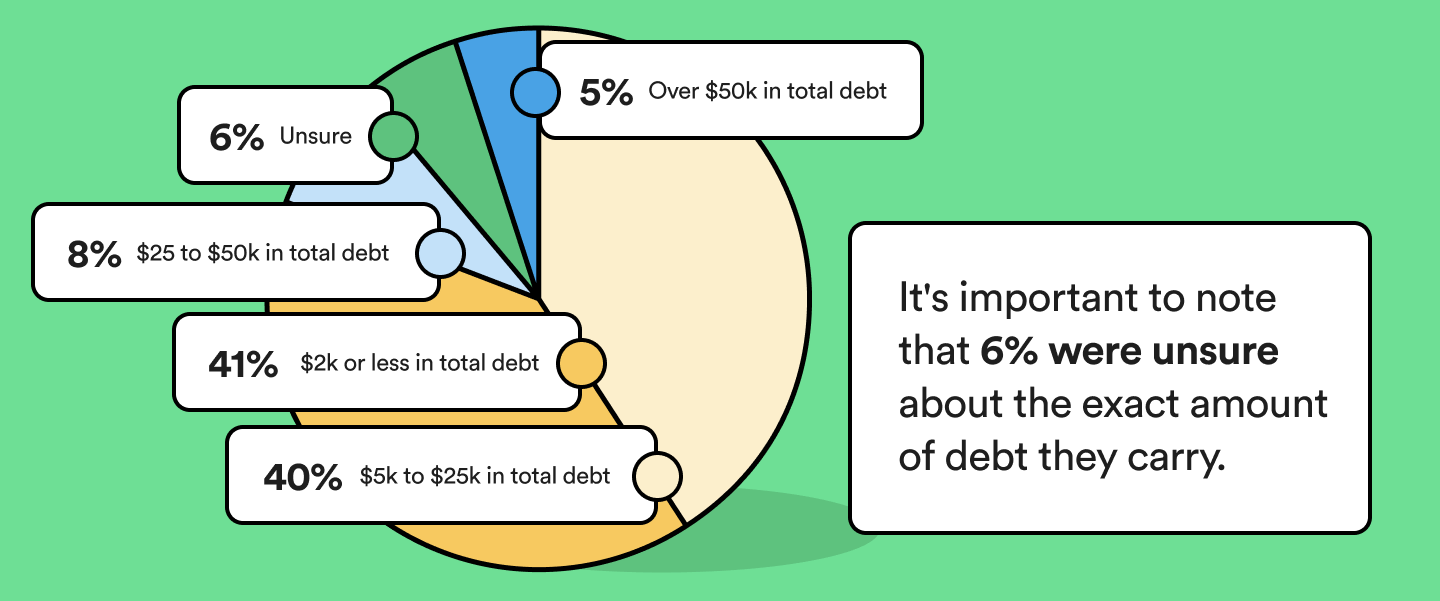 Debt is a reality for many Gen Zers, but the extent varies. Based on our survey findings, 41% of Gen Zers carry less than $2,000 in total debt or have no debt at all. Another 40% have debt ranging from $5,000 to $25,000. Additionally, we found that 8% of Gen Zers carry debt between $25,000 and $50,000, while 5% have more than $50,000 in debt. 6% of Gen Zers were unsure about the exact amount of debt they carry.
Out of that 41% with $2,000 or less in debt, 20% are completely debt free. This suggests a significant portion of Gen Z has managed to set themselves up for a bright financial future. 
Despite facing several forms of debt,7 it seems that some Gen Zers are making efforts to keep their debt levels in check.
How Gen Z builds wealth

Building wealth isn't just a concept for Gen Z. It's a priority. Our survey reveals that 62% of Gen Zers consider wealth building very important, while a mere 3% deem it not at all important. Financial security and planning are clearly priorities for this generation. 
Gen Z's approach to building wealth includes saving, investing, and diversifying how they earn money. Close to half (47%) of Gen Zers maintain a budget and closely track their expenses, while 34% rely on memory to monitor their finances.
Surprisingly, 17% of Gen Zers have a financial advisor helping manage their money. Gen Z's proactive approach to wealth building is a great step toward financial freedom.
How much wealth does Gen Z have?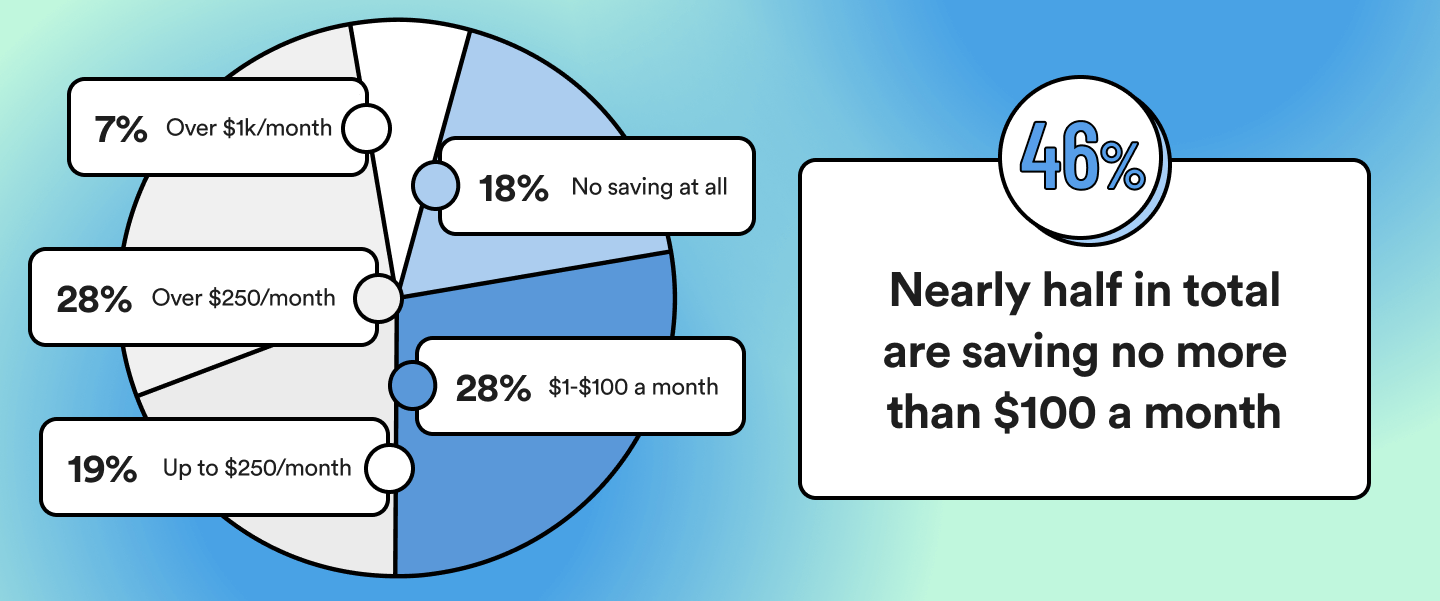 Despite their age, our survey shows a large portion of Gen Z has already started to grow their savings: 
About 1 in 5 Gen Zers have no savings, but an encouraging 42% have already managed to save at least $1,000. They are actively working toward building their savings.

4% of Gen Zers have already accumulated more than $50,000 in savings, demonstrating impressive financial progress at a young age. Additionally, 1 in 4 Gen Zers have saved over $10,000.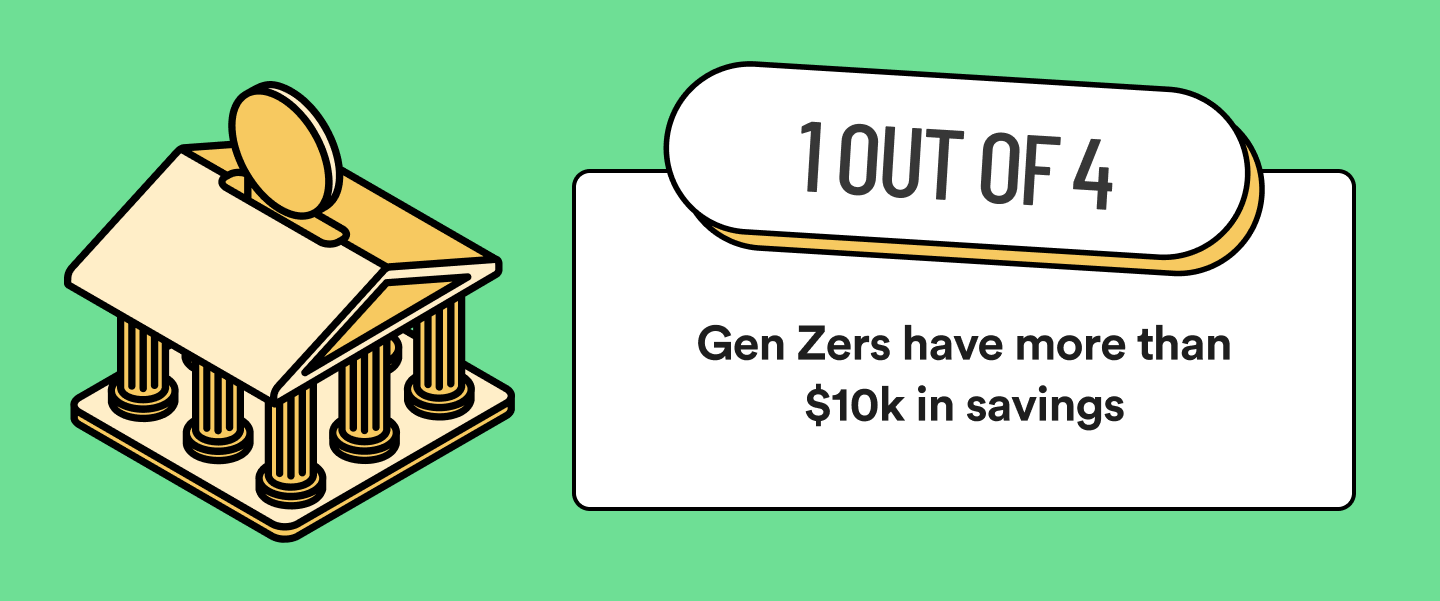 When it comes to savings, 46% of Gen-Z surveyed save $100 or less per month. Among Gen Zers, 28% save between $1 and $100 per month, 18% are not saving at all, and 19% save up to $250. On the other end of the scale, 35% save more than $250 per month, with 7% saving more than $1,000.
There's a lot of variation among Gen Zers. Some are still in the early stages of their financial journey, while others have already made significant strides toward accumulating wealth. The diversity in financial situations within Gen Z reflects the different income sources, financial strategies, and personal circumstances among people in this generation.
Gen Z investing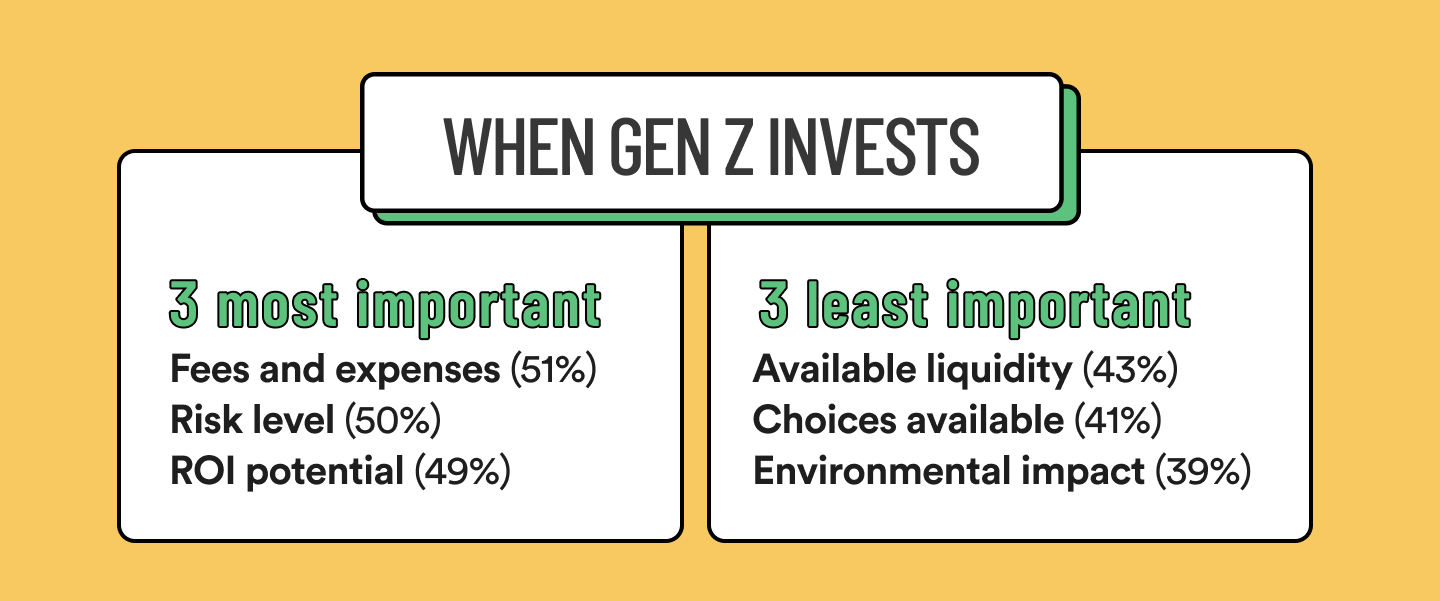 Let's see how Gen Z approaches investing based on our survey findings:
A considerable 37% of Gen Zers do not have any investments, including traditional stocks, commodities, index funds, treasuries, CDs, real estate, or cryptocurrency.

Only 22% of Gen Zers invest in traditional stocks, but it's the most common investment option among them.

Interestingly, 38% of Gen Zers do not use standard investment platforms like Fidelity, Robinhood, Vanguard, or TD Ameritrade. 22% use cryptocurrency exchanges like Coinbase, Kraken, or Binance.

For those Gen Zers who do invest, they prioritize factors like potential return on investment (49%), risk level (50%), fees and expenses (51%), and reputation (48%) as very important. However, factors such as available liquidity (43%), the investment's environmental impact (39%), and the choices available (41%) are considered less important.
Learning by example
Everyone has made financial mistakes in their life, and Gen Z is no exception. However, this generation seems to grow from mistakes they and others have made.
Here are some key takeaways from our survey on Gen Z's financial experiences:
Top financial mistakes made by Gen Z
Top obstacles encountered while building wealth

Low-paying jobs (46%)

Unexpected expenses or emergencies (38%)

Difficulty finding jobs (34%)
Sources of wealth-building advice for Gen Z
Overall takeaways
Gen Z actively wants financial tools to correct their financial mistakes and build credit.

Gen Z wants to seek budgeting, saving for emergencies, and making informed investment decisions.

Diversifying sources of financial advice is important to Gen Z, including social media, literature from financial experts, and real-life examples.
These insights demonstrate that Gen Zers are committed to learning about financial literacy and money management, and seeking reliable resources for guidance.Salaries vs. side gigs
When it comes to building wealth, our survey shows Gen Z tackles the challenge with diverse strategies:
Side gigs (46%):

Gen Z recognizes the value of additional income streams, whether through passion projects, leveraging skills, or exploring entrepreneurship.

Side hustles

provide financial flexibility and the opportunity to increase income, despite the challenge of balancing work and personal time.

Earning a salary or starting a business (40%):

Gen Z understands the importance of securing a

stable salary

or venturing into entrepreneurship to build a strong financial foundation. This approach enables them to cover expenses, invest in their future, and work toward financial security.

Saving (65%):

While facing constraints, many Gen Zers prioritize saving. They understand that even small increments contribute to creating a financial safety net, supporting future goals, and preparing for unexpected expenses.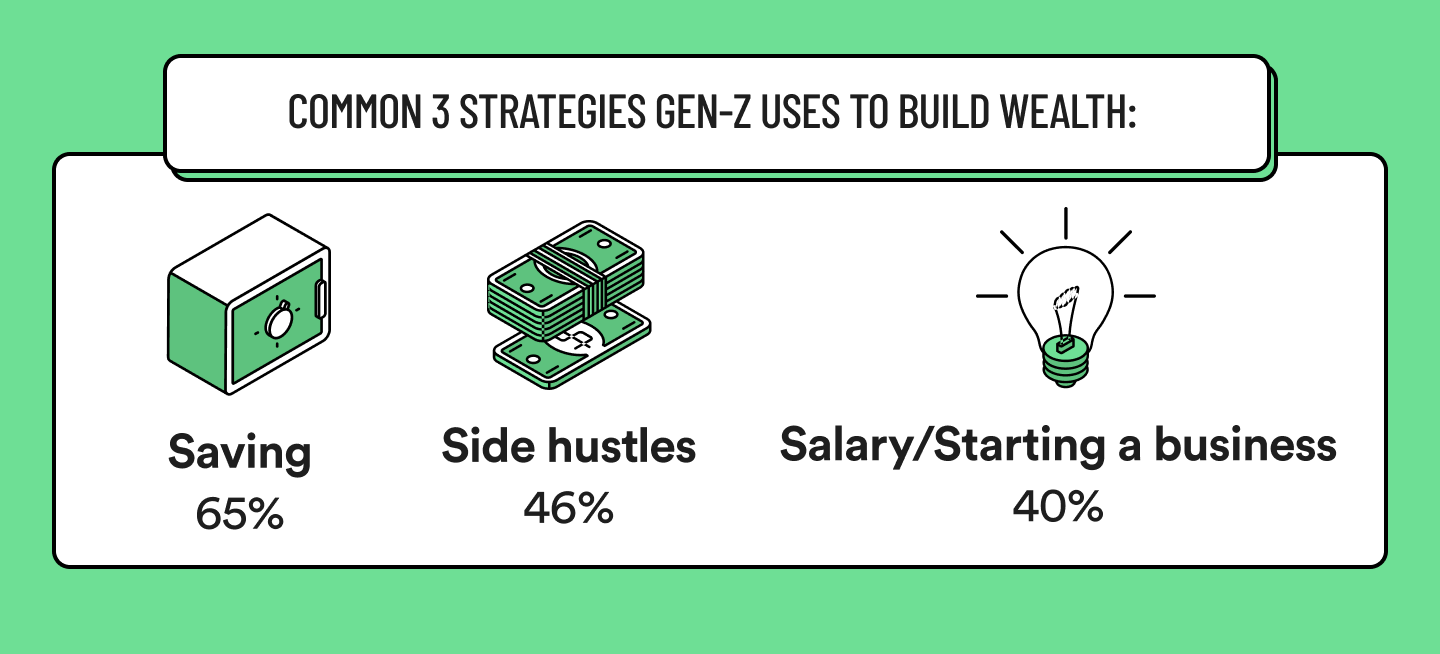 The high cost of living remains a top concern.8 Side gigs, reliable salaries, and conscious savings can provide a solid foundation for this generation's financial future. 
Gen Z's financial goals
When it comes to financial goals, Gen Z have some clear priorities and motivations. Here's what they said is important to them when surveyed:
Financial independence or early retirement (27%):

Gen Z defines financial success as achieving financial independence or the possibility of retiring early. They prioritize long-term financial security and freedom over pursuing the highest income.

Affording important things (25%):

Gen Z aims to have the financial means to afford things that are important to them. They value the ability to make meaningful purchases and prioritize experiences or items that bring them joy and fulfillment.
Top 3 financial goals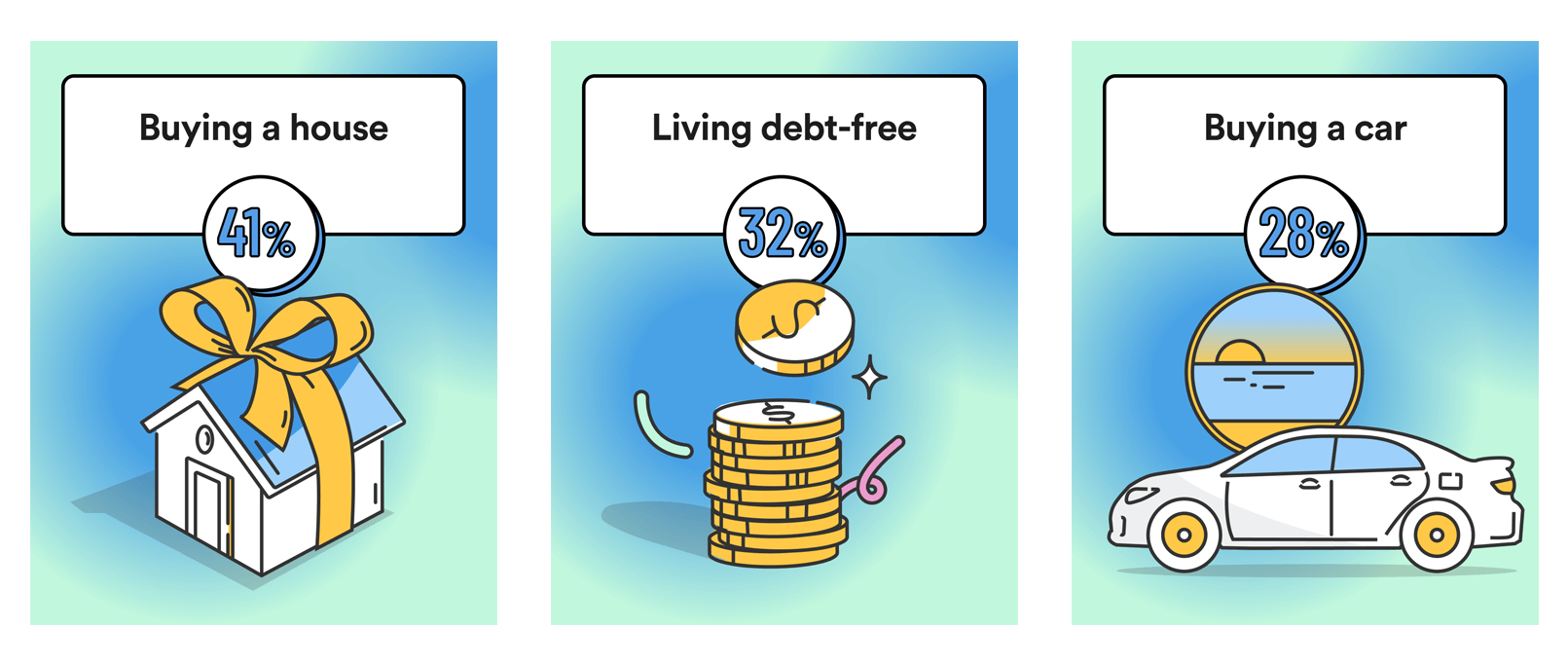 Additionally, 20% of those surveyed include saving for retirement among their top three financial goals, highlighting their forward-thinking approach to long-term financial planning.
Motivations for saving money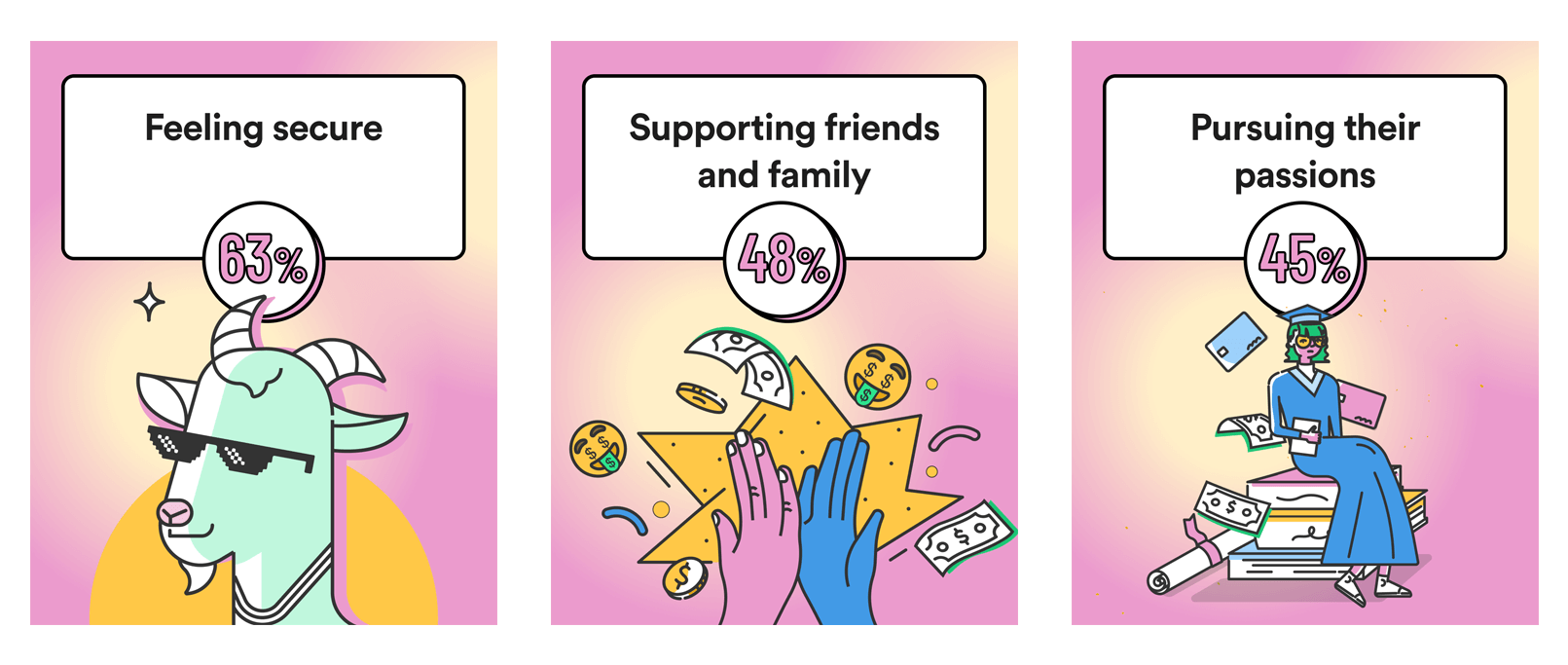 While saving for the future, Gen Z also finds ways to incorporate smaller expenses, like travel, into their budgets without compromising their broader financial goals.9
Gen Z money fears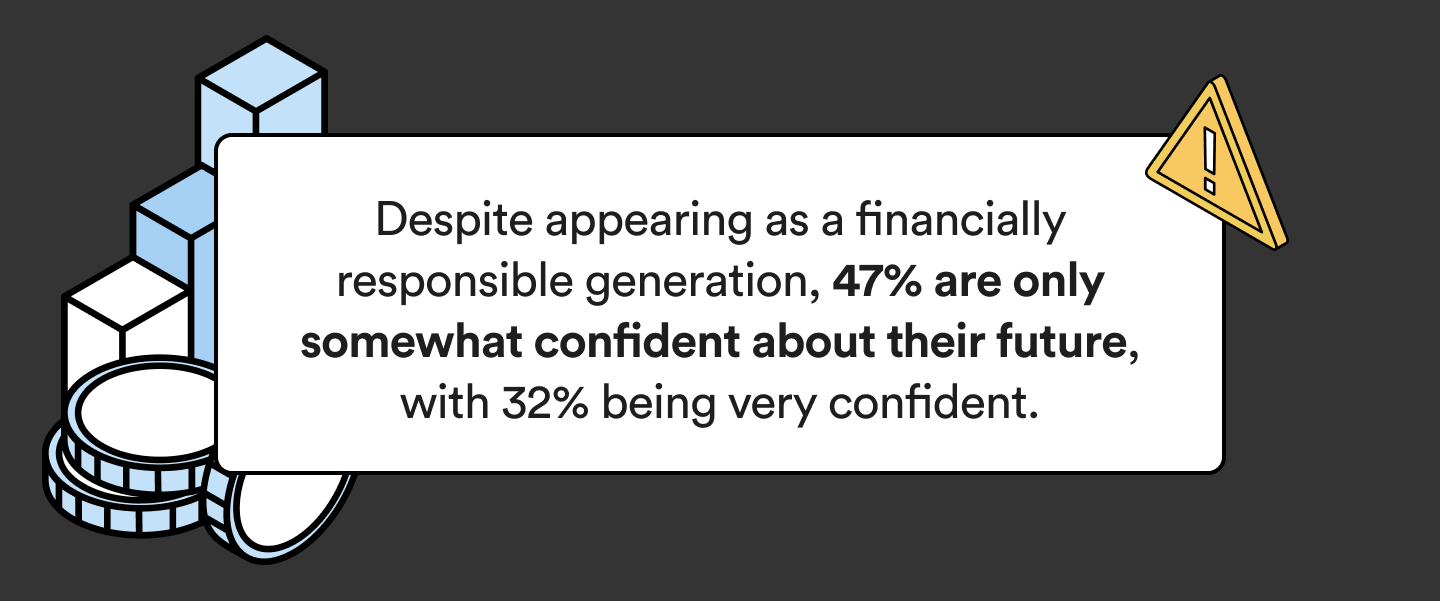 Despite their proactive approach to managing finances, Gen Z is not without financial anxieties. Our survey revealed that 47% of respondents are only somewhat confident about their financial future, while 32% express a high level of confidence. 
This data suggests that while Gen Z generally maintains a positive outlook on their financial future, they're wary of potential hurdles. Staying optimistic and planning for the future should remain their focus to overcome these fears.
Interestingly, Gen Z's fears aren't just about their present financial situation. It's also about their financial literacy. Our survey found that Gen Zers are seeking financial literacy online, showing 38% turning to social media for financial advice and 35% reviewing literature from financial experts to help guide their decisions. These topics could be related to the best investments during inflation or even basic information like the types of bank accounts that are available.
Rather than letting these fears get the best of them, Gen Z is motivated to become educated in financial management and make informed financial decisions. This speaks to Gen Z's adaptability and determination to achieve financial success.
For Gen Z, money matters
Our survey findings highlight Gen Z as a financially conscious generation. They know the importance of building wealth and are actively working toward their financial goals. Despite challenges like low salaries, debt, and a changing economy, Gen Z remains focused on their goals and earning financial freedom. 
Money is a means to an end for Gen Z: it brings financial independence and helps them reach their goals. Their commitment to managing their finances stems from the understanding that true wealth isn't tied to a paycheck.

Building a financial future for your family? Take inspiration from these icons who built generational wealth.
FAQs
How much wealth does Gen Z have?
Gen Z is already making significant strides in wealth accumulation despite their relative youth. While 20% of Gen Zers haven't yet started their savings journey, 42% have managed to save at least $1,000. While this is a small amount, we all know starting small is the first step to building wealth.
Surprisingly, 4% of Gen Z respondents have already saved over $50,000. While not staggering, that's an impressive figure, and those who have that should be very proud of what they've saved so far. Furthermore, 25% of Gen Zers have savings exceeding $10,000, which shows their commitment to saving and building wealth as soon as possible. 
What is Gen Z's average income?
Income is a critical factor in wealth creation. Gen Z's average income is $32,500, which may seem modest compared with older generations.³ But it's important to remember that many Gen Zers are still in the early stages of their careers or are balancing work with education. Despite their relatively low incomes, Gen Zers are making progress in managing their finances effectively. They are budgeting, saving, and planning for the future — all important steps toward wealth creation.
Does Gen Z care about money?
Gen Zers exhibit a strong concern for their financial well-being but recognize that money is not the most important thing in life. They are focused on financial freedom and the ability to pursue their passions. For Gen Z, money allows them to experience life and focus on their financial goals, but making a large salary is not their biggest priority.