Staying on top of all your bills to pay each month can feel overwhelming – missing just a single bill can quickly become a slippery slope that leaves you stressed and having to make late payments. 
With a system in place to pay your bills, you can avoid unnecessary debt and safeguard your credit score. If your credit score does drop, you may face higher interest rates and less desirable loan terms on top of the late payments you owe. 
If you're struggling to keep up with bills, keep reading to learn how to pay bills and keep your monthly bills as organized as possible.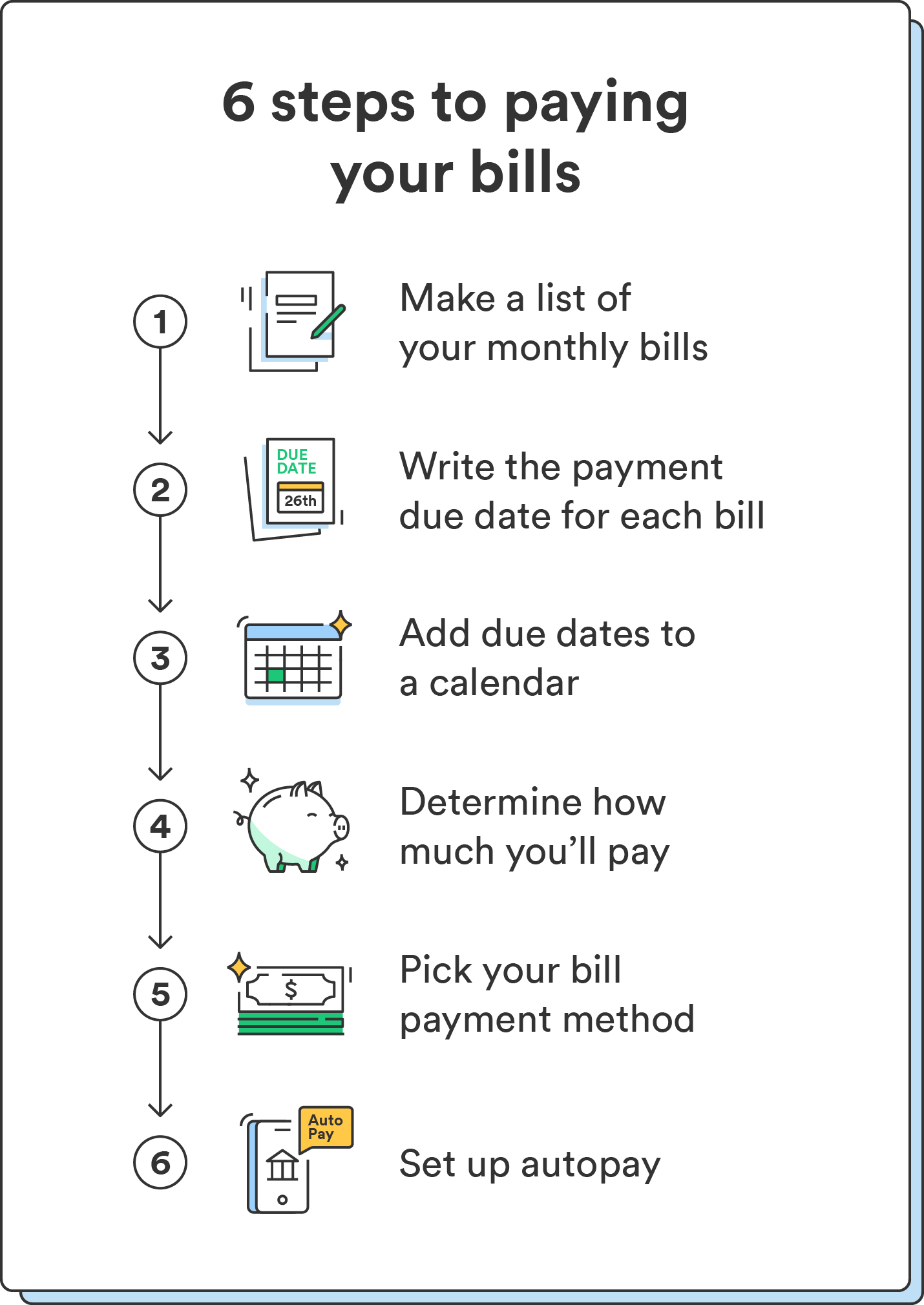 Make a list of your monthly bills
To keep track of bills and payments, start by making a list of monthly bills. This way, you can prevent one of your bills from falling to the wayside. 
Start by gathering all of your recurring monthly bills. 

Check your credit reports to take note of every lender you're borrowing from for things like credit accounts. 

Check your bank statements for any other recurring bills. This includes everything from your monthly utility bill to

recurring subscriptions

. 
Once you have a list of all your bills, make a note of the minimum monthly payment and the total balance due for each, along with service provider information.
Write the payment due date for each bill
Once you've laid out your monthly bills list, find the payment due date for every bill and add it to the list. If your bill due dates fall sporadically throughout the month, consider adjusting them to make it easier to keep track of bills and payments. 
Most credit companies are happy to accommodate different payment due dates if it means you'll have an easier time staying on top of your bills. This can be a game changer if you struggle to track many payments on different due dates.
Chime tip: You can call your creditor and ask for certain bills to fall on the same day, ideally on or before your payday. Not only can this simplify your bill organization, but it's also helpful if you're concerned about not having money left over once you pay all your bills.
Add payment due dates to a calendar
One surefire way to keep track of your bills? Create a bill payment calendar to keep everything in one place. A bill calendar is a digital or physical calendar to record your bill due dates and amounts. A calendar makes it easier to see at a glance which bills are due for the month.
The format of your bill payment calendar is entirely up to you. If you prefer writing things down, create a physical calendar or even a budget binder where you can keep track of due dates and stash away any paper bills you regularly get in the mail. 
Alternatively, you may go digital – you can simply add your bill payment dates to your existing online calendar on your computer or phone. Whatever method you choose, just make sure it works for you so you can confidently stick to it.
Determine how much you'll pay
If you can't afford to pay all of your bills in full each month, make a list of the types of bills to pay in order of priority. This way, you can determine what bills to pay first when money is tight. Types of bills include: 
Necessities:

bills you must pay for your livelihood (your mortgage or rent, utility bills, groceries, car payments, etc.) 

Secured debts:

debts secured by a form of collateral, like your mortgage or car payments

Unsecured debts:

debts not backed with collateral, like

credit cards

, personal loans, student loans, or medical bills 
Once you've listed your bills in order of priority to you, you can allocate a percentage of your income toward them, starting with the ones that absolutely must be paid. If you're having a hard time covering all of your bills, look for ways you might be able to tweak your budget, like packing your lunch instead of dining out or canceling any unnecessary subscriptions. 
If you can afford to pay all your bills in full each month, do so even for accounts that don't require the full amount upfront. Paying those accounts in full can help you build a good credit score, avoid debt, or get out of debt faster if you carry any. 
Pick your bill payment method
Next, determine how you want to pay your bills. There are various ways to do so, and it all comes down to finding the best method for you. 
Here are some of the most common methods for paying bills. 
Automatic (direct) debit
Automatic or direct debit is a bill payment method in which you authorize a company to automatically bill your credit or debit card on a recurring basis. Paying bills with automatic debit is a helpful way to stay organized since you don't have to remember to pay them yourself each month. 
Say you join a new gym and enroll in a membership that automatically bills you twice a month. That recurring payment is an example of an automatic debit payment since it's set up directly between you and the company you're paying.
Online bill payments
Online bill payments work differently than automatic debit. Unlike automatic debit payments, online bill payments involve manually initiating a single payment through your bank. In short, you're authorizing your bank to pay the company you owe. 
To make an online bill payment, you can go to your bank's website or call the customer service number on the back of your card. These are one-time payments, so set a reminder for future payments, so you don't forget.
Chime tip: Automatic payments are more convenient than manual online bill payments, but they can get you into trouble if you don't have enough money to cover those automatic bills. Online bill payments can be a smart option if you're still figuring out how to stay on top of your monthly bills.
Credit card
You can use your credit card to pay bills just like you would with a debit card, except the charge will appear on your credit card balance. 
Generally speaking, you should only pay your bills with a credit card if the following are true: 
You always pay your credit card balance on time and in full each month. 
You never put a bill on a credit card because you can't afford to pay it. 
Using your credit card responsibly over time is a great way to build your credit history and boost your credit score. If you're confident that you can pay your credit card balance in full and on time each month, using your credit card to pay your bills could be a good move. 
Set up automatic payments (and plan for any manual payments)
Finally, a recommended step to take as you figure out how to pay bills is to set up automatic payments wherever possible. 
Instead of trying to remember different bills and payment due dates, automatic payments can do the work for you to ensure you never miss a payment. You can set up automatic payments through the companies you're billed by, your credit card company, or your bank. 
For any bills you can't use autopay with (or if you simply don't want to), you'll need a system to ensure you pay them on time each month. That could be paying bills as soon as you get them or paying bills on a particular day each month. 
Keep in mind that if an automatic bill payment hits an account with insufficient funds, you could end up having to pay hefty overdraft fees. 
Tools to help pay your bills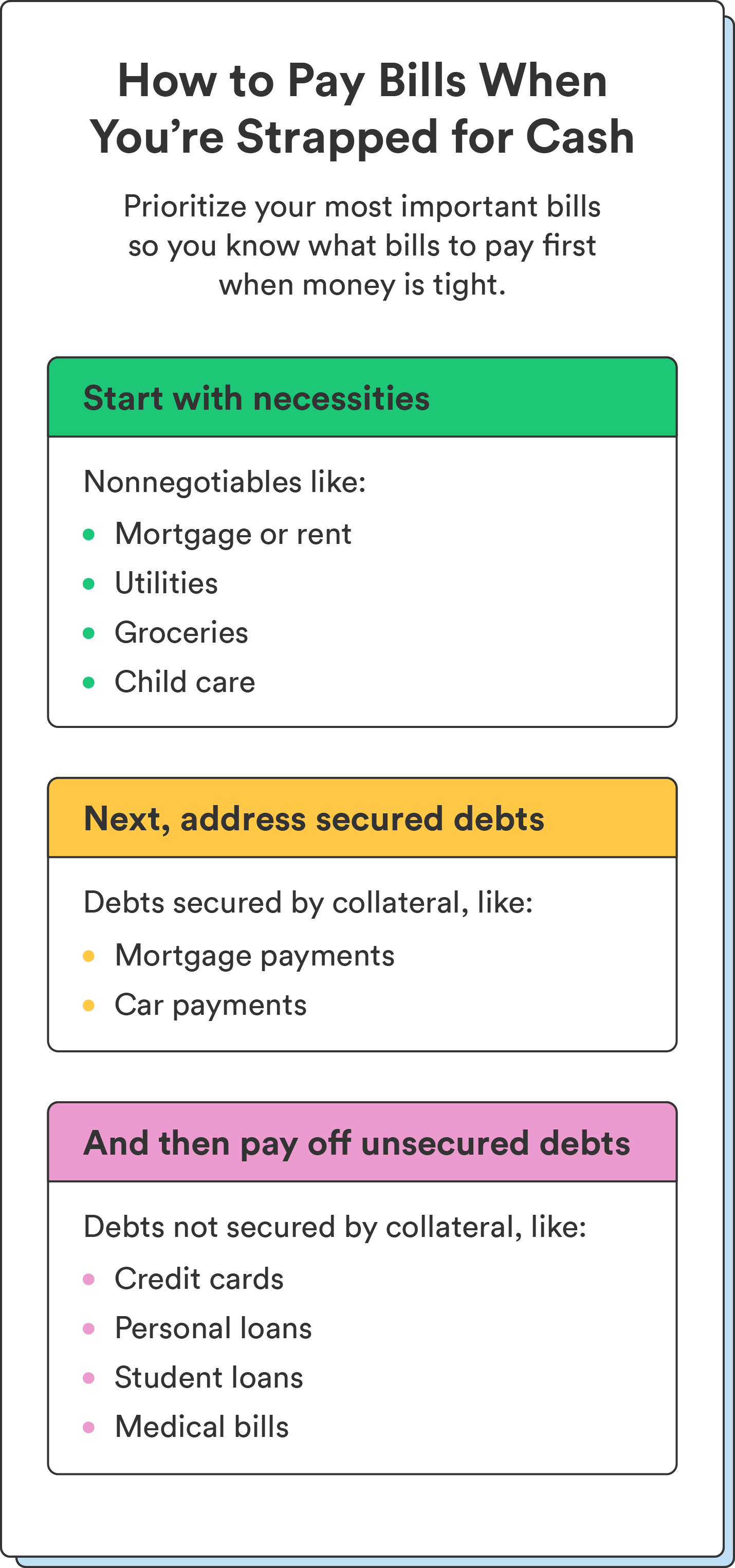 If you're struggling to pay your bills, consider some of the resources below.
Create an expense tracker
There are different tools you can use to track expenses. A spreadsheet or budgeting worksheet is one option; an expense-tracking app is another. You can also track spending by logging into your bank account and monitoring your daily and weekly activity.
Cutting out the nonessentials is priority number one when you can't pay bills. That might mean eliminating things like:
Streaming or subscription services you don't use

Name-brand products (generic can be cheaper)

Premium internet or cell phone service

New clothes or electronics
The fewer expenses you have, the better. If you're unsure what to cut, the Consumer Financial Protection Bureau (CFPB) offers a free expense-cutting tool to use as a guide. 
Debt tracking and repayment tools
Falling behind on bills with debt payments can hurt your credit score if late payments are reported to the credit bureaus. 
You can use a debt tracker to record your debts, how much you owe, the minimum payment due, and the interest rate. The CFPB offers a free downloadable debt tracking sheet you can use. Having a clear view of all your debts that you can refer to often makes it easier to stay on track. 
There are also options available to reduce your debt load when you can't pay bills. Consider the following: 
Credit card hardship programs

Debt consolidation

programs, like a balance transfer card

Student loan

deferment or forbearance programs

Mortgage forbearance and/or loan modification 
The options available may depend on the type of debt you have. Talk to your creditors or lenders to learn the best method for your situation. 
Credit monitoring tools
Monitor your credit report for any errors or even account fraud. If caught in time, you can usually resolve these types of issues. 
You can review your credit report from each of the three credit bureaus for free through AnnualCreditReport.com or sign up for a free credit monitoring service for more frequent updates. 
Here is a  helpful guide for reviewing your credit report to check for errors. If you find an error, call your creditor and dispute it. 
Get a system to keep your monthly bills in check
Without a system in place, managing your monthly bills can feel daunting – but with the right approach, taking control of your bills, budget, and general finances is more manageable. 
While it may require some time and effort upfront, the peace of mind and financial security it can bring is well worth it. The responsible finance habits you'll build are a key part of maintaining or improving your credit score – something your future self will thank you for! 
FAQs about how to pay bills
Still have questions about how to pay bills? Find answers below.
How do you pay all your bills and still have money?
To pay all your bills and still have money, you need to create and stick to a budget that considers all your necessary expenses, such as bills and debt payments, and allows for some discretionary spending. You may also want to consider finding ways to increase your income, like taking on a side job or starting a business.
Is it better to pay bills weekly or monthly?
The best time to pay bills mostly comes down to personal preference. However, if you have a high balance on your credit card, making payments more than once a month can lower your credit utilization ratio and help boost your credit score.  
Can I pay bills with a credit card?
Yes, you can pay many regular monthly bills with a credit card, including your cable, phone, internet, or utility bills. Confirm whether your provider accepts credit cards as a payment option and ask if they charge a convenience fee for doing so. Note that you should only use credit cards to pay your bills if you are in the habit of paying off your balance in full each month.