You're likely familiar with the term direct deposit if you work a nine-to-five. In simple terms, direct deposit is an electronic payment from one bank to another. And most employers offer direct deposit as a payment option because it can drastically simplify paying employees. 
With direct deposit, you don't have to take a physical check to a brick-and-mortar bank. You don't even have to take a picture of the check to deposit it via your smartphone into your bank account. It lands in your checking account (or more than one checking account) on payday and with no monthly fees. What's even better? It's pretty easy to set up direct deposit. We're breaking down the process into five steps.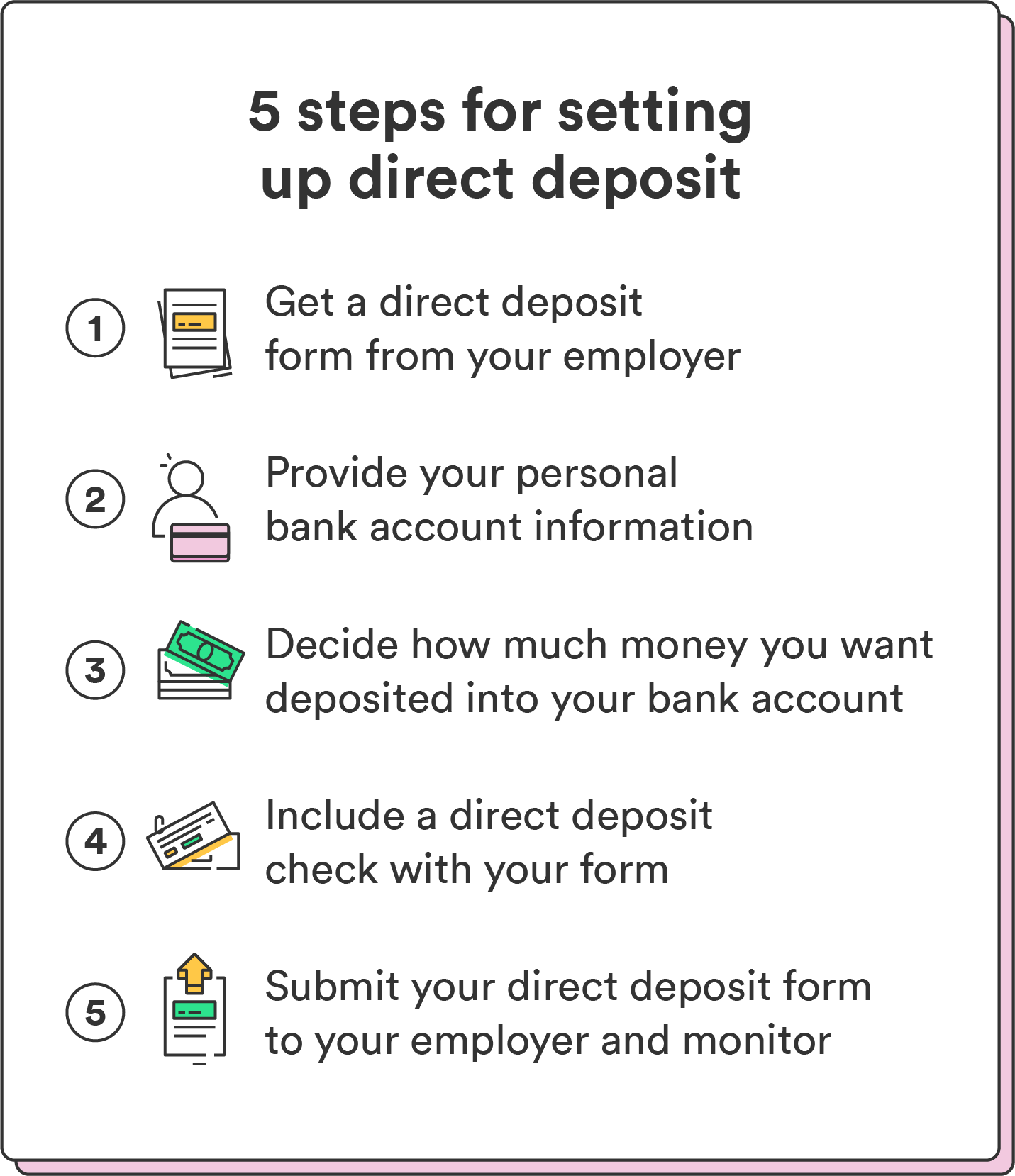 Get a direct deposit form from your employer
Start by asking your employer for a direct deposit form to ensure you provide all the necessary information to deposit your paycheck from their bank account to yours.
Although your employer is typically responsible for supplying the form, you can also request one from your bank.
Provide your personal bank account information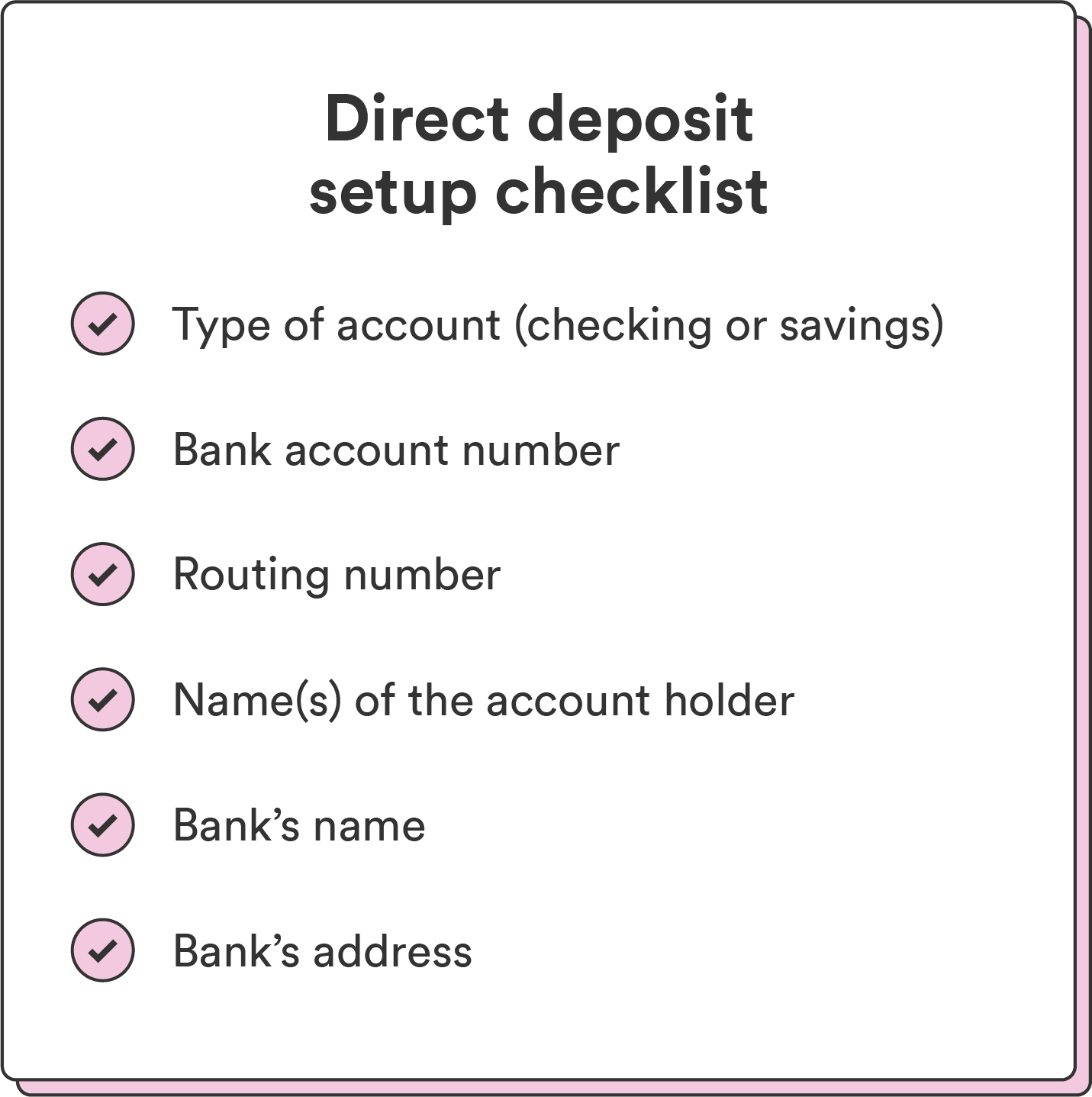 While completing the direct deposit form, you'll typically need access to the following information associated with your bank account, meaning the account you want your paycheck deposited into:

Name(s) of the account holder

Bank account number

American Bankers Association (ABA) routing number

Type of account (

checking or savings

)

Your bank's name and address



You can find most of this information on a voided check, your bank statement, or via your mobile banking app.
Decide how much money you want deposited into your bank account
Next, determine how much money you want deposited into your bank account. While depositing your entire paycheck into your checking account is common, you can also split the payment between your checking and savings accounts.
For example, you may want your employer to deposit 10% of your income into your savings account and the remaining 90% into your checking account. 
When you enable the Save When I Get Paid feature through Chime, we'll automatically transfer 10% of your incoming bank transfers or direct deposits over $500 to your savings account.
If you don't have a monthly savings goal, consider trying the 50/30/20 rule and saving 20% of your paycheck.
Include a direct deposit check with your form
A direct deposit check is simply a voided check. The void status indicates that you can't use the check for payment but you can use it to share important bank account details and information.
Even though you're already providing this information on the direct deposit form, verify everything with a voided check to ensure that your paycheck gets deposited into the correct account
Submit your direct deposit form to your employer and monitor your bank account
The last step is to verify that the information on your direct deposit form is accurate before you turn it in. Your employer, or the HR department, should let you know how long it will take to process your information and set up your direct deposit.
You may have to wait one or two pay periods, but keep your eye on your bank account around payday so you'll know when the direct deposit kicks in.
The benefits of direct deposit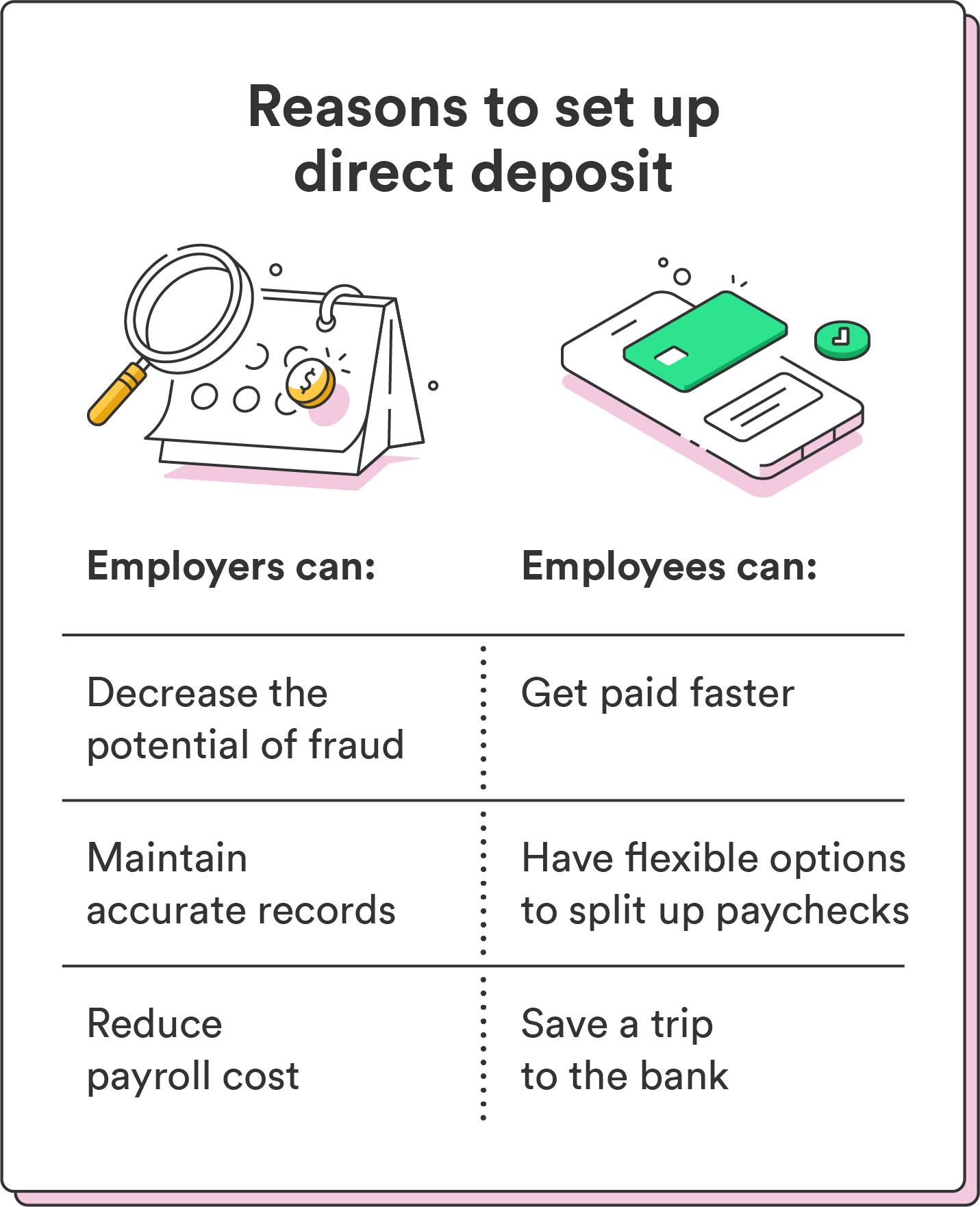 Direct deposit can benefit both employees and employers. Employees who take advantage of direct deposit will:

Get paid faster
Have flexible options to split up paychecks
Save a trip to the bank 
Likewise, employers who facilitate direct deposit payments can:

Decrease the potential of fraud
Maintain accurate records
Reduce payroll cost
Get paid promptly
Learning how to set up direct deposit can help make your financial life simpler  to navigate. It is easy, free, and will likely be a more convenient way to receive payment. 
Not only is it a fast and favorable way to pay your employees or get paid by your employer, but it can also make things easier with the IRS regarding tax refunds and stimulus payments.
FAQs about how to set up direct deposit
How does direct deposit work?
Direct deposit works by submitting personal information along with a direct deposit to your employer to receive payment directly into your bank account(s).
Can you direct deposit into a savings account?
Yes. When filling out your direct deposit form, indicate which type of account you would like the funds deposited to – checking or savings.
Some employers might be able to split your direct deposit into two different accounts.
Which routing number do I use for direct deposit?
The American Bankers Association (ABA) number is the standard routing number you use for direct deposit. It's the 9-digit number printed on your bank statement or along the bottom left of your checks.
How long does direct deposit take to set up?
Once you set everything up, payments will typically arrive in your bank account within a week, though it depends on your bank.
How do I set up direct deposit as an employer?
Setting up direct deposit for your employees is simple. Here are the steps you will need to take.
Choose a direct deposit provider: This entity will handle and house all of the information for your business and your employees. Typically, you have two options for direct deposit providers. You can work with the bank that houses your business bank account or payroll software with direct deposit functionality.

Set up your direct deposit service: Once you've decided on your direct deposit provider, follow the process for setting up your direct deposit. If you're going with your bank, you can call them or use your online portal to set up. If you're using payroll software, it will set up direct deposit for you after you put in your information.


Obtain employee direct deposit forms and authorizations: Have your employees fill out their bank account information. Also, make sure to have your employees sign an authorization form that says they give you access to transfer funds electronically to their bank account.



Next, determine a regular pay schedule that works best for your company and employees. Communicate that schedule with your employees and payroll administrators.