So you dinged your credit.
Maybe you were clobbered with unfortunate events, like losing your job and getting saddled with a stack of medical bills. Or perhaps your car went kaput and repairs cost a small fortune.
Or, maybe you just made some mistakes and forgot to pay your credit card bill in time for a few months in a row. We're just human after all, and sometimes we don't make the smartest decisions about saving money and our overall financial sitch.
While you may have heard about best practices to build your credit – like paying off your credit card balance in full each month – did you know that much of your not-so-stellar credit score has to do with other factors?
According to credit card expert John Ulzheimer, about two-thirds of the points on your FICO or VantageScore credit scores have nothing to do with adhering to well-known tips. The bottom line: to build your credit, you need to know what's what.
Here are 7 things you didn't know could impact your credit:
Having a balance on too many credits
If your balances are spread among too many cards, this can negatively impact your credit score, explains Ulzheimer, who was formerly with FICO and Equifax. What's more, it can be hard to keep track of your balances.
Instead, stick to one or two cards and put all your transactions there. If your balances are on a bunch of cards, work on paying off the cards with smaller balances, and set them aside.
Chime® Credit Builder Secured Visa® Credit Card
A New Way to Build Credit
No Credit Check to Apply1
No Annual Fees
Learn More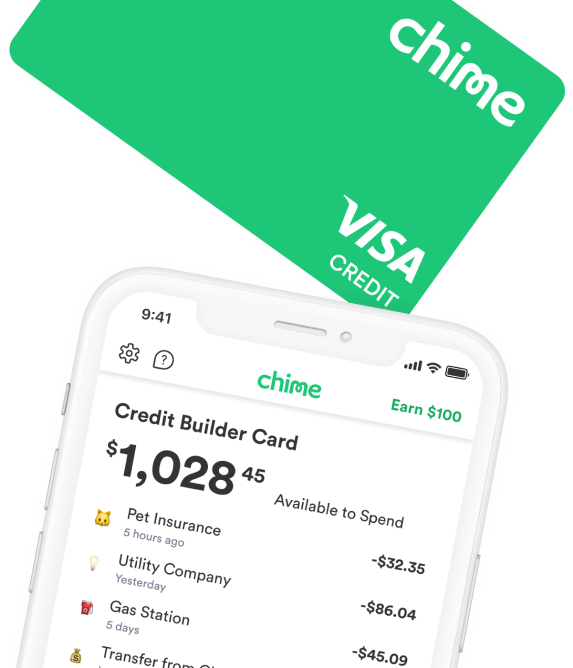 Being dangerously close to maxing out on your cards
When your balance is too high on your cards, you're upping what's known as your credit utilization rate. This percentage rate is your current balance against the max on all your cards.
So, let's say you have a total balance of $500, and the max limit on all your credit cards is $5,000. In that case, your credit utilization rate is 10%. If you have $1,000 on your cards, your rate is 20%, and so forth.
You'll want to keep this rate as low as possible. To do so, make sure you aren't racking up too much debt on your cards. You can also sign up for alerts on your phone and receive weekly statements.
Co-signing for someone else
When you co-sign for someone else, this can lead to horrible credit, says Ulzheimer.
"While you may think you're not liable for payments as the co-signer, you'd be mistaken," he says.
"You're equally liable for payments."
Should the other person default and not keep up with the loan payments, you're on the hook. And if you aren't able to make the payments, then your credit will take a hit.
If someone asks you to co-sign, be very cautious. They're probably asking you to co-sign because their credit isn't great. If you decide to take the plunge and co-sign, just be sure that you can pay off the loans.
It's also important to understand that co-signing is different than listing someone as an authorized user. If you become an authorized user, this means you can make charges on someone else's account but you are responsible for the payments.
Withholding a payment because you think a payment is unfair
This has probably happened to all of us: you think a bill is unfair or outright wrong. For instance, there might be a mistake on the amount on your cell phone or medical bill and you refuse to pay it. Or, the rates spiked for your Internet service and you feel it's flat-out unfair.
The thing is: even if you're right, you are still responsible for making payments. If you don't, you can wind up in collections, explains Gerri Detweiler, education director for Nav.
That's when these bills can really damage your credit scores, says Detweiler.
"If you do (dispute a bill), keep a solid paper trail and make sure you don't let it drag on too long," she says.
Yet, what if a medical bill is legit and you simply can't afford it? Detweiler suggests asking for a hardship discount or getting on a payment plan.
"If medical bills go unpaid — and unresolved — after six months, they may wind up on your credit reports as collection accounts," she says.
Opening a retail credit card
Many retail credit cards offer a discount on your first purchase. But if you're opening a card just to get the discount, you might want to think twice.
For one thing, when you open a credit card, it can result in a hard pull on your credit. In turn, it negatively impacts your credit scores. What's more, you might find yourself spending more than you can afford, which can affect your credit utilization ratio.
To avoid this, open new accounts carefully, and always make sure it's worth it, says Detweiler. And before you sign up, look at the APR, fees, and find out if there's an annual account fee to keep the card open.
Avoiding credit like the plague
You might have your reasons for avoiding credit entirely, but doing so can result in a low credit score, points out Detweiler. "You can have plenty of money in the bank, but if you use a debit card for all your purchases and don't have any open credit accounts, you may have a low credit score," says Detweiler.
If you're a credit phobe, consider opening one credit card.
"Consider using a credit card, even if it's just to pay a recurring bill each month."
And remember: You don't have to carry debt to have a good score.
Not checking your credit report
What you don't know can hurt you. Errors on your credit report can ding your credit.
To avoid this from happening, order a credit report. You can get one for free annually from each of the three major credit bureaus at Annual Credit Report. There are also a handful of free credit monitoring services out there.
Final thoughts
Knowing exactly what impacts your credit is important.
"It'll help with avoiding any surprising and unintentional negative impact to your credit scores by avoiding silly things that you wouldn't think can hurt your scores," says Ulzheimer.
"It'll also help with timing so you don't do something unintentional the month before you apply for a mortgage loan."
So, make sure you're in the know, and refer back to this guide for pointers so that you can work on improving your credit.